The beginning of summer saw the brethren of Stanley of Bickerstaffe Lodge No 3511 bring their wives, partners and friends together for a delicious two course lunch provided by Ormskirk's very own Gary O'Brien, whose meals are of course legendary.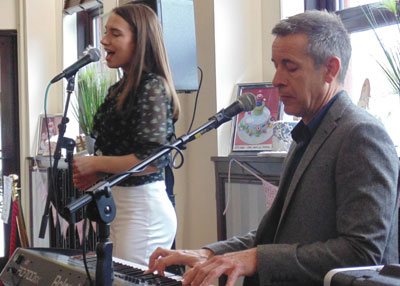 Vice Chairman of the Ormskirk Masonic Hall Association and WM of the lodge Bill Griffiths, welcomed everyone with his wife, the Reverend Jeanette Griffiths, who started the afternoon very appropriately with a special prayer for Ukraine, the beneficiary of the proceeds.
Entertainment for the afternoon was from the very talented 'Incahoots', a piano and vocal duo of Chris and Gabrielle who performed two sets of popular music for everybody. Their well-harmonised voices and witty repartee created a relaxed atmosphere that encouraged people (including Joan the waitress) to dance.
Uniquely the ladies and the gentlemen were presented with a small gift of a necklace and novelty Masonic socks before Bill and Jeanette drew the raffle. There was a large range of interesting prizes and everyone was pleased when 'Incahoots' also won a bottle of wine.
Nearly 50 people enjoyed the afternoon which raised £300 from the raffle and private donations.