Corinthian Chapter No 2350 were pleased to receive Malcolm Alexander AtoProvGPs, to celebrate the anniversary of 50 years in Royal Arch of Stanley (Stan) Fairhurst. This was one of only six Royal Arch 50th celebrations in Wigan since 2006.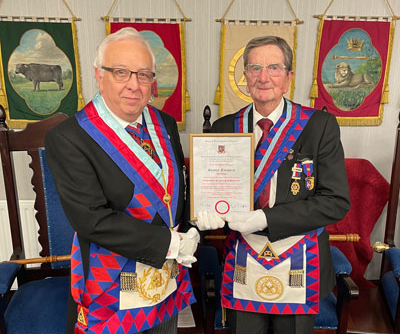 Stan was born during WWII in Chorley, an area renowned for its population growing its own produce, with many adults working in the munitions factories. The town boasted a strong sense of loyalty to our country when many from the area enlisted for the armed forces during the war. This included Stan's own father, Geoffrey, who had an important role in the transport division of the army.
Moving to Walkden, Stan became a server in the Grade 2 listed St John's Church in Walkden at the age of 12. Whilst a server at St John's, Stan met Joyce who was in the church choir at the time. Joyce became Stan's wife in 1965 and in 2022 they celebrated 57 years of happy marriage.
After passing GCE's at Worsley Technical College, Stan started work for G & J Seddon Construction in 1958 as a junior surveyor whilst continuing studies at Salford Technical College. In 1963 he qualified as a Charted Surveyor and became a Fellow of the Royal Institute of Chartered Surveyors in 1985.
Joining Wheeling, Horton and Thomas Chartered Surveyors in Manchester in 1964, Stan started work on the cantilever stand at Old Trafford which was built in time for the 1966 World Cup. He then joined Cuthbert, Bradley and Towell Architects in Bolton, where part of his early duties was to set up the surveying department. Becoming a partner, Stan continued to work for them until 2001 when due to a downturn in business, the practice closed. After working with many large organisations including The Territorial Army, Church of England and Garrett Lewis Stores, Stan became one of the Artisan Surveyors in 2001, mainly involved with the building and renovation of flats until his retirement.
His first child Angela was born in 1966 and she has 2 sons, Steven and Matthew, who both married during the summer of 2022. Matthew and his wife are expecting Stan and Joyce's first great grandchild later this year.
Mark, Stan's son, was born a year later in 1967 and obtained sponsorship to Bristol University through the RAF for his degree, eventually becoming a Squadron Leader of three different Tornado Squadrons. Mark has a daughter, Maia, Stan and Joyce's granddaughter.
Stan was initiated as a Lewis into Corinthian Lodge in May 1969 by his father Geoffrey, who was master of the lodge at that time. Becoming WM of the lodge for the first time in 1984, Stan's Ladies' Night was held at the Cliffs Hotel in Blackpool where some 150 guests attended.
During the following years Stan served as assistant director of ceremonies and then 10 years as the lodge's director of ceremonies, receiving his first Craft Provincial appointment as Acting Provincial Senior Grand Deacon in 1992.
As part of his year as an acting Provincial officer he assisted in the consecration of Canis Major Lodge No 9487 which meets at Urmston Masonic Hall and is a dog lover's lodge.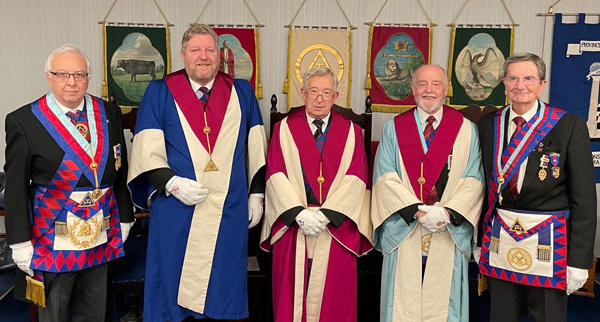 In 1998 he was elected treasurer of Corinthian Lodge stepping down in 2019, after 21 years' service. In 2002 he was promoted to PPGSuptWks and in 2011 appointed to PPJGW.
Stan became WM of Corinthian Lodge for the second time in April 2019 with his Ladies' Night on this occasion being held at Ashton Masonic Hall with 90 guests, which also coincided with the celebration of his golden jubilee in the Craft at which the principal guest was David Ogden, AProvGM for Wigan.
He became a joining member in November 2019 of Ancient and Loyal Lodge of Installed Masters No 9762 which meets at Ashton Masonic Hall in Bryn.
Stan was exalted into Corinthian Chapter on 20 December 1972 by his father who was the first principal. However, it wasn't until 1996 that he became the first principal of Corinthian Chapter. During those years Stan was the principal sojourner with his first exaltee being one Stanley Oldfield.
Receiving his first Provincial appointment in the Royal Arch in 2004 to the rank of PPGStB, Stan later received promotion to PPDGSwdB in 2011. Also in 2011, he was appointed the chapter charity steward, an office he still holds in 2023, and was subsequently appointed the Corinthian Chapter's Masonic Charitable Foundation 2021 Festival representative.
In 2017, Stan received a further Royal Arch promotion to his present rank of PPrGSN. Stan was elected as the treasurer of the chapter in 2019, an office he continues to hold in 2023.
During the festive board, Malcolm Alexander responded to the toast from Wigan Group Chairman John Selley, and Geoffrey Porter proposed the toast and congratulations to the celebrant, and also presented him with a new Masonic case as a gift from the chapter.
Stan responded with gratitude for the support, companionship and friendship he had received over the years, and also heartily thanked the companions for the gift of the case, for which he received a standing ovation from all present.
The charity plate raised £79 and the raffle a further £130. In conclusion, it was a splendid celebration of 50 years commitment and hard work in the Royal Arch.