The installation of the new WM of Standish Lodge No 4955 took place in the Eccleston Suite, Park Hall, Charnock Richard. During the ceremony Geoff Williamson, who last went through the chair in 1999, was installed into the chair of King Solomon by Iain Brown. Iain had just completed three years in the chair due to the COVID pandemic.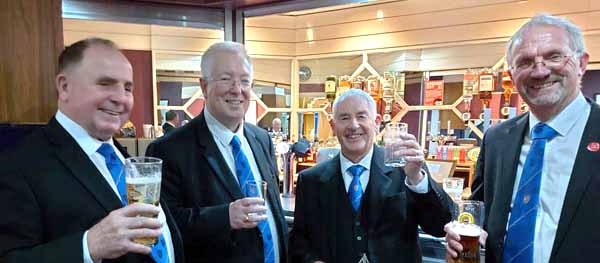 Representing the Provincial Grand Master was John Murphy, Chairman of the Woolston and Garston Group. Also, in attendance were; Chairman of the Ormskirk and Bootle Group Graham Chambers, Brian Fairhurst and Derek Midgley, Vice Chairman of the Ormskirk and Bootle Group.
The working tools were presented in an excellent manner by Bill Lyon, who presented the third degree tools, Stuart Sidebottom who delivered the second degree tools and Roy Gibson who explained those in the first degree.
Principal guest, John Murphy, announced charitable donations from the lodge totalling £1,000. These had been made to West Lancashire Freemasons' Charity (WLFC), The Food Bank initiative, St Catherine's Hospice, Derian House, Wigan and Leigh Hospice and North West Air Ambulance.
Following the ceremony an excellent festive board was enjoyed by all. In his response to the toast to the grand officers, John Murphy emphasised the importance of supporting the WLFC now that the MCF 2021 Festival was over. He also spoke of the new advertising campaign which, so far, had brought in over 1,000 enquiries from potential new members.