On the same evening that Everton Chapter No 823 celebrated their 150th anniversary, the chapter also celebrated the 50 years' service that Stan Sutch has given to Royal Arch Freemasonry. This invitational meeting was opened in the traditional manner, by first principal Bernard Ashley, ably assisted by his two co-principals Tom McLaughlin and Jorge Perez, with a warm welcome extended to the guests. Bernard then, on behalf of the chapter, congratulated David Brighouse on receiving a first appointment as Past Provincial Assistant Grand Scribe Ezra at the recent Provincial chapter meeting in Southport.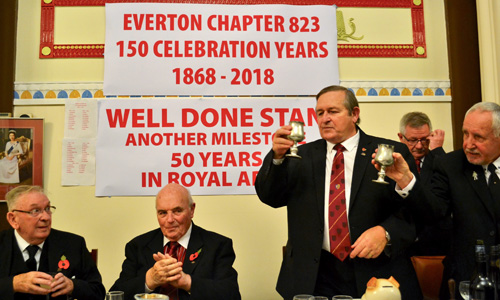 This was followed by the 150th anniversary celebration, which is the subject of a separate article, after which the chapter moved on to celebrate the 50 years' service of the much loved Stan Sutch. The honour of taking this part of the evening was handed to Stan's great friend Clive Jefferies. Clive started by saying that some of the younger companions present may not be fully aware of the contribution Stan has made both in Craft and Royal Arch Masonry, seeing him perhaps as the elderly grand officer sitting unobtrusively in the top corner. Longer-serving companions will of course know differently and appreciate the respect, dedication and commitment he has given to Freemasonry for almost 60 years.
With regard to Stan's career in the Royal Arch, he was exalted into City Chapter No 2514 in 1968 and would later become a joining member of the Duke of Edinburgh Chapter No 1182, progressing through the various offices until its closure in 1998. Stan with the majority of his fellow companions moved into Temple Chapter No 1094. Sadly, the next meeting of Temple Chapter will see it close, so the decision was made to celebrate Stan's golden anniversary at Everton Chapter, where he has enjoyed honorary membership since 2006.
In 1987 while serving as group charity delegate in the then 5th Liverpool Group, Stan was appointed group secretary, which was when he first met Clive. They both worked together under the chairmanship of Ken Forshaw for just over 10 years. With the reorganisation of the eight city-based Liverpool Groups, into Sandon, Trafalgar, Wellington and Gladstone, Clive went to Trafalgar, with Stan winning the lottery and going to Sandon. With the retirement of Ken Forshaw in 1999, Clive was appointed as Trafalgar Group Chairman and Stan came back in support as vice chair, a happy situation for the two old friends.
Stan's work for the West Lancashire Province was recognised by both United Grand Lodge and Supreme Grand Chapter. In the Craft he was appointed Past Assistant Grand Director of Ceremonies in 1995 and for Royal Arch as Past Grand Standard Bearer in 2001. A well deserved acknowledgement of his long and active service to both, which during his long tenure of office he earned the respect and gratitude of all who worked with him. Clive also spoke of the many brethren and companions who are grateful for his wise counsel and assistance over the years. As group chairman, Clive said he always valued Stan's opinion, but should anything go awry he could always fall back on the group chairman's prerogative of saying, 'another fine mess you're got us into Stanley'.
Throughout his married life, Stan has enjoyed the love and support of his wife Anne, who for over 60 years has looked after his every need. She has cooked for him, done the gardening, decorated the house, and generally pampered him. Clive said 'I know that he would wish me to acknowledge his and our gratitude to her for her support and for allowing him to devote so much of his time and talent to Freemasonry'.
Clive's oration was well received by all present and upon regaining his seat, Roy Ashley rose to say 'Stan, it is a particular privilege for me to present you with this certificate from the Province of West Lancashire and to thank you on behalf of all the companions of Everton Chapter, for all that you have done over so many years and particularly for your friendship, which we all hope will continue for many years to come'.
Following this, Bernard Ashley thanked Clive Jefferies for the most sincere manner he had conducted Stan's 50th celebration. To Stan, he addressed a number of sayings, one in particular being 'It's nice to be important but it is far more important to be nice. Stanley Such you are nice and also very important to Everton Chapter No 823′.
Following the completion of all chapter business the companions moved into the banquet room for further celebration. Festooned with banners and chapter ephemera covering 150 years, there was much to see but the highlight was the toast to Stan and cutting of the cake. Another memorable evening to record in the annals of Everton Chapter.