Warrington Group Chairman, Andy Barton, along with other members of Lodge of Lights No 148 visited Stan and Brenda Churm at their home for afternoon tea and to also present Stan with his 60 years in Freemasonry certificate, along with gifts for both Stan and Brenda from the Lodge. It was a great afternoon spent with Stan and his family reminiscing about days gone by. Stan's daughters also popped in to see Andy present her dad with his certificate.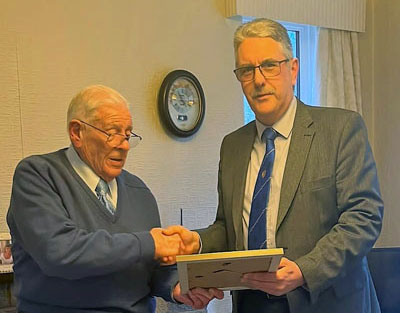 Stanley Churm, Past Assistant Grand Director of Ceremonies, was born in March 1931 in Lovely Lane, Warrington. His early school years were spent at Bewsey Council School before moving on to Boteler Grammar School, Warrington, matriculating in 1947 with eight subjects. He went on to study at the Manchester School of Technology for gas engineering and at Warrington Technical College on day release for mechanical engineering. Working for the Warrington Gas Company, he received practical training in most aspects of engineering before becoming a shift engineer.
1952 was a year he will always remember as National Service beckoned, and off he went to the East Lancashire Regiment achieving the rank of Corporal. He played football for the Kings Liverpool Regiment and the South Lancashire Regiment; 4th battalion as well as becoming an excellent marksman.
On returning to civilian life, he kept up the military connection with a spell in the Territorial Army 4th Battalion South Lancashire Regiment, but further education was still his aim and returned to Warrington Technical College for day release in mechanical engineering. All this academic study eventually allowed him to use his Higher National Certificates in Gas and Mechanical Engineering to achieve his goal when he became a Chartered Engineer in 1956.
Stan met Brenda Williams on Warrington Walking Day in 1949 and in 1955, on a snowy day in February, they got married. Two daughters Suzanne and Alison followed and in the fullness of time, four grandchildren; Daniel, Charlotte, William and Jacob keep Stan and Brenda fully occupied.
Moving on from Warrington Stan became the Senior Technical Assistant/Plant Manager at various gas works in the North West area whilst lecturing at Warrington Technical College on thermodynamics. Moving into Industrial Sales and Development as an Engineer, he worked with all the large companies in the North West before being called back to the head office as Development Engineer.
Promotion in 1980 to Regional Transmissions Construction Engineer saw further major projects and consultancy work for British Gas in Hong Kong, Greece and other design work for Spain and Turkey. The Institution of Gas Engineers always played a big part in Stan's life and after serving on various design panels and committees he became Chairman of the North West Section at Manchester in 1988, finally retiring in 1990 after spending 43 years in the gas industry.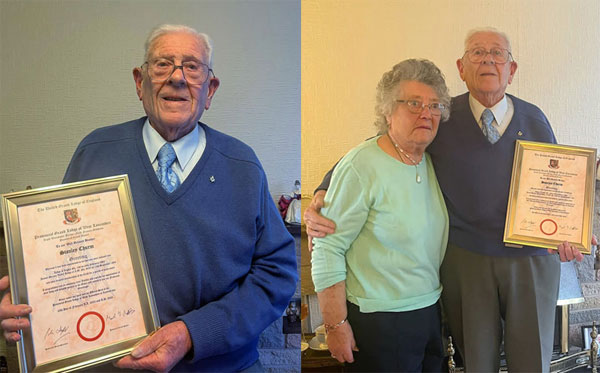 Throughout his working life, Stan always found time for his Freemasonry being initiated into the Lodge of Lights on 25 February 1963 after two years on the waiting list.
Achieving the chair of King Solomon in 1976, he was appointed Past Provincial Grand Steward in 1981 rising to Past Provincial Junior Grand Warden in 1990. He was appointed lodge secretary, a post he held for 21 years, and he was made The Warrington Group Secretary in 1992. He was honoured in Grand Lodge in 1996 with the appointment to Past Assistant Grand Director of Ceremonies and further promotion in the group saw him fill the position of the Warrington Group Vice Chairman in 1997 and Warrington Group Chairman in 2003 finally retiring from group office in 2004.
As well as Quingenti Lodge No 8516 and Mersey Valley Lodge of Installed Masters No 9057 Stanley was exalted into Elias Ashmole Chapter No 148. on 16 November 1981, where he became its first principal in 1992. Appointments and promotions followed with the rank of Past Provincial Grand Scribe Nehemiah in 1994 and grand rank followed to his current rank of Past Grand Standard Bearer.
Despite such a heavy involvement in the gas industry and Freemasonry, other areas of life were not neglected, from his days as an altar boy at St Barnabas through to being Chairman of Thelwall Youth Community Association for 30 years and governor of Lymm Grammar School.
Stan is also a life member of the Grappenhall Community Association and an honorary life member of the Grappenhall Ex-Serviceman's Club which when added to his caravanning, gardening, bowling, fishing, and walking must be the recipe for a long and healthy life.