It was another very special occasion within the Ormskirk and Bootle Group for the brethren and the many visiting guests of Eureka Lodge No 3763. They gathered at Litherland Masonic Hall to celebrate the very special and important milestone in the Masonic career of Stanley (Stan) Edwards, that is his achieving 60 magnificent years in Freemasonry.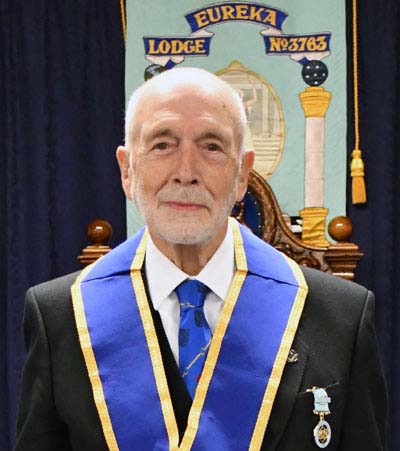 Leading the celebration was Assistant Provincial Grand Master Frank Umbers, who was accompanied by the Ormskirk and Bootle Group Chairman Graham Chambers, grand officers Malcolm Alexander and Walter Yule, along with Robert Fitzsimmons Provincial Deputy Grand Director of Ceremonies, with acting officers Stephen Oliver and Rory Green.
The evening's meeting commenced with the WM, David Lyons, warmly welcoming everyone to the celebration before opening the lodge. Once the lodge's business had been completed, Provincial Deputy Grand Director of Ceremonies, Robert Fitzsimmons, was admitted into the room. Robert announced that Frank Umbers was without and demanded admission. Therefore, he was duly admitted preceded by the grand officers, the acting Provincial grand officers. David warmly welcomed Frank into the lodge and offered him the gavel, which Frank graciously accepted.
Stan was then placed and seated before the pedestal, as Frank proceeded to deliver his presentation on Stan's life and Masonic career. Frank opened his remarks by saying: "Brethren we are indeed honoured this evening to have this opportunity to join in the celebration to mark the diamond anniversary of Stanley Edwards. Brethren, Freemasonry has always been about making good men better and as Masons we aim to shape our lives around the core tenets of integrity, friendship, respect and charity. We are here tonight to recognise and celebrate a man and a Mason who has lived by these Masonic principles for over 60 years."
Frank then proceeded to give a detailed account of Stan's life. Stan was born at home in Kirkdale in 1934 to May and Jimmy Edwards. Stan attended Rice Lane Junior School and after he passed his 13 plus for Walton Technical College. The family moved to Bootle, so he attended Bootle Technical College which was adjacent to the Bootle Group's old Masonic hall on Balliol Road.
Stan enjoyed his sport and at Bootle Tech they had good football and athletics teams who cleaned up all the local silverware. The football side had a certain Ronnie Moran playing for them and Stan's personal achievement was to be second in the Lancashire County Championships 440 yards.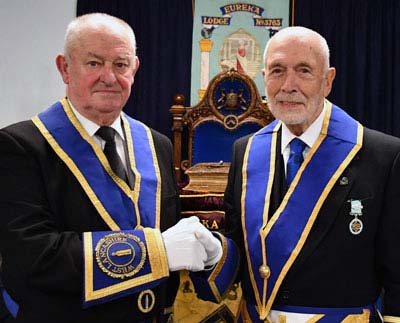 On leaving school in 1950 Stan joined Harland and Wolff as a coppersmith but quickly transferred to Automatic Telephone and Electric Company (AT&E) in Edge Lane as an apprentice instrument maker. During the next five years Stan attended night school obtaining first his Ordinary National Certificate and then the Higher National Certificate which enabled him to become a Graduate of the Institute of Mechanical Engineers.
National Service beckoned and Stan wanted to go into the Royal Navy so after taking a test he became an Electrical Artificer 4th class at HMS Heron in Yeovil. Stan soon worked out that it was easier to play sport for the navy than be on duty.
In January 1958 as he left the navy, Stan married Ann and they produced two daughters, Janice and Nicola. Stan now has four grandchildren and two great grandchildren, although the marriage ended in 1977.
After the navy he returned to AT&E as a telecoms design engineer and they merged with Plessey in 1961. In 1967 Stan went into partnership servicing and selling electronic equipment, but after two years it was apparent that it would not work so he returned to Plessey in Towcester as chief planning engineer. Two years later they sent him to Malta as production manager for a new factory manufacturing computer memory.
Stan's next posting was back home to Wilson Road in Huyton as production manager until January 1980, when he became one of the magnificent seven. They were all senior managers who were the troubleshooting team. It was also where Stan met Elaine and they married in 1979. During 1983 Stan also spent 6 months in Florida whilst
Plessey absorbed Stromberg Carlsson and for the next few years, Stan was sent around various Plessey sites troubleshooting until in 1992 he became Director of Manufacturing at Edge Lane, with responsibilities in both Coventry and Ballynahinch. Stan retired from Plessey's in 1996.
After Stan retired it did not slow him down as along with a group of friends, he and Elaine went walking every week in the Lake District or North Wales and it was during one of these days that it was decided they would all climb Mount Kilimanjaro and in 2002, a group of 13 flew to Tanzania. The following day they started the climb to the summit of Mount Kilimanjaro which is 19,341 feet above sea level. Five days later, 12 of the party reached the summit which was a tremendous achievement and all for the benefit of the Bootle Masonic Hall, raising over £1,000 from sponsorship. Sadly Elaine died in April 2007.
In 2008 Stan became a churchwarden at St Mary's in Knowsley Village, an office he held for nine years. After a four-year break, he has recently taken on the office again. It was a year after Elaine's passing, that Stan met a former Plessey's work colleague, Eileen and they formed a friendship which then developed a relationship and they went on to get married in March 2016.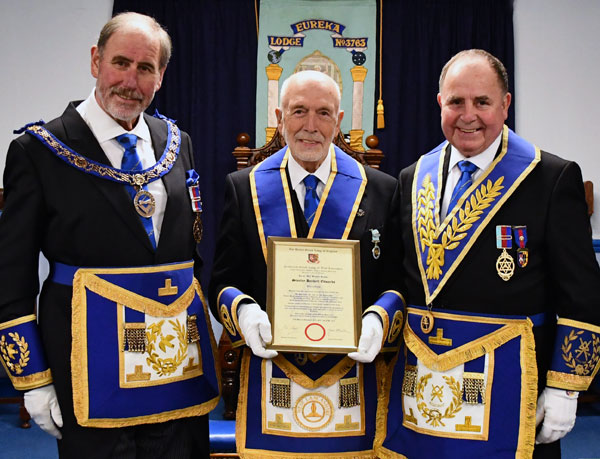 Frank then gave a detailed account of Stan's Masonic career; Stan was initiated into Old Hall Lodge No 4601 on 26 October 1961, where his father was a member. In 1969 Stan's business took him to Malta and temporarily halted his progress in his mother lodge. Nevertheless, whilst in Malta, Stan joined United Brethren Lodge No 1923 and became their WM in 1973.
Stan was rewarded for his efforts by becoming acting Deputy Grand Assistant Director of Ceremonies in both Craft and Royal Arch whilst in the chair. Stan remained a member until it closed after the forces left, once Malta had obtained independence.
On his return home Stan resumed his attendance at Old Hall Lodge and eventually became their WM in November 1984 and
continued for a second year. His rank at the time was Past Deputy Grand Assistant Director of Ceremonies (Malta). In October 1987 Stan received his promotion to Past Provincial Senior Grand Deacon in the Province of West Lancashire. For the next nine years he was director of ceremonies until he agreed to become senior warden before going back in the chair in 1998.
In October 1995 Stan received a promotion to the rank of Past Provincial Junior Grand Warden and he continued in office within the lodge until its closure in 2007. The brethren from Old Hall Lodge joined Old Grammarian Lodge of Waterloo No 6776 and Stan became the master for the fifth time in 2011. Sadly, Old Grammarian Lodge of Waterloo closed in March 2012, just prior to which, in the January, Stan joined Eureka Lodge No 3763 and is the current senior warden. The same year, for his continued service to his lodges, his dedication and selfless commitment to the Masonic hall and Masonry in general, Stan received the justly deserved, promotion to the rank of Past Provincial Senior Grand Warden. In November 2013, Stan joined James T Callow Lodge No 3596, where he is the current lodge mentor.
Stan's Masonic activities have not been confined to his lodge as he has given great service to the former Bootle Group, first as the hall lettings secretary for three years and then as Hall Vice Chairman for a further six years. The closure of Old Hall Lodge coincided with the closure of Balliol Road. While he was vice chairman, he channelled his energy into the move to Sefton Road and his expertise and management skills were invaluable.
After the detailed account of Stan's life and Masonic career so far, Frank asked the Ormskirk and Bootle Group Chairman, Graham Chambers, to read out the diamond jubilee certificate. Frank then presented the certificate to Stan saying: "Stanley Herbert Edwards, Past Provincial Senior Grand Warden of the Province of West Lancashire you have set an example to us all in your life, a life full of commitment and devotion to your family, hard-work and success in your professional career, unstinting work for your community and 60 years of dedication to Freemasonry. May you have many more years of health and happiness to enjoy your freemasonry and for us to have the pleasure of your company."