In April 2022, Southport Group Chairman and Provincial Treasurer Neil Lathom represented the Provincial Grand Master Tony Harrison at Ormskirk Masonic Hall for the installation meeting of St Michael's Lodge No 5756.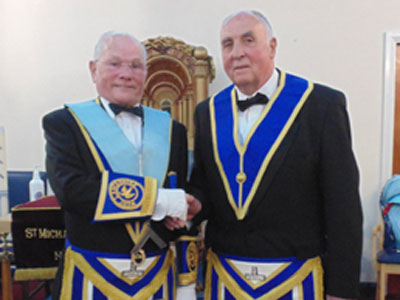 Stan Crozier, the WM, invite the director of ceremonies John Medcalf to occupy the chair of King Solomon and install past master Walter Davidson JP. John also multitasks as the lodge treasurer and executed flawlessly the address to the master and wardens.
Previously meeting at Charnock Richard, the ceremony in Ormskirk was also watched by grand officers Malcolm Alexander, Brian Fairhurst and Ormskirk and Bootle Group Chairman Graham Chambers.
Martin Stewart, WM of Lodge of Chivalry No 3974 stood in for the junior deacon while Malcolm Sandywell from Stanley of Bickerstaffe Lodge No 3511 took the director of ceremonies position while the lodge DC carried out the installation, after which the immediate past master Stan Crozier moved to the junior deacon's position.
At the festive board a guest of Walter's, Preston Mason Mark Walton, sang the master's song, while also visiting from Lodge of Chivalry was their secretary Mark Holloway who, fortuitously, gave the publicity officer Neil Stewart a lift home.
More importantly £900 of donations to charity were accepted by Neil Lathom and the ceremony was ended with a prayer for Ukraine.
Finally, the group charity steward Malcolm Sandywell presented the lodge with a Vice Patron Certificate for the 2021-2022 Festival.