A truly exemplary installation convocation was held in April at the meeting of St Michael's Chapter No 5756 at Ormskirk Masonic Hall. The convocation was honoured by the presence of Provincial Assistant Grand Sojourner David Harrison who was representing the Grand Superintendent Mark Matthews, together with his fellow Provincial grand officer Fred Dye. Vice chairman of the Ormskirk and Bootle Group Derek Midgley was also in attendance.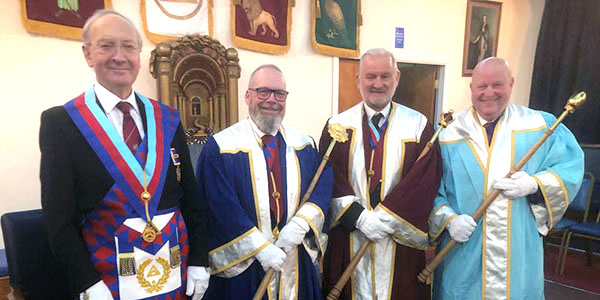 For the purposes of installation, Stewart Cunningham remained as installing first principal, Doug Little occupied the second principal's chair and Martin Howell took the third principal's chair.
Alan Burgess did a magnificent job as director of ceremonies, presenting the three principals for the benefit of installation; Jason Nash as first principal, Ian Brown as second principal and John Thompson as third principal.
Derek Midgley then presented the robe address to Jason, Fred Dye presented the robe address to Ian, and Stewart Cunningham presented the robe address to John. The ambiance of the whole occasion was enriched by the use of real candles throughout the ceremony.
Robert Midgley declared the ceremony concluded and David Harrison rose to convey greetings from Mark Matthews and complimented the companions on a wonderful, word-perfect ceremony. He emphasised how much putting in the effort to learn the work added so much to the event and St Michael's Chapter companions had made a wonderful job of it.
Jason then presented donations from the chapter to David Harrison; £200 to the West Lancashire Freemasons' Charity, £200 to Derrian House and £100 to the Ormskirk Masonic Hall Association; a marvellous amount of £500 from a relatively small chapter. David thanked the chapter companions for their generosity.
With the convocation concluded, the companions were in for one more treat when the visiting representative David Harrison concluded the festive board by singing the 'Three Principals Song', a variation of the Master's Song which proved a wonderful ending to an enchanting evening.