The companions of St Michael's Chapter No 5756 were pleased and honoured to have the Grand Superintendent Tony Harrison as their principal guest at their 2022 installation convocation, held at Ormskirk Masonic Hall.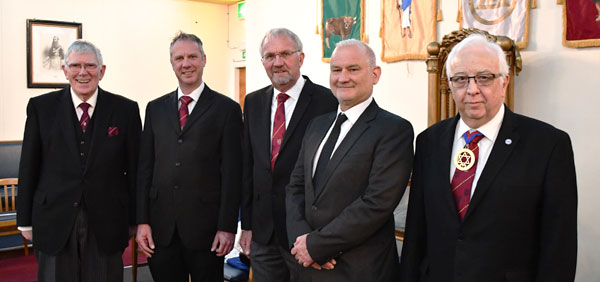 Tony was accompanied by Malcolm Alexander (Assistant to the Provincial Grand Principals), Harry Chatfield (Provincial Grand Scribe Nehemiah), Graham Chambers (Ormskirk and Bootle Group Chairman) and other grand and acting Provincial grand officers.
In a packed chapter, the companions enjoyed an excellent ceremony. During which, Derek Midgley installed his son Robert Midgley as first principal of the chapter. Jason Nash was installed as second principal and Iain Brown installed as third principal. This is Robert's first time in the chair of first principal.
The robe addresses were given by Derek Midgley to the first principal, Stuart Cunningham to the second principal and Philip Gunning to the third principal.

At the festive board the Grand Superintendent thanked the chapter companions for their hospitality. He also complimented all who took part on an excellent ceremony. He then spoke about the Membership Pathway which is showing encouraging signs of bringing in new members.
The toast to the three principals was given by Derek Midgley.