St Mary's Hospice in Ulverston has been chosen to receive a grant of £1,375 from the Province of West Lancashire Freemasons. The grant comes through the Masonic Charitable Foundation (MCF) and will be used for core costs. This will ensure the hospice can continue to provide care across South Lakeland and Furness to those living with advancing illness and their families on the uncertain road ahead.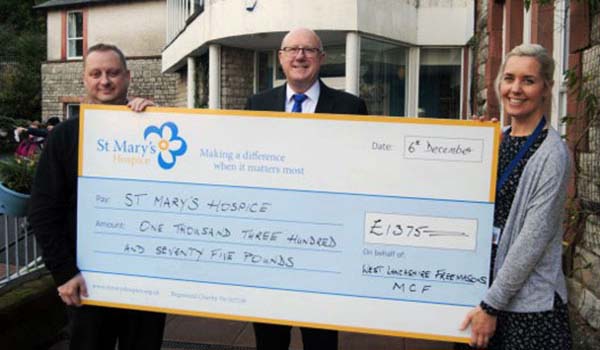 This is just one of 227 grants from Freemasons to hospices around the country. In total £600,000 will be granted to hospices all over England and Wales this year.
This includes £300,000 which will be distributed to each hospice that receives less than 60 per cent funding from the NHS. A further £300,000 will be provided to individual hospices across England and Wales via Hospice UK, the national charity for hospice care. The MCF is partnering with Hospice UK to re-imagine hospice services. Contributions from Freemasons to hospices have exceeded £15,000,000 in England and Wales since 1984.
Clare Paling from St Mary's Hospice said: "We're very grateful to the West Lancashire Province of Freemasons for their generous grant, which will ensure the care needed for those living in the South Lakeland and Furness area with advancing illness, will always be there."
Group chairman of the South Lakeland Group Gary Rogerson said: "I'm very pleased we have been able to assist St Mary's Hospice. They do an outstanding job helping people with terminal or life limiting conditions, as well as supporting their families through very difficult times."
Group charity steward Phil Renney added: "It's a privilege to be able to support St Mary's Hospice. They provide an invaluable service to the South Cumbrian community. To be able to provide the level of care they do, at what is often a very traumatic time for patients and their families, is truly wonderful and we are delighted to be able to contribute in some small way."