Brethren from lodges in the St Helens and Prescot Group and beyond joined the members of St Helens Lodge of Loyalty 897 to welcome Andy Steel as their new WM.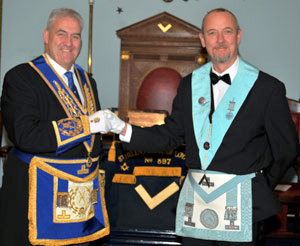 The lodge was also pleased to have the company of Andrew Whittle who was representing the Provincial Grand Master, and he was accompanied by acting Provincial grand officers as well as the St Helens and Prescot Group Chairman Graham Williams.
St Helens Lodge of Loyalty is a growing lodge since being rescued by members of the Widows Sons Masonic Bikers Association whose goals are to introduce the pleasures of motorcycling to Masonic brothers by communicating to as many Masons as possible who are already motorcyclists to come and join. To raise Masonic awareness in the world of motorcycling, there is a support group "The Bad Pennies" which is open to membership by anyone – this introduces motorcyclists to the group and also Masonry. And to support Masonic lodges by regular attendance and to assist at events –as a group they are very supportive of each other and the lodges range all over the northwest, from Settle to Llandudno and all points in between.
It soon became apparent that all the Widows Sons members are very enthusiastic and dedicated Freemasons which was shown by the warm welcome and standard of ritual performed throughout the evening.

The outgoing master, Bill Bruce, treated all present to a most sincere and heartfelt ceremony ably assisted by the officers and brethren of the lodge. Of note, was Bill's unique rendition of the working tools in all three degrees. Andy Steel said: "I am delighted and humbled to have been installed this evening as master of 897 for the next 12 months. It is especially poignant for me as this year marks my 25 years in Freemasonry. I hope we have a great year and look forward to meeting as many of you as possible on ride outs."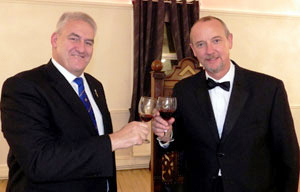 During the ceremony Andy presented Andrew with a number of charitable donations totalling £800 including £200 to the MCF 2021 Festival, £300 to the St Helens Masonic Hall, £150 to the WLFC and £150 to TLC, 'Teddies for Loving Care'. Teddies for Loving Care was launched after the wife of an Essex Freemason was taken to Southend Hospital Accident & Emergency Unit following a severe allergic reaction. Her life was saved by the rapid action of medical staff who were able to resuscitate and stabilise her. The couple were grateful for the caring attention received but found the experience frightening and speculated on the distress that children must face when attending A&E. The idea of doing something useful for Southend Hospital was discussed with other local Freemasons and following a great deal of research, 'Teddies for Loving Care' was launched in 2001. TLC has since been adopted by Freemasons across the country and continues to provide teddies to A&E units for children in distress.
On receiving the charitable donations, Andrew thanked the lodge for all the donations saying that this is an impressive amount to receive from a small lodge again demonstrating the enthusiasm and dedication of its members and went on to thank everyone on behalf of all those who will benefit from these very generous amounts.
After the lodge was closed the members and guests congregated at the bar before being treated to a most enjoyable dinner in the relaxing and friendly surroundings of St Helens Masonic Hall.
During the meal, Andrew spoke about the significance of our charitable work and Andrew said: "Thanks to Bill, Andy and all the team for a great night, to George for being a proper trooper, and to John Askew for being brill as always. Thanks for years of loyal service and 'au revoir mes amis' to Ken Wesley and George Irving for their stalwart help and assistance as the lodge moves to its next phase."