The installation of the new master of Leyland Hesketh Lodge No 986 was a very special occasion for both installing master and the master elect.

After three years in the chair, outgoing master Mike Knowles, completed the initial business of the evening before announcing that the next item would be 'special measures' for the installation of the master elect. The reason for this unusual choice of words was soon to become clear as Jonathan Measures was presented as master elect with his father, Jon Measures, to be the installing master.
The installation was completed in fine style in the presence of Provincial Senior Grand Warden Daniel Crossley, who represented the Provincial Grand Master Tony Harrison, together with Peter Allen and Dave Bishop, Chairman and Vice Chairman of Chorley and Leyland Group.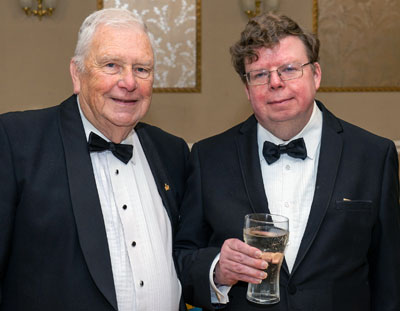 Having taken the chair, Jonathan then completed formalities by appointing his officers for the ensuing year before presenting Daniel with cheques for £250 in favour of Mad Mob Dance and £100 in favour of Teddies for Loving Care.
As the meeting concluded, Jonathan said that he was delighted to be following in his father's footsteps as master of his lodge, having joined Freemasonry as recently as 2014. Jonathan has worked for many years in the family business and during that time was involved in scouting and youth groups, as well as many fund raising activities through Rotaract.
The evening concluded in the relaxed surroundings of the festive board where everyone took the opportunity to congratulate Jonathan and wish him well for the year to come.