All installation meetings are special occasions for the lodge and those involved with the ceremony.  Nevertheless, the installation meeting of Lodge of Furness No 995 was an uncommon and somewhat extra special occasion.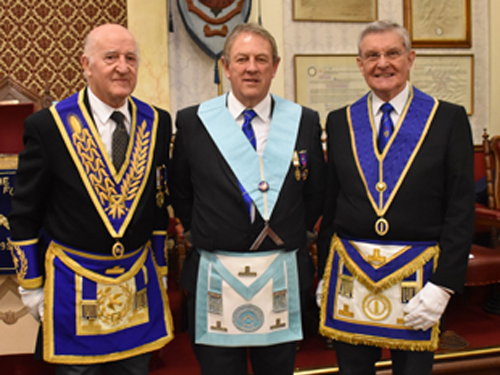 The principal guest was lodge member Rowly Saunders who not only had the responsibility of representing the Provincial Grand Master Tony Harrison but also presented the master elect for installation and in addition delivered the address to him after he had ascended to the principal chair of the lodge.
It was most apt that these additional duties were undertaken by Rowly as he had been the proposer for incoming master Thomas Irving when he had applied to become a Mason. What made the meeting even more unique was that the outgoing and installing master, Jim Richards, had been a joining member of the lodge and his proposer for lodge membership had also been Rowly.
Rowly was accompanied by Furness and South Lakeland Group Chairman Peter Schofield along with acting Provincial grand officers Andrew Ridal, Alan Hilton, Terry Ridal and David Ingham. Also taking a keen interest in affairs were 11 visiting masters in office.
They were able to enjoy the work of not only Jim Richards, but all those who took part in what transpired to be an excellent ceremony. As already mentioned, Rowly delivered the address to the new master, a task he took on with obvious pride. Barrie Crossley gave the address to the wardens whilst Reg Carden orated the address to the brethren of the lodge. All played their part well and added to the occasion.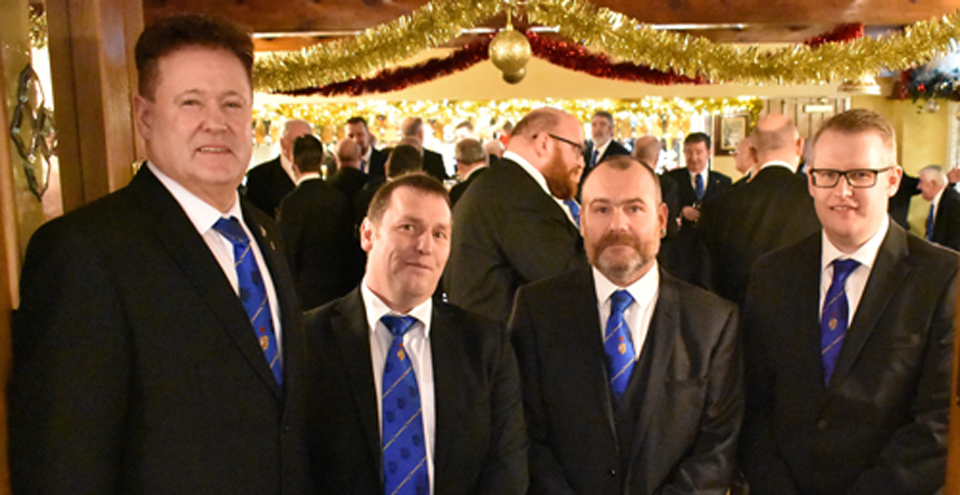 Chris Angell presented the working tools of the third degree in goodly fashion. However special mention must be made of the work of junior brethren Andrew Brew and Gary Grieve who delivered the working tools of the first and second degrees respectively. Their work was both accurate, clearly audible and well-paced. It was Gary's first installation has he had only been initiated at the meeting following the last installation. The quality of their work bodes well for the future.
Barrie, who stood down as director of ceremonies on the evening, his replacement Vic Sharratt and assistant Richard Wilcock were later thanked by Rowly for the work they had obviously put in in ensuring such a successful ceremony.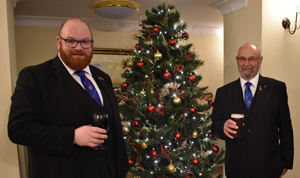 To mark the occasion Rowly was presented with a cheque for £599 in favour of the Masonic Charitable Foundation, and after thanking the lodge was quickly relieved of it by Richard Wilcock who is the group charity steward. In the year the lodge has also given a total of £885.50 to the Ulverston Masonic Hall Building Fund, which has been well spent on the numerous improvements which have been made in the building.
Following the formalities there was a short journey to the Olde Mill at Bardsea situated on the coastal road overlooking Morecambe Bay for the celebratory meal. The menu, featuring turkey, was heartily enjoyed by 80 members and their guests.