Many thanks were extended to Cliff Davies and Phil Stock from the Southport Masonic Group for their extremely generous donation of £500.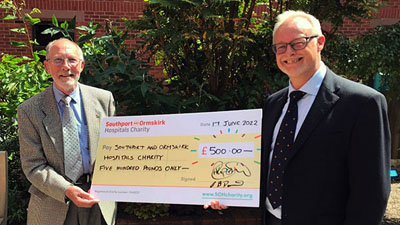 To make the presentation, Cliff and Phil met with Southport Hospital Fundraising Manager Ashley Flint and Charity Fundraising Finance Assistant Victoria Heaven, who assist with charity and fundraising at Southport and Ormskirk NHS Trust.
The money was raised by the generous giving of the members of Southport Lodge No 4034 who quite simply stated: "We all draw on the expertise and health care benefits provided by the hospital and we wanted to give something back!"
On behalf of the lodges and brethren of the Southport Group, Southport Lodge representative Cliff and Southport Group Chairman Phil Stock presented the 'big cheque' to Ashley Flint and Victoria Heaven in the Southport Hospital's Garden of Reflection.
Southport Group of Freemasons regularly supports local and national charities and it is very grateful to all the lodge members for their generosity in raising money for the Southport and Ormskirk Hospitals Charity.