From its inception, the South Fylde Group has been known for both its Masonic and non-Masonic charitable efforts across the wider community.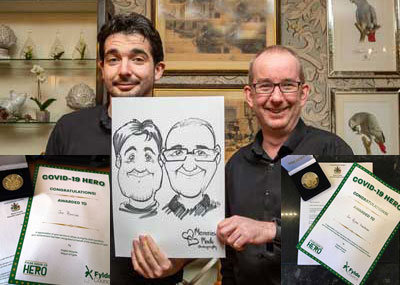 Two of the South Fylde Group's brethren, Jon Boriss from Quadrant Lodge No. 8044 and Jon Hardman from Ansdell Lodge No 3607 have been honoured as Fylde Coast COVID-19 Heroes by the Mayor of Fylde Angela Jacques. They have both received a commemorative coin, certificate and letter of thanks on behalf of all of those that they have supported across the Fylde Coast.
Adding an additional degree of specialty to this, both Jon's continue with their charitable efforts which have ranged from delivering a carton of fresh orange juice to a member of the community in need, all the way to providing over 200 meals for those less fortunate across the Fylde Coast.
When asked about the award Jon Boriss said: "I am totally taken aback and truly touched, we don't do what we do for any thanks.  It is just the right thing to do."  While Jon Hardman remarked: "This is truly touching and I am very grateful for the award which I will share with my family."
The humility from both these brethren highlights why they were selected and what this shows is that once again the South Fylde Group shines bright and certainly has a bright future with brethren such as these working hard for our wider community.