South Fylde Masons are off to an absolutely flying start in support of the Provincial Grand Master's Christmas Foodbank Appeal.
Group officials were quickly off the starting blocks to promote this worthy campaign, and Assistant Provincial Grand Master David Randerson, always at the fore of charitable giving, added his own personal appeal for support by posting a launch video on the South Fylde Group Facebook page.
One of the two main collection points for the group is St Annes Palace, where it became immediately apparent that the voluminous collection box provided to receive donations was simply not going to be big enough! After just 24 hours it was literally overflowing and the surrounding floor space was rapidly beginning to disappear beneath the quite incredible number of donated items.
Fast forward just one week, and all reasonably available floor space in The Palace lobby was suddenly piled high with the spoils of our members outstanding generosity.
By the end of week two of this most worthy campaign, the Blue Room at The Palace, normally the venue for many a convivial festive board, was beginning to take on the appearance of a well-stocked high street convenience store.
The campaign has been an outstanding effort in its own right, but with a fortnight left to go, it can now be reported that the bar of generosity has been raised even higher with a donation of £500 from the members of Ansdell Lodge No 3607 to purchase even more items to add to this ever growing mountain of food and essential supplies, not to mention new children's toys.
To fulfil this happiest of obligations, Ansdell Lodge's members and friends have quickly mobilised a coordinated effort amongst themselves to spend this magnificent sum of money in the best and most expedient way possible for the benefit of the Foodbank appeal.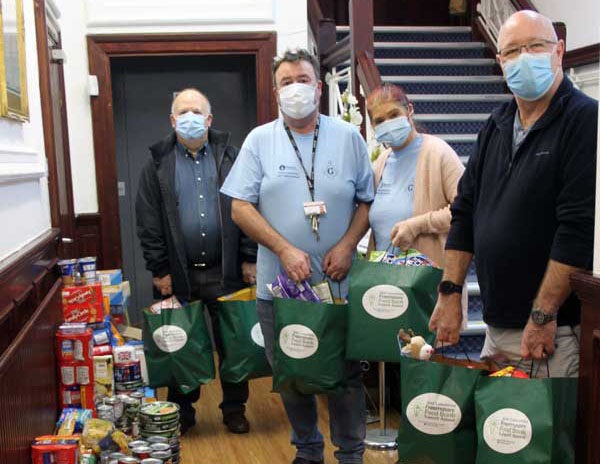 The other collection point will be at Poulton-le-Fylde Masonic Hall, which will be open on two weekends, 28-29 November and 5-6 December. It will also be open to receive food items, necessary supplies and new children's toys.
South Fylde Group Chairman John Robbie Porter commented: "What is truly gratifying is the fact that so many of our members are embracing the true spirit of that old Christmas adage, that giving is better than receiving, and they have done so in droves and with huge smiles on their faces."
John Robbie gave further praise to group charity steward Dave McKee as: "Possibly the most experienced supermarket shopper in the South Fylde." This comment is in reference to the fact that Dave has received many financial contributions from Masons who are not able to get out and about, and he has happily and enthusiastically done their shopping for them and delivered it to The Palace on an almost daily basis.
At the end of this appeal, and whatever the final number of items donated via St Annes Palace, which are currently being counted literally in their 1,000s, the members of the South Fylde Group should be supremely proud of their collective effort during a year in which their resolve has been so tortuously tested.
In the words of a certain someone, God bless us, every one.