Not content to allow the pandemic to get in the way of Masonic charity, or seasonal cheer, the South Fylde Group hosted a truly unique online social event.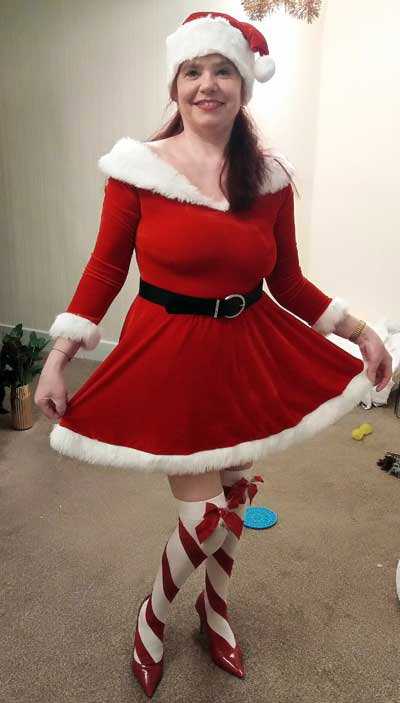 What started out as a fairly straightforward idea by Ian Park for a festive get together for Ansdell Lodge No 3607, suddenly became the South Fylde Group 'Virtual port and mince pie tasting evening!'
The logistics alone of putting on such an event would have been off putting for many, but the concept captured the imagination of South Fylde Group Secretary Ben Gorry, and suddenly, there was no way that it was not going to happen!
In the end, around 60 people logged into the event, all of whom had taken delivery of 5 individual ports and a supply of delicious mince pies, generously supplied free of charge by Neil MacSymons, owner of the acclaimed Scotch Bakery on Lord Street, Fleetwood. Some participants really got into the spirit of the occasion by dressing up for the occasion. Pam Nicholls, for example, wore a very fetching Santa suit with matching shoes and stockings.
Ben Gorry acted as anchor man for the evening and bade everyone a warm welcome and explained the format of the night. It was then straight on to the tasting which was conducted by none other than the inimitable Godfrey Hirst of Semper Fidelis Lodge No 4428, who expertly talked those assembled through the subtleties of each vintage, along with some hilarious personal anecdotes involving his previous, and apparently numerous experiences with port!
Everyone in attendance immersed themselves into the spirit of the occasion by dressing in festive garb and enthusiastically tackled the Christmas Food and Drink Quiz which was eventually won by Kevin Burns from Fairhaven Lodge No 5076 with an impressive 19 out of 20 correct answers.
It is fair to say that a happy night was had by all, with many commenting that it was so good to be able to catch up with friends that had not been seen for many a month.
Assistant Provincial Grand Master David Randerson congratulated the organisers and thanked the team of volunteers who had assisted with the not inconsiderable task of distributing the samples to so many people who were geographically spread from Fleetwood to Lytham and as far east as Kirkham. This team included Jon Boriss of Quadrant Lodge No 8044, Juan Topping of Foxhall Lodge No 7484 and Ray Pinkstone and Ian Park of Ansdell Lodge.
Ben Gorry went on to announce that a raffle held during the evening for the benefit of the MCF 2021 Festival had raised the quite incredible sum of £603. Also in attendance, David Winder, Vice President of the Festival, was elated by the generosity of all attending and thanked those concerned for organising the event.
In a letter to South Fylde Group Chairman John Robbie Porter, David wrote: "I simply had to write as Vice President of the 2021 Festival with thanks for the wonderful sum raised for the Festival last evening, at the virtual port tasting event and to offer my sincere thanks and congratulations to all involved. It was gratefully received and will be faithfully applied."
After the formalities of the event were concluded, the zoom meeting was kept going for some time for an informal and enjoyable drink and chat amongst good friends.