Times of challenge often bring out the best in people, and in the case of the South Fylde Group this is certainly the case. In the early days of the COVID-19 pandemic, Gary Edwards quickly organised a COVID -19 Task Force with a small number of brethren offering services to those who found themselves isolated due to the situation or just needed a bit of extra help in this difficult time.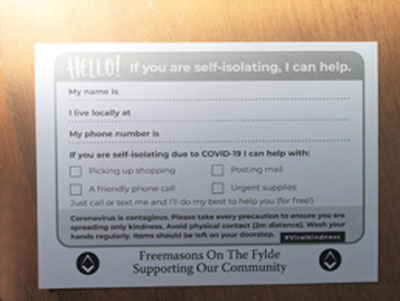 Recognising the potential impact, it was then promoted with group endorsement and now forms part of the Provincial Welfare Plan with tasks and errands being run on a daily basis, much to the satisfaction of those in need.
With the support of Assistant Provincial Grand Master David Randerson, 100s of flyers were produced for distribution across the North Fylde, Blackpool and South Fylde Groups to highlight that help was available for non-Masons and Masons alike.
Task Force numbers are now approaching double figures and with more requests arriving daily, this proves that Freemasonry is truly universal and that these fine brethren truly are the best among us.
For assistance from the Task Force please contact Gary Edwards via email at: gary.edwards@lateoglobalsolutions.com