The South Fylde Group celebrated Robbie Burns' day in great style. A full house of ladies, gentlemen and brethren gathered together at the Palace Masonic Hall, Lytham St Annes.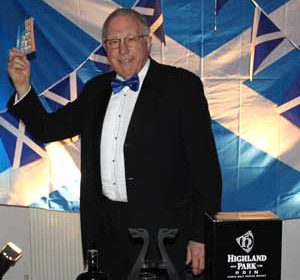 Upon arriving, all the guests were welcomed and then entertained by the piper for the evening, Gwen Dage. Gwen was the North West and North East solo Piper Champion in 2017.
Before sitting down to a four course Burns supper with whisky, Gwen piped the haggis into the beautifully decorated dining room followed by John Nicholls of Ansdell Lodge No 3607, who had organised the evening. John then delivered a word-perfect Robbie Burns 'Address to the haggis' with a superb Scottish accent and thespian manner.
During the course of the evening a raffle was held which raised the magnificent sum of £551. Over recent months raffle tickets have been sold for a bottle of rare malt whisky. This was kindly donated by David Kenworthy of Quadrant Lodge No 8044.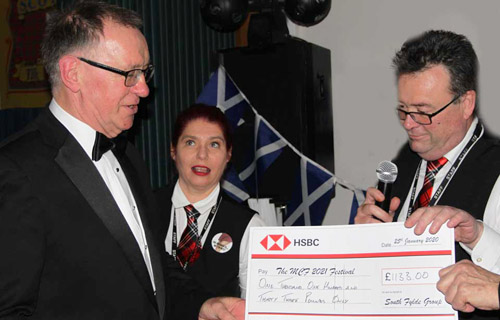 At the end of the evening Pam Nicholls drew out the winning ticket for one lucky person. The whisky raffle made an amazing £582 for charity.
John Nicholls and David Kenworthy then presented a cheque for £1,133 to John Robbie Porter, Chairman of the South Fylde Group, to donate to the MCF 2021 Festival on behalf of the group. This has made the South Fylde a Grand Patron of the Festival, which is an outstanding feat.
The evening continued with country dancing to the sounds of Barnaby Beats and much fun was enjoyed for the remainder of the evening.