Provincial Grand Master Tony Harrison received a very warm welcome from the brethren who packed the delightful lodge room of Silverdale Lodge No 6926, when he attended as principal guest on the occasion of their installation meeting. Tony was accompanied by the Chairman of the Lancaster and District Group Neil McGill and no less than 22 grand and acting Provincial grand officers, included in their number were the Provincial Grand Director of Ceremonies Malcolm Bell and the Provincial Senior and Junior Grand Wardens David Edwards and Paul Storrar respectively.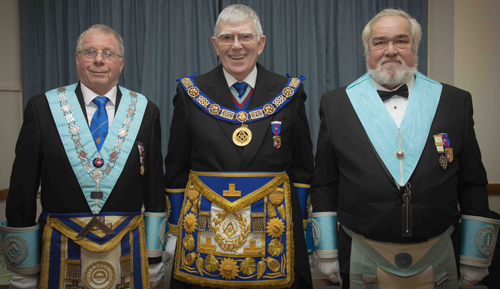 On the day there were in total 60 visiting brethren from 29 lodges, together with 27 members of Silverdale Lodge present, suggesting the previous adjective 'packed' hardly does the scene justice.
The master elect John Charles Gunson was presented by his proposer into Freemasonry Steve Fox, before being installed in a most professional manner by the installing master Tony Dickinson.
John was born in Winnipeg, Canada in 1958 and moved to England soon after. John is married and has two children and five grandchildren. He is now retired but previously spent 44 years in the Merchant Navy, 25 years of which was as Master. Having travelled extensively during his working life, he now wants to stay closer to home and to this end has purchased a log cabin in the Lake District. John and his wife Maggie have also built a wooden 16-foot canoe which they use for exploring the Lancaster/Kendal Canal and several of the lakes in the Lake District.
He was initiated into Silverdale Lodge in 1995, but because of his time at sea he remained as a steward of the lodge for many years. He is now looking forward to doing the best job he can as master of the lodge and has a busy year ahead, with one first and one second degree ceremony, as well as two third degree ceremonies. John also intends to visit other lodges as often as he can.
Following his installation as master, John was presented with the working tools by Carl Horrax (third degree), Richard Parker (second degree) and Matthew Preston (first degree), all of which were delivered with assurance and style.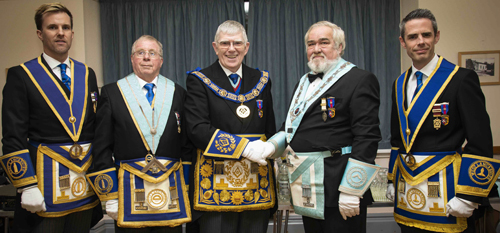 Grand officer John Robson gave the address to the master and that to the wardens was presented by Steve Fox. The address to the brethren was delivered in his own inimitable style by Tony Harrison.
At the close of the ceremony Tony was delighted to be able to congratulate all who had taken part in a very enjoyable, delightful and interesting ceremony. Tony was also greatly impressed with the notification of disbursements totalling £1500. This included £1000 to the MCF 2021 Festival and £500 to the WLFC.
A lively Festival of St John followed at Silverdale Golf Course, were 91 brethren were treated to a superb meal. During the festive board Tony discussed the need for all Masons present to become membership officers and to encourage gentleman of good standing to join the order and encouraged all lodges to adopt the 'Membership Pathway' project. Tony also asked brethren who were not in the Royal Arch to consider joining as it was a really colourful and interesting order.
Before a successful evening came to a close it was announced the raffle at the festive board had raised an amazing £449.

Article written by Paul Thompson. Photographs courtesy of Ian Lonsdale.