The joy was all his when David Ingham learned that the principal guest was to be John L Quiggin at his installation as the first principal of Barrow Chapter No 3928. David was introduced to John in the late 1980's when he joined Barrow Lodge No 3928 and later the chapter. They have been firm friends ever since. Not only is John a firm friend of David but the hard working secretary of the chapter too!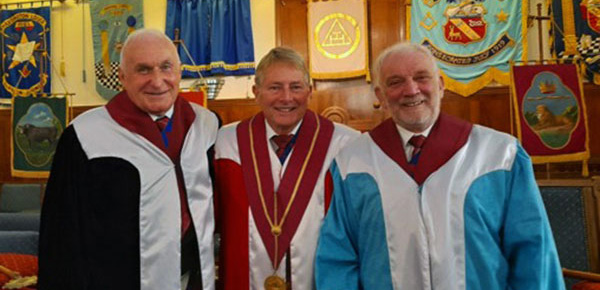 It seemed an age since back in March of 2020 the members of the chapter had their first practice for what was to be a delightful ceremony. But, despite the delay, the companions stood up to the passage of time and in a happy spirit, conducted the work in a dignified manner.
A little unconventionally, Mick Lacey was installed into the third principal's chair by Richard Wilcock, to help the chapter in terms of continuity and then Mick Lacey installed David Ingham into the first principal's chair. Subsequently, David then installed Richard into the second principal's chair. The whole ceremony was held together by the director of ceremonies George Manderson who has been an inspiration to many a companion throughout his tenure of the most important position in the chapter. Thanks go to George for a job well done.
Phil Renney had the pleasant task of presenting a certificate recording the fact that the chapter had gained Grand Patronage for the Masonic Charitable Foundation 2021 Festival. He complemented the companions of the chapter, knowing that it was achieved with such a small number of members.
A festive meal was later enjoyed by the 34 guests and with two candidates for exaltation in attendance, the future for Barrow Chapter looks very good indeed.