St Annes Palace is well renowned for its imaginative and successful events programme and exceptional catering. One of the most popular nights of the year is always the annual Burns Night, which sells out in very short order. 2023 was no exception with 114 diners gathering on a "braw, bricht, moonlit nicht" to celebrate all things Caledonian.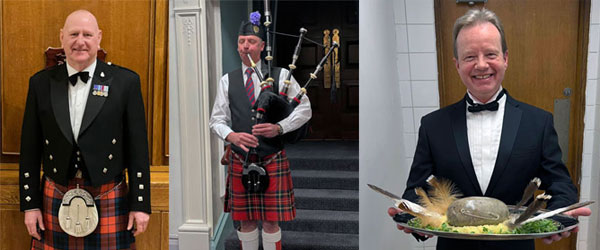 The stage was set by guests being greeted in fine style by professional bagpiper Steve Plumb. This was followed by a truly mouth-watering four course Burns Supper prepared by Lee Munro and the staff of Masonic Event Catering.
After a starter of a hearty homemade Scotch broth, the haggis was piped into the dining room, borne by David Arrow, WM of Fairhaven Lodge No 5076. David was preceded by the MC for the night, Chris Thompson, also of Fairhaven Lodge, who gave a highly entertaining and dramatic rendition of Burns' famous Ode to The Haggis.
The haggis was served with 'neaps and tatties' and accompanied by the essential 'wee dram' was followed by an Aberdeen Angus beef dinner and a quite spectacular hand-crafted dessert consisting of a Scottish raspberry cheesecake served in a white chocolate dome. The fine feast and entertainment created an excellent party atmosphere, which continued well past midnight thanks to the entertainment provided by DJ Chris James.
This annual event is famous for raising funds for local worthy causes, and on this occasion, John Nicholls, the Events Director at The Palace, responded to an appeal from Martin Dennison, of Poulton-le-Fylde Lodge No 4040, for help in assisting three young Adventure Scouts who are self-funding a yachting expedition off the Croatian coast.
Thanks to the incredible generosity of all in attendance, the three youngsters, Christian, Lily-Mae and Jack, who were all VIP guests of The Palace, went home with just over £1,000 towards their goal.
John Nicholls was pleased to say: "We should all be very proud that we are members of an organisation that so unreservedly assists in so many worthy causes in the community."
In the words of the Bard of Ayrshire: "Lang may yer lum reek."