An 11-year-old ancestor of Robert (Rabbie) Burns was the star of the show at a Burns Night social evening held by St Paul's Lodge No.5459 on Saturday 22 January 2022, at Kingsway Masonic Hall, Widnes.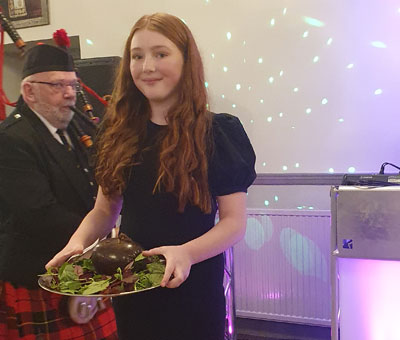 Sophie Sullivan, who is the great, great, great, great niece of the legendary poet and Freemason Robbie Burns, attended the event with her parents Emma and Paul. Emma's mum, Maureen, is Robbie's great, great, great niece.
As well as having links to the Scottish wordsmith, the Widnes schoolgirl is also the granddaughter of lodge member David Berrington, who shares even more links with the famous Scotsman – his birthday is on 25 January, which of course Burns Night.
Everyone attending the event enjoyed being entertained with the address to the Haggis by a member of the Liverpool Clan Wallace Pipe Band, with young Sophie carrying the wee beastie into the Hall for its demise.  This was followed by a wonderful meal provided by our resident caterers, Bluebell Caterers. The meal included in its choices of starters; haggis, tatties and neeps with a glass of Japanese whisky (which was very well received). A main course choice of Scottish-style beef dinner, with a desert choice of Cranachan (whisky, oats, heather honey and raspberries).
The Liverpool Clan Wallace Pipe Band then provided some great entertained to get people dancing with many renditions of bagpipe and drum music, which was very well received by all.

Raffles at the social night raised just over £820 for two local charities; Stick 'n' Step, which supports children with cerebral palsy and their families at their centre in Runcorn, and Halton Haven Hospice, a local, independent Hospice situated in Runcorn that aims to provide skilled nursing and medical care within a peaceful and relaxed setting.
Paul Hudson, who compered and co-organised the event with fellow member Chris Farley, said: 'More than 80 people came along to celebrate one of the greatest poets of our time and a superb night was had by all. We were all delighted to meet Sophie, who did a fantastic job of representing her famous uncle, and the fact that we managed to raise money for local charities, really was the icing on the cake – or in this case the 'neeps and tatties' on the haggis.'
So well received was this social event that it is intended to have a repeat Burns Night Social on Saturday 28 January 2023.