Saturnian, of the Roman God Saturn, who's reign was as golden as the planet Saturn gave its name to the Saturnian Lodge of Blackpool No 7563 who's original premise was to meet on a Saturday for the benefit of those brethren who had to work during the week.

The installation of a new WM is always one of the highlights in a lodge's year, even more so these days is the installation of a master Mason into the chair of King Solomon.
Under the guidance of Saturnian Lodge's very own demigod and director of ceremonies Jonathan Selcoe, who guided the new nervous master elect and the officers of the lodge through an enjoyable and interesting installation ceremony.
Junior warden of the lodge, Stephen Williamson, was installed as the WM of Saturnian Lodge in the presence of the Blackpool Group Vice Chairman David Edwards, representing the Deputy Provincial Grand Master in Charge Phillip Gunning.
David was supported by the Blackpool Group Chairman, Steve Jelly, together with various grand officers and Provincial grand officers and assisted by the Blackpool Group Secretary and Past Provincial Grand Steward Michael Tax.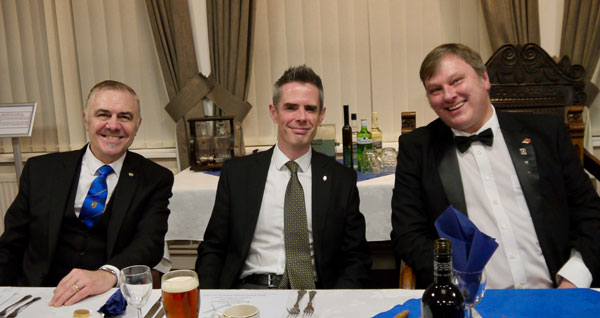 After the formalities of the afternoon were completed, the brethren retired to the more convivial surroundings of the lounge bar and then onto the museum dining room for a fine meal and entertaining speeches.
David Edwards thanked everybody who had attended on this day and especially those who had taken part in the installation ceremony. Talking about the new changes and procedures being promoted by United Grand Lodge and emphasising that everyone must be involved in making these schemes work to the advantage of Freemasonry.
Bernard Hopkinson, in his toast to the WM, gave an emotional and nostalgic speech reminiscing on his time as a college lecturer in joinery with Stephen as one of his students.
In his response to the toast to his health, Stephen thanked Bernard for proposing him into Freemasonry just six years ago, also thanking all those who had supported him in his Masonic journey. Concluding his speech and showing his skill as an artificer of wood, Steven presented home-made gavels to David Edwards and Steve Jelly.
Pictures and story by Blackpool Group Publicity Officer Gordon Ivett.