Companions of Sacred Delta Chapter No 216 had an especial reason to look forward to at their convocation, the exciting news of a new companion with the completion of an exaltation ceremony. Following a successful installation from the previous meeting, the three principals were looking forward to this event.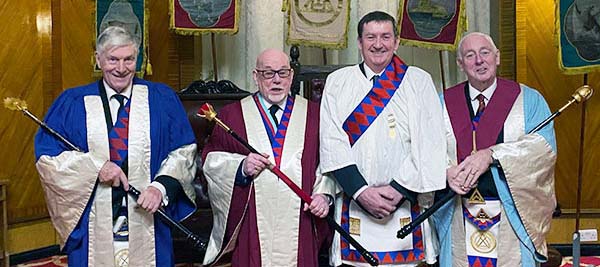 Unfortunately, first principal Bill Follett was unable to attend and the chapter wished him well and a speedy recovery. Ian Elsby agreed to deputise as first principal and joining with him as second principal was Gerald Carson and third principal Michael Melling, the chapter was opened in fine form.
The three principals then warmly welcomed their distinguished guest Kevin Poynton who was representing the Grand Superintendent Tony Harrison. Kevin was accompanied by chairman of Gladstone Group John James.
The chapter took notice when Paul Carr of Ormskirk Priory Chapter No 4007, who stood in as scribe Nehemiah, announced that the exaltation ceremony was to begin. The companions, visitors and most of all, the candidate William Jones of Freshfield Lodge No 8165, were treated to an exemplary exaltation ceremony, which was sincere and delivered well. Particular mention must go to principal sojourner Roy Williams who was superb in his delivery of ritual – well done indeed.

With the business of the chapter concluded the companions retired to the festive board and to offer congratulations to new companion William.
At the festive board third principal Michael Melling rose to propose a toast to William and stated on behalf of the chapter how delighted he was that William had joined such a fine and distinguished chapter, a comment echoed by Kevin Poynton.
In response, William thanked all present for their kind words and was looking forward to becoming a valued member of the chapter and enjoying their companionship for many years to come.
The warmth and friendliness of the companions shone through once again for Sacred Delta and, with further exaltations in the pipeline, a long and bright future promises to continue.