Assistant Provincial Grand Master Frank Umbers was present to address Roy Bell on the evening that he celebrated 50 years in Freemasonry and what an eventful 50 years they have been!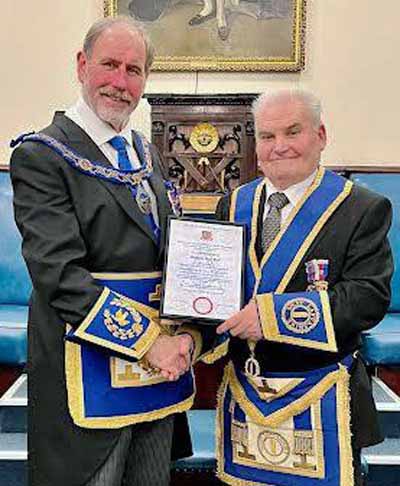 Roy was initiated into Perfect Ashlar Lodge No 5246 on a cold December night but the warmth of the lodge must have been pulsating through Roy's veins. One doesn't know where to start with Roy, he is so multi-talented and has had such a varied life that it is difficult to know where to begin.
In the 60s he was a semi-professional rock star, lead singer with a group called the Zeniths. They had a long term resident spot at the Ocean Rooms in Blackpool as well as playing locally, so they were pretty good! It stood him good stead for singing the entered apprentice song!  He was also a lifeguard on Southport beach as well as teaching in the local swimming baths.
He graduated with a degree in chemistry from Byrom Street Polytechnic and during this time he opened his shop named 'The Spinning Wheel' in Birkdale village. Here he sold antiques, specialising in coins and banknotes.
He is a keen golfer and still plays to a good handicap. He was a member of the Southport Group golf team that won the Diamond Jubilee championship. He has also won the Southport Group golf trophy.
Frank spoke of the many garden parties in aid of local charities organised by Roy. It was at one of these parties held at his premises that Roy showed Frank around the Aladdin's cave he calls home. Room after room are full of all sorts of wonders, including the biggest collection of old Southport postcards ever seen.
And so to Masonry, he was proposed into Perfect Ashlar Lodge by the brothers Fred and Gordon Gwynn in 1971 and progressed through the ranks and attained the chair of the lodge in February 1982. He was director of ceremonies for many years and was appointed a past Provincial grand officer in 1992. He attained the position of Past Provincial Junior Grand Warden in 2001.
In his capacity as a valuer, he has valued the entire contents of the Masonic Hall for insurance purposes, on several occasions. Working with three other brothers he has revised, amended and updated the Perfect Ashlar ritual book, a mammoth and complicated task. He and his wife Pat have renewed the Perfect Ashlar masters collar and there is enough space to last until the lodge's centenary year in 2031.
To say that Roy loves his Freemasonry is an understatement. He has given so much time and energy to it that he is the cornerstone of what we all know as Masonry.
In the normal way of these events, Frank Umbers regaled the assembled brethren with an account of Roy's life outside of Masonry as well as his achievements within the Order, as recounted above. Southport Group Chairman, Neil Latham, read out a certificate, signed by the Provincial Grand Master Tony Harrison, to commemorate his 50 years in Freemasonry. Frank then presented this to Roy amid generous applause. The meeting was concluded shortly afterwards and the brethren retired for a hearty meal in the banqueting suite.