The members of Wayfarers Lodge No 7544 met at Cleveleys Masonic Hall to experience what was an intimate and moving 50 years celebration for Ron Senior.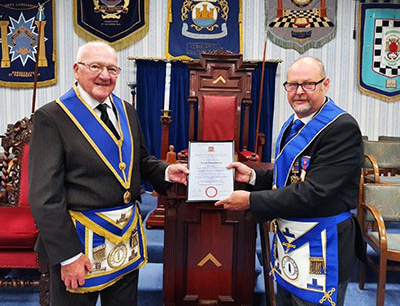 The WM Barry Thompson welcomed everyone to the celebration and opened the lodge and once the administrative work of the lodge had been completed, Barry handed over the master's chair to Brian Coulter who had the honour of compiling the 'Life and times of Ron Senior.'
The lodge's hard-working director of ceremonies Michael Thistlethwaite then escorted Ron to a chair in front of the master. Brian started Ron's story by giving an insight into his early years and began by saying: "Ronald Senior was born in 1931 in Failsworth, Manchester and that Ronald James Senior was born as an only child to his proud parents May and Joe Senior."
Ron's father left the family home when Ron was only nine years old and, in that same year as Christmas approached, German bombs rained down on Manchester city centre, killing 100s of people and causing widespread destruction and devastation.
Ron's work life started in the joinery trade, not compatible with his preferred trade. Ron soon boxed up his tools and secured a seven-year apprenticeship as a painter and decorator with Norman F Hawton. This apprenticeship formally delayed his UK military conscription.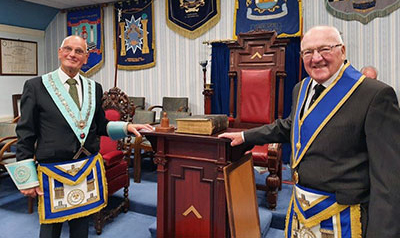 Once the paint had dried on Ron's apprenticeship in 1952 at the age of 21, he entered into a two-year government-mandated National Service. It was during these two years that his strength of character was to be tested after being diagnosed with pneumonia. This debilitating condition was believed to be the result of the harsh weather in Cornwall where Ron served the local community in battling with the flood defences of the day to protect properties and essential community support services.
Ron married his wife of 67 years Joyce Mary in September 1954 and they honeymooned in Blackpool. They welcomed a son, Ian Senior, also a member of Wayfarers Lodge, who sadly passed away in 2019.
In his presentation, Brian moved to Ron's many years in Freemasonry. Ron was initiated into Alkrington Lodge No 6102, being proposed and seconded by Bill Holt and Bert Briggs. Brian said: "We could not obtain the summons to that meeting due to Alkrington Lodge being no longer active but we can replicate a key charge from that evening." With that the lodge director of ceremonies escorted Ron's grandson to the front of the lodge to give an adapted version of the 'first degree charge'.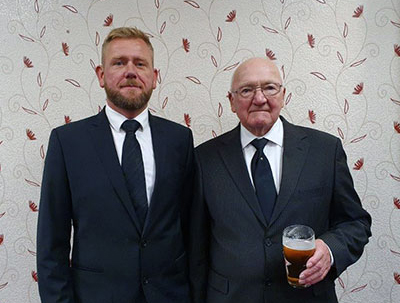 At the end of Brian's synopsis of Ron's life, Chairman of North Fylde Group John Cross rose to his feet to present a certificate from the Provincial Grand Master commemorating 50 years in Freemasonry, together with a distinctive lapel badge.
The final presentation was in the hands of Brian Coulter who presented Ron with a commemorative gavel which had been hand-crafted for the occasion by Brian.
The business of the evening being finished, the reins of the lodge were passed back to Barry to close the lodge. The brethren retired to the dining room for a sumptuous festive board and during the many toasts, Ron's grandson Keith proposed the toast to Ron, whose response was moving and emotional and a testament to the man and Mason; after which Barry presented Ron with a framed transcript of the evening's presentation together with a bouquet of flowers for Joyce.
A raffle held on the evening raised a magnificent £190 which will go to Masonic and non-Masonic charities. To close the evening Gordon Ivett delivered the tyler's toast.
 To read the full transcript from Ron's evening,