Ronald Rich was installed as WM of Wyreside Lodge No 2605 in the presence of Past Provincial Junior Grand Warden Paul Storrar, the representative of Provincial Grand Master Mark Matthews. Paul was accompanied by grand officers John Robson and Neil McGill Chairman of the Lancaster Group. Scott Devine, Vice Chairman of the Lancaster Group and acting officer Dave Shaw, Provincial Grand Junior Deacon were also in attendance.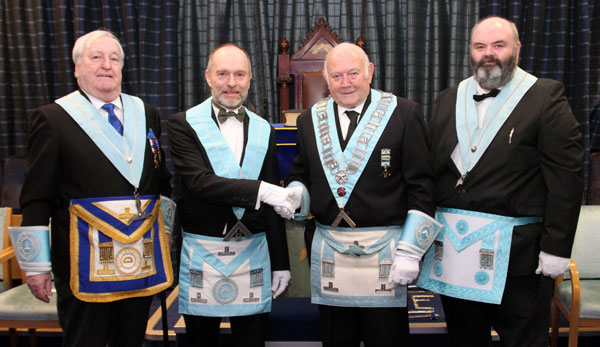 Ronald was presented as master elect by Tony Dawson. The ceremony was conducted by installing WM Alistair Knowles. The installing officers were senior warden Alistair Still, junior warden David Ainsworth and inner guard John Worthington.
The third degree working tools were presented by Stephen McClintock, the second degree working tools and first degree tools by Roy Fenton. The WM appointed Roy Fenton as senior warden and Peter Swift as junior warden.
Giving the address to the master was John Stackhouse, the address to the wardens was given by Scott Devine and the address to the brethren of Wyreside Lodge given by Paul Storrar.
Paul Storrar was pleased to announce that the lodge had made donations to Masonic and non-Masonic charities to the value of £4,120.
The organist was David Brown and the Master's Song was performed by Tony Dawson. A total of 33 brethren attended the festive board. The toast to the WM was given by immediate past master Alistair Knowles.
WM Ronald has been married for nearly 59 years to his wife Irene. He has a son, daughter, grandson, granddaughter and a great grandson. Ron hated school and was told he would never be any good at anything! He has been a haulage contractor for 48 years starting with one truck and is now assisted by his son with a fleet of 30 HGVs. His hobbies include fishing and tinkering with vintage tractors.
As a member Wyreside Lodge, Ronald has progressed through the offices and was first installed into the chair of King Solomon in 2016. He was WM again in 2021 and this is his third time as WM.