The brethren of Crosby Lodge No 3714 and their many guests gathered at the Litherland Masonic Hall, to witness the installation of Ron Elliott as their new WM) For the evening's ceremony the lodge was honoured by the presence of Assistant Provincial Grand Master Frank Umbers.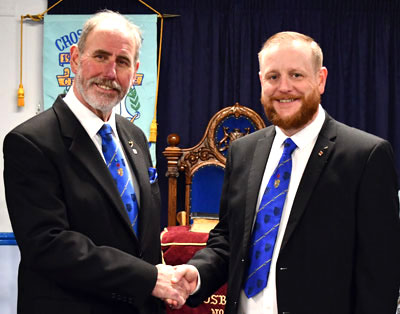 Frank was accompanied on the night by the Past Deputy Provincial Grand Master Howard Jones, Ormskirk and Bootle Group Chairman Graham Chambers, grand officers, Brian Cunliffe, Malcolm Alexander Ron Elliott PAGDC, and acting Provincial grand officers.
The outgoing and installing WM Eric Moran started the evening's proceedings by warmly welcoming the visiting brethren to the meeting. He then opened the lodge and after the initial lodge business was completed, Eric opened the lodge to the second and third degrees. Frank Umbers was then admitted into the temple accompanied by the grand officers and the acting Provincial grand officers.
Eric then warmly welcomed Frank to the ceremony and offered him the gavel of the lodge, which Frank gracefully declined.
The master elect Ron Elliott, who was going into the chair for the first time, was then presented to the lodge by the presenting officer Howard Jones, and after Ron had taken his obligation, the outgoing WM Eric thanked the brethren for all their support and the hard work they had given him during his year in office.
Eric then proceeded to install Ron, according to ancient custom into the chair of King Solomon. The working tools for the third degree were presented by Graham Chambers, the second degree working tools by Paul Hanley and the first degree working tools by Malcolm Keen all delivered in an excellent and faultless manner.
During the installation of the lodge's officers for the year, the address to the deacons was given by Malcolm Keen.
The address to WM was given by David Smith, the address to the wardens was given by Tom Croll and the address to the brethren of the lodge was given by Frank Umbers, all the addresses were delivered in a proficient and confident manner.
The ceremony now being completed, Ron presented Frank with six cheques; £800 for the West Lancashire Freemasons' Charity, with another £280 to WLFC, £500 to the Litherland Masonic Hall, £200 to Tithebarn, £200 to the Cosby Scouts Group and £200 to FROTH. Frank on behalf of the recipients thanked the brethren of the lodge for their very generous and worthy donations.
After closing the lodge in prayer and harmony the brethren made their way to an excellent festive board which was enjoyed by all.