The annual installation ceremony of Neptune Lodge No 1264 took place within the magnificent Adams Suite at Liverpool Masonic Hall with the principal guest being Sam Robinson. Accompanying Sam on this occasion were vice-chairman of Liverpool Group Dave Johnson and Bob Hall, a grand officer and member of Neptune Lodge. It was a particularly happy occasion for 2019 marked the 150 years anniversary of Neptune Lodge. It had the warrant issued on 5 May 1869, with the consecration on 11 June at Liverpool Masonic Hall. How happy the founders would have been to know to what extent their lodge would flourish.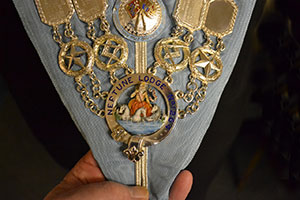 Just prior to the start of the Great War the group system had been introduced by the Province, then known as Lancashire (Western Division) which split the Province into 22 groups, eight of which were in the Liverpool city centre. Neptune Lodge was one of the nine lodge's that made up the Liverpool No 7 Group, but after several re-organisations, the last in 2011, it is now part of the renamed Liverpool Group. This group consists of the 25 lodges meeting in Liverpool Masonic Hall, along with 13 Royal Arch Chapters. The Liverpool lodges meeting in other venues have been placed in other groups around the city.
At the 2019 installation, the lodge was opened in the usual manner by WM Dave Campbell, ably assisted by his fellow officers who gave a warm welcome to all their guests. At the start of the installation Robert Morris was presented as master elect, and after taking his obligations was then installed into the chair of King Solomon in a superb manner by Dave Campbell. The proclamations and perambulations were orchestrated by Dave, who also presented the working tools associated with the three degrees in exemplary manner.
Following Sam Robinson performing the most important address to the members of Neptune Lodge, Robert's first duty as WM was indeed a pleasant one, presenting a number of charitable cheques totalling £1,300 to Sam on behalf of the lodge; firstly to the Masonic Charitable Foundation 2021 Festival for £300, then £400 each to Aigburth Training Opportunities and the West Derby Sea Cadets, and finally £200 to Wirral Narrow Boats.
With the completion of the ceremony, the brethren retired to the adjoining banqueting suite to partake in a delicious festive board. The future looks bright for Neptune Lodge, with a good number of light blues starting their Masonic journey.