Since being appointed as the Universities Scheme Lodge for Preston with specific responsibility for the University of Central Lancashire (UCLan) in December 2022, Preston Guild Lodge No 4408 has not let the grass grow under its feet and is certainly rising to the challenge.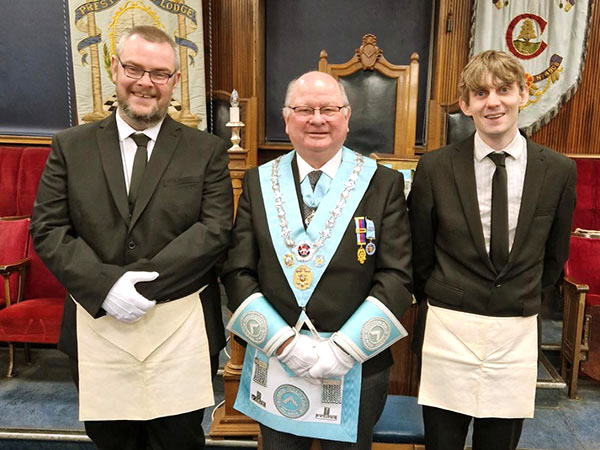 In January, the lodge initiated its first student member, Radu Cheosea, in a ceremony attended by Assistant Provincial Grand Master Peter Schofield, responsible for the Universities Scheme in West Lancashire. Also in attendance was the North West Regional Lead of the Universities Scheme Mo Afsa, as well as Preston Group Chairman John Rimmer.
Radu is a native of Romania and was motivated to be made a Mason through strong family connections in his home country. Whilst at UCLan, Radu is studying criminal forensics.
Migration of Universities Scheme Masons is a key part of the scheme. Members of Universities Scheme lodges who subsequently move to another part of the country are linked to the nearest scheme lodge in their new home. In January, Preston Guild Lodge welcomed Hugo Labat, a medical student, as a joining member. Hugo was initiated into Freemasonry by the University Lodge Sheffield No 3911. Already a fellow craft, the lodge plans to raise Hugo on 22 May 2023 when brethren from Sheffield will be visiting to support him.
In February, Preston Guild Lodge performed its first double first degree ceremony in over 70 years when it welcomed Richard (Rick) Crighton-Harris and Dean Cook into the Masonic family.
Rick is a systems accountant at UCLan and has been interested in Freemasonry for some time. He connected with the lodge at the 'Freshers Fair' in September which Preston Guild Lodge attended. The Universities Scheme is not just for students but welcomes staff as well.
Dean has moved to Preston and is studying for a master's degree in Music Industry Management and Promotion. He had researched how to become a Mason before moving to Preston and it was fortuitous that the lodge had just been appointed to the scheme.
Adam Malik completed his studies at Keele where he became a master Mason at the University Lodge of Staffordshire No 9907. He has now moved to Preston as he commences a career with BAE Systems. He will become a joining member of Preston Guild Lodge through the Universities Scheme migration process.
The lodge is working closely with Mo Afsa to develop links within UCLan to ensure that a path to the lodge is created and more prospects can be developed. At the same time, migration of existing Masons will continue as the lodge grows.
Preston Guild Lodge welcomes all the new and joining members. They bring a richness and youth into the lodge which has made it even more vibrant already.