For David Ingham, the wait from early March 2020 to become the first principal of Barrow Chapter No 3928 in October 2021 was long enough but for Richard Wilcock, his progression in Freemasonry must have seemed a life time. All good things come to those who wait however and so it has come to pass.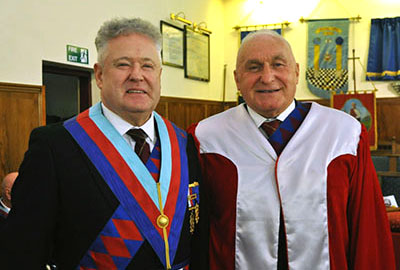 The companions of the chapter were extremely pleased to welcome Peter Schofield as the representative of the Grand Superintendent Tony Harrison. Peter was accompanied by acting Provincial grand officers Alan Hilton and Chris Brown but unfortunately due to COVID, David Grainger and vice group chairman Alan Patterson could not attend. The acting officers Alan and Chris added a touch of calm dignity to the procession that was appreciated by all.
The newly installed and very happy first principal's first duty was to hand a cheque to Peter for £100 for the West Lancashire Freemasons' Charity. Having achieved grand patron within the Masonic Charitable Foundation 2021 Festival, for a small chapter Peter commended the companions on their generosity whilst only meeting on three occasions since the Festival finished.
The director of ceremonies Tony Cassells had quickly worked wonders with the out-going first principal David who was very thankful for his patience and knowledge it. At certain moments in the ritual, Tony and Allan Everett also helped the second principal Joe Crabtree who was initially standing in for Mick Lacey. Mick now seems much better health-wise and the companions wished him a speedy return to full fitness as soon as possible.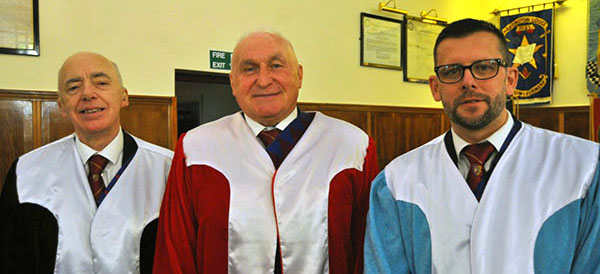 Tony delivered the address to the first principal's robe, in an engaging and excellent manner; David Ingham and Richard delivered the addresses to the second and third principal's robes respectively in an assured and confident style. Scripture readings were given by Alan Everett, John Derbyshire and Bill Glassey. Allan Ritiche was installed as the third principal and Peter commented: "It was good to see the WM of the Barrow Lodge No 3928 making Masonic progress!"
With the formal ceremony over, 35 companions experienced a wonderful meal at the festive board as they tucked into chicken and leek pie followed by peach melba. A raffle generated £285 and with so many meetings and social events taking place in March, Richard was grateful for the support and sent all the companions home with a smile on their faces, which is not unusual when Richard has the floor! A very happy installation was brought to a close by the janitor proposing the final toast.