At a meeting of Ribbleton Lodge No 6386, member David Kenneth Moss celebrated 50 years as a Freemason. The lodge was honoured by the presence of the Assistant Provincial Grand Master Stewart Seddon, accompanied by a grand officer. They were supported by the presence of the Preston Group Vice Chairman John Rimmer and several acting Provincial grand officers.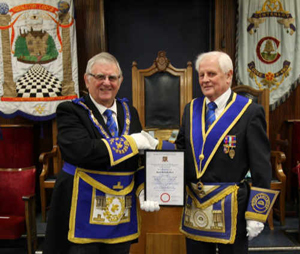 The lodge was opened in due form by the master of the lodge for the administrative business of the lodge to be quickly completed. Following its conclusion, the Assistant Provincial Grand Master Stewart Seddon was welcomed into the lodge accompanied by his entourage.
Having occupied the master's chair, Stewart invited David to occupy a suitable position in the lodge. With a beaming smile he opened his booklet and began to relate the life and times of David Kenneth Moss. Stewart informed the brethren that the story starts in 1945, and by way of illustration listed the various significant events which occurred both in the United Kingdom as well as in the world. David's birthday in December of that year included personalities of the world of stage and screen, political figures, sports personalities and royalty.
The family home was home was initially at Coronation Crescent, Walton-le-Dale. When David was three, he moved to Ainsley Road in Preston and at the age of five David moved to Wellfield Avenue, Leyland, where he began school at Fox Lane Infants and Junior Schools. This was followed by success at the entrance exam which led to David's enrolment at Hutton Grammar School.
At the age of 12 the family relocated to the village of Feniscowles, near Blackburn, which meant a very early breakfast so as to catch the school bus to Hutton. At school David excelled at rugby, cricket and athletics.
On leaving school, employment took the form of an apprentice electrical engineer at the Sun Paper Mill at Feniscowles; following closure the of the mill, David transferred to the Ribble Paper Mill in Preston where the apprenticeship was completed. As part of that apprenticeship, David attended Blackburn College, eventually gaining an HNC certificate in electrical engineering.
Following employment at Star Paper Mill at Blackburn in 1968, David moved, in 1970 to the Central Generating Board at Padiham Power Station as 3rd engineer in the control room on shifts.
David subsequently moved to the Wylfa Power Station on Anglesey in 1978 as Maintenance Investigations Engineer. In 1983 he moved to the training unit at Heysham 2 Power Station, later moving on to the Heysham 1 facility in 1985 as Assistant Electrical Engineer. This was followed by his appointment to Fuel Root Investigations Engineer and finally Shift Instrument Engineer. David retired in 1998 at the age of 52.
When David lived in Feniscowles, his spare time was taken up helping out at a local farm (milking cows, hay making, and electrical work). Regular visits to his local hostelry, the Horden Rake, enabled his attention to be drawn to a young lady working behind the bar, Valerie Anne Sudworth. Suffice it to say, David and Val were married at Emmanuel Church, Feniscowles.
David and Anne were blessed with two children: Nicola Jane, born in 1977 who is a teacher and Craig David born in Bangor, north Wales in 1979 and who is a shift leader at Lancaster University sports centre.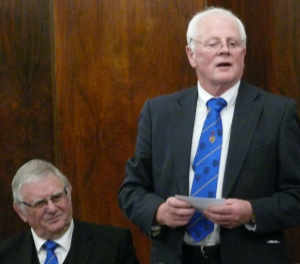 Stewart continued by outlining David's Freemasonry and requested the secretary to read the minutes concerning the initiation ceremony in 1969. His uncle Bill was in the chair, which made the night extra special for him. David's father was a member of Ribble Lodge No 4558 and another uncle, Claude Deakin, was a member of Commercial Travellers' Lodge No 2631. Eventually, David was installed as WM in 1992. Thereafter he served the lodge as charity steward, director of ceremonies and assistant director of ceremonies over a number of years.
In addition, David is a founding member of Brigantes Lodge No 9734 in the Province of Cumberland and Westmorland which was consecrated in 2001 and of which he was the founding junior warden, becoming senior warden a year later and WM in 2003. In 2010 he became director of ceremonies of Brigantes Lodge but following ill health, he relinquished that office but has however, been a steward of the lodge since 2014.
In 2002 David was honoured with the appointment as Past Provincial Junior Grand Deacon, followed by promotion to Past Provincial Grand Superintendent of Works in 2010. In the Province of Cumberland and Westmorland David was honoured in 2011 when he was appointed Past Provincial Senior Grand Deacon with promotion to Past Provincial Grand Sword Bearer in 2018.
In the Royal Arch, David was exalted into the Chapter of Fortitude No 281 becoming first principal in 1995 and he has been director of ceremonies of the chapter since 2015. David is also a founder member of Brigantes Chapter No 9734 in the Province of Cumberland and Westmorland. David received his first Provincial Chapter honours in 2005 when he was appointed Past Provincial Grand Standard Bearer. Promotion to Past Provincial Grand Sojourner came in 2011 and in 2017 he was again promoted to the very high rank of Past Provincial Grand Scribe Nehemiah. David is also a member of another Masonic Order in which he holds Grand Rank.
The brethren readily appreciated that David's entire life has been an example of what makes a good Freemason, as well as a good citizen, a good husband, a good parent, and, in every way, a contributor to society as a whole. Furthermore, it is evident that during the last 50 years, anyone who happened to learn that he is a Freemason, could not fail to see David as anything other than a good ambassador for the Order.
Stewart Seddon then requested John Rimmer to read the certificate, signed by Provincial Grand Master Tony Harrison, which acknowledges the Province of West Lancashire's great appreciation of his half a century of membership of the Craft.
Later in the evening, at the celebration banquet, David was able to respond to the toast to his health by thanking the many brethren for their attendance, which had made the occasion very memorable for him.