This is the remarkable story of a hero and Freemason, Squadron Leader Sydney (Syd) Clayton DSO, DFC and Bar, DFM. It is a story of unimaginable heroism; one of unparalleled devotion to service for his country, and ultimately, of heart-breaking tragedy. Sydney Clayton completed 145 operational sorties as a pilot and navigator (100 as a navigator and 45 as a pilot) during World War II. An average of 30 operational flights was considered to be highly impressive and Sydney Clayton was known as one of the most prolific British airmen of WW II. Following his formidable service, he joined Rectitude Lodge of Blackpool No 4122.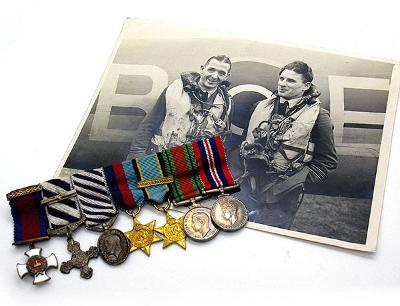 Hughie Edwards VC eulogised Sydney Clayton with the words: "There are mighty few people who would have possessed the courage to go on facing the enemy and keep the same spirit as you have done. I am proud to know you and honoured to have been your commanding officer."
Sydney Clayton was born in Dilworth, near Longridge, Lancashire in March 1916. He started his education at the local school and then took a technical scholarship at Preston College. He held various jobs before joining the Royal Air Force in May 1939. Whilst waiting to be a pilot he trained to become a navigator, qualifying in 1940 and commencing with the 107 Squadron flying Blenheim light bombers, mainly on daylight raids, and flying a total of 72 operational sorties in the Blenheim.
He was awarded a Distinguished Flying Medal in 1941 for 60 completed sorties and was promoted to Flying Officer. With the Bleinheims top speed not exceeding 210mph, as opposed to the Mosquitoes 300mph, scarily, raids were even more hazardous: "We were going in at low-level at low speed – it was not unusual for 12 aircraft to go out and for only two to return." After a short time as an instructor, Sydney returned to active duty in 1942 with the 105 Squadron, flying the de Havilland Mosquito. His first operational flight was on 11 July 1942 with a low-level bombing raid on the submarine base at Flensburg, Germany. The plane suffered serious damage by flak and was forced to 'belly land' at 160 mph.
On 21 October 1942 navigator Sydney and his pilot Roy Ralston were given a free-hand 'roving commission trip'. In his own words, he recounted the occasion: "The general idea was to bomb four separate targets in different areas, so that apart from bomb damage, production was lost due to air raid alerts. We made a general nuisance of ourselves for about three hours and then, while crossing the north Dutch coast, we were jumped on by two Focke-Wolf FW 190s. On sighting the enemy aircraft we entered cloud, turned north and dived for the deck. Being more or less at sea level and going flat out, it was a very bumpy ride, with my head vibrating between the radio and canopy. Luckily the 190s finally broke away and we could then make for base."
Sydney was awarded the Distinguished Flying Cross for his role as the navigator during the skirmish. The citation recalled his courage, initiative and devotion: 'The team of Ralston and Clayton continued to fly high and low-level raids attacking communication and logistical targets such as the Hengelo Diesel Factory, Leige Steel Works and the Renault Aero Works at Le Mans. They became known as the most famous bombing team in the RAF.'
In April 1943, they celebrated the 25th anniversary of the formation of the Royal Air Force with a low-level raid on the Trier railway engine repair depot. This was also Clayton's 100th operational sortie, breaking the RAF record for number of operational missions – and his last as a navigator, flying a further 46 sorties as a Mosquito pilot. The Trier mission was to make the headlines in virtually every British newspaper. Sydney navigated the Mosquito DZ-462 along the double rail track and Squadron Leader Roy Ralston directed a bomb to skid right into the tunnel's mouth. As a train had entered the tunnel only moments before, they then flew straight into the opposite entrance, dropping another bomb with a direct hit to seal the train in the tunnel.
Sydney recalled the event: "I watched Roy's thumb on the bomb release button as the sheds came steadily towards us… he sat dead still… then suddenly his thumb jerked once and he laughed. The bomb, with a delayed action fuse, actually went inside the tunnel. It bounced on for over half a mile before it exploded – completely blocking the tunnel with the train in it." For this Sydney Clayton was awarded the Distinguished Service Order with commendations from many of his peers including a telegram from Air Marshall Sir Arthur 'Bomber' Harris and a picture and plaque from the de Havilland aircraft builder itself.
It was now time for him to begin training and fulfil his original ambition to be a pilot. By 1944 he was flying solo in Mosquitos. His first flight could have been his last as the plane suffered engine failure and had to land on one engine after a technical failure. Now with his pilot wings, he was posted to 646 Squadron and flew Mosquitos operationally from August 1944.
In October 1944 Sydney Clayton had his most memorable flight, being involved in a raid on the Gestapo Headquarters in Aarhus, Copenhagen, supporting the Danish Resistance. On Halloween night, 31 October 1944, British Special Operations Executive and the American Office of Strategic Services put into action a daring Danish raid on the Gestapo Headquarters at Aarhus University, known as the 'Daylight Circus' raid. They had discovered that the Gestapo were planning to execute members of the Danish Resistance and needed to act swiftly to liberate the captured resistance fighters. The Gestapo Headquarters was flanked on both sides by civilian hospitals, so the master of the precision attack, the de Havilland Mosquito, was selected to hit the target at low-level. "Destroy the building – and the incriminating documents with it" were the orders of the attacking force. It was reported that the pilots were hand-picked by Winston Churchill himself; such was the importance of the mission.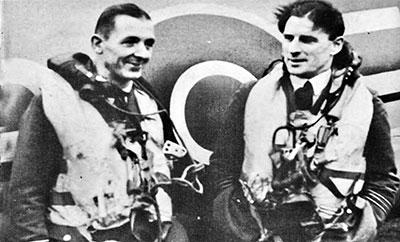 Sydney Clayton's Mosquito was the ninth aircraft in wave, turning in towards the building. Smoke was already rising from bombs already dropped, obscuring his view. Anti-aircraft guns were opening up, their crews now fully awake to what was happening. He cut into the turbulent, smoke-filled air rising from the roof tops. Sydney's thumb tightened on the bomb release button and released four 500lb bombs direct at the target.
The illegal Danish press estimated that 150 to 200 Gestapo members, including a large number of SS Officers, and some 30 Danes perished in the attack. Sydney came through it without a scratch but freely admitted: "It was frightening to be on low-level raids – anybody who says it wasn't is lying." For his bravery he received a pair of 'royal' cufflinks from the resistance and the attack formed part of the citation for a Bar to his DFC. One of Sydney Clayton's last 'Gestapo-Hunter' missions was the raid on the Gestapo Headquarters at Odense, Germany, known to the locals as 'Torture Castle.' It was surrounded by barbed wire fences and strict surveillance was enforced. Having been taught a painful but valuable lesson by the raid at Aarhus, the buildings had been thoroughly disguised from enemy British aircraft by camouflage netting. After the raid two thirds of the main buildings were completely destroyed and the outlying buildings were severely damaged.
The Gestapo did not have long to find an alternative building to hold their prisoners as German forces in Denmark surrendered to the British on the 5 May and on the morning of the 7 May 1945 the German General Alfred Jodl signed an unconditional surrender document officially ceasing military operations in Europe the next day. Sydney Clayton then flew General Jodl personally to Berlin and he became one of the first British troops to set foot in Berlin after Victory in Europe was declared. Colonel General Alfred Jodl, meanwhile, was placed in a concentration camp and accused of war crimes at the Nuremberg Trials, for giving the order to execute prisoners of war, and the order to deport Norwegian and Danish citizens to concentration camps. He was found guilty, sentenced to death and hanged on 16 October 1946.
Having completed 145 operational flights, 100 as a navigator and 45 as a pilot, VE Day eventually arrived on 8 May 1945. Sydney returned to civilian life running a hotel and a newsagent in Blackpool, eventually joining the Civil Service in 1971. Forever the humble man, Sydney said of his flying days: "Apart from the odd bit of flak or an encounter with a night fighter, nothing terribly exciting happened in my ops as a pilot."
Sydney Clayton was initiated into the Rectitude Lodge of Blackpool No 4122 on 19 May 1948 by the WM J J Pilkington and progressed to become WM in April 1960 and was honoured with a Provincial appointment to Past Provincial Junior Grand Deacon in November 1975.
Sydney Clayton sadly took his own life in 1976 at his home in Poulton-le-Fylde, leaving his wife Margie – a great loss to his family and the Craft.
There are no members of Rectitude Lodge remaining that knew Sydney Clayton, but there can be no doubt that he would have sought help from his brothers in the lodge. Despite his bravery and fearless actions during the Second World War he could not escape the dark thoughts in his mind. Squadron Leader Sydney Clayton's medals and memorabilia were sold to fund a permanent memorial to him at the RAF Museum in Hendon.
Article by Gordon Ivett from original research by F W Uttley for the 70th celebration booklet of Rectitude Lodge in 1990.