For the second time in two months, the members of Astley and Ellesmere Lodge No 730 and their guests got together for a celebration of service to the Craft. They were joined by Assistant Provincial Grand Master Peter Lockett, the group chairman Peter Allen and other grand and acting Provincial grand officers.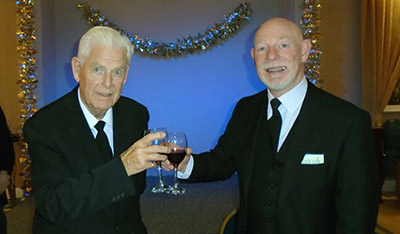 They had all been invited to a very special meeting to honour and pay tribute to Reg Deakin who has served the Craft, loyally and faithfully for 60 years; a wonderful milestone on his Masonic journey and he can now proudly add 'diamond jubilee' into his portfolio.
In the unavoidable absence of the master Mark Biggs, Andy McMath took the chair for the celebration but very quickly handed over to Peter Lockett for him to tell everybody a short history of Reg's personal and Masonic life. He said that Reg was born in June 1931 in Liverpool. His parents were Florence and Thomas and his father was a superintendent at the Liverpool docks.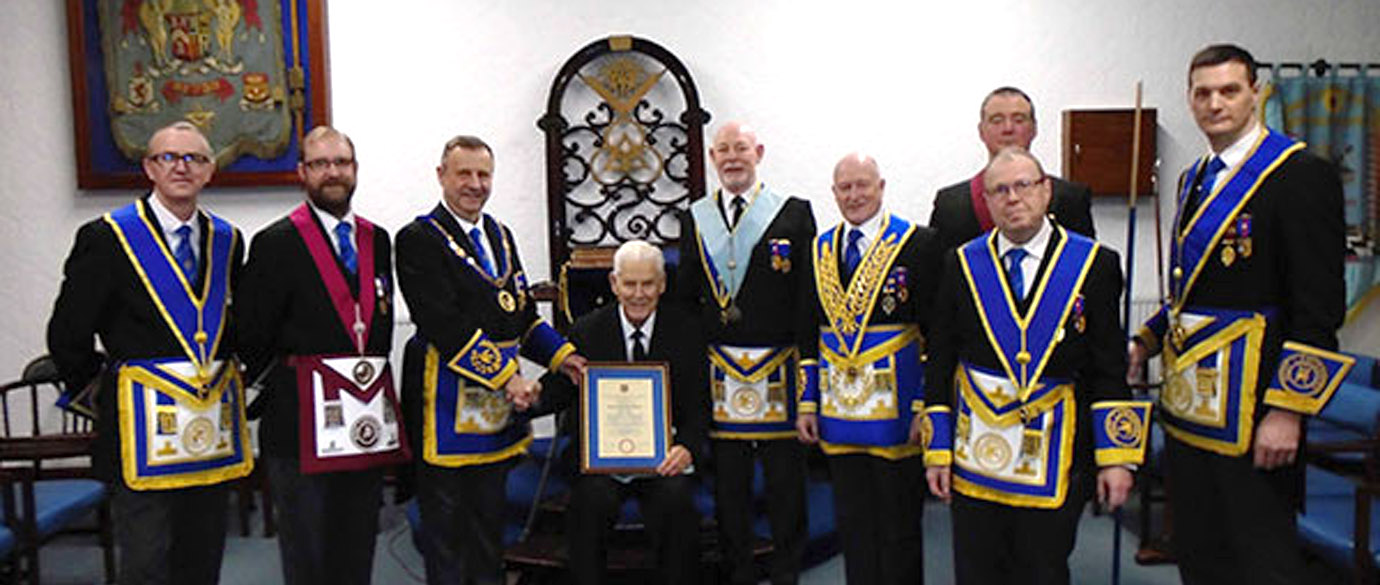 The family left Liverpool in 1940 during the Second World War, due to the dangerous situation the Blitz posed for them. They moved out to Maghull, then a farming village. The downside for Reg was that of having to attend school again. His previous school had been closed for nine months due to the war. At the age of 13 he attended Southport Technical College for two years and was then engaged as an apprentice in a small engineering firm.
After completing the apprenticeship, he joined the RAF aged 21 where he was trained as a radar technician. He left the RAF and worked for Lucas / Rolls Royce as a developer of the gas turbine fuel system. He studied at night school attending the Liverpool Technical College, now the University, until he was 30. He qualified as a Member of the Mechanical Engineers and became a chartered engineer.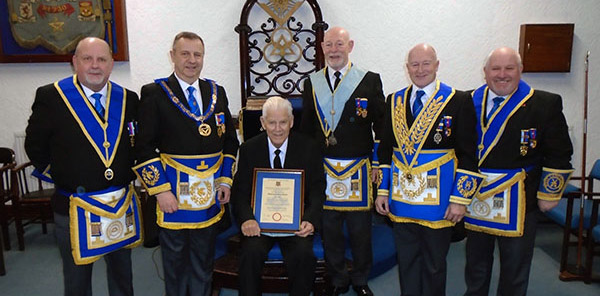 In 1964 he married Kath who became a midwife, living in Maghull for 10 years before moving to Heapey near Chorley in 1974 where he still lives today. He met Kath, 'an attractive young nurse' when recovering from an appendix operation in Ormskirk Hospital in the 1960's. Reg has had five children; John and Ann, (twins), Jill, followed by Peter and Sarah (twins), all of whom went on to attend university and gaining their degrees.
Once settled at Heapey he attended St Barnabas Church, meeting and becoming friends with Jim Bolton and Alec Ogden who arranged for him to become a member of Ellesmere Lodge No 730, as it then was in 1977.
He was initiated on 1 December 1960 into the Lathom Abbey Lodge No 6286. He resigned from Lathom Abbey Lodge in 1989, joining Astley and Ellesmere Lodge in April 1977.
Following the celebration, everyone retired to the social board to continue reminiscing of times gone by in the lodge.