A sight loss charity has reduced social isolation amongst visually impaired people by up to 43% during the pandemic, thanks to a two-year grant from West Lancashire Freemasons.

Galloway's sight loss charity has worked tirelessly to ensure blind and partially sighted people across Lancashire and Sefton do not feel forgotten whilst the nation faced intermittent lockdowns. Galloway's is one of Lancashire's oldest charities. Established in Preston in 1867, the charity has been supporting people with sight loss for over 150 years. Today, the charity supports over 7,000 people every year and offers support across Lancashire and Sefton.
The grant supports the 'Be Seen' project aimed at people over 50, who were given specially tailored support plans to cater for their individual interests and needs including advice about the latest technology and equipment.
The team focused on more than 200 people over the age of 50 who were feeling lonely, encouraging them to join Talking Together sessions, where they dial in to chat with their friends, listen to guest speakers and enjoy activities. People with sight loss were also invited to join in the Get Active walks outdoors. In addition, sight loss advisors carried out almost 1,000 welfare calls and made several doorstep visits to drop off visual aid equipment or offer practical help.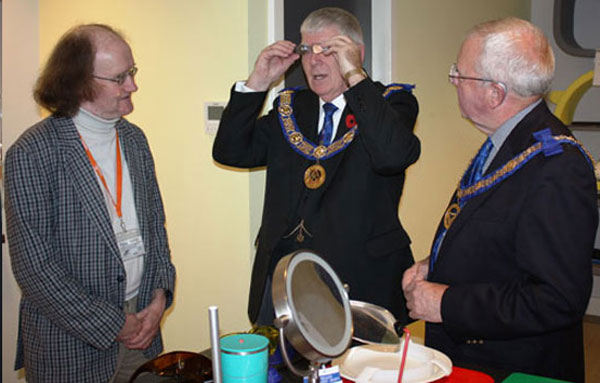 This work was supported by a grant of £57,310 from West Lancashire Freemasons. The grant came through the Masonic Charitable Foundation, which is funded by Freemasons, their families and friends, from across England and Wales.
Stuart Walpole, Community Sight Loss Advisor at Galloway's, said: "We are really grateful to West Lancashire Freemasons for the generous grant, which has allowed us to make sure blind and partially sighted people aged over 50 who live alone do not feel forgotten about. The feedback we had from a sample survey showed that the number of people who felt they now had someone to speak to had gone up by 43% after our support and the number of people who felt they had reasonable access to virtual social groups had jumped up 41%. This is really pleasing to hear, knowing that we are making a difference to people's lives. It is great they are gaining confidence in being able to communicate with others, access support and even go out on our Get Active walks."
Tony Harrison of West Lancashire Freemasons said: "I'm very pleased we've been able to help Galloway's carry out this important work during such an isolating time. It is great to see how their work has had an impact in reducing isolation and increasing people's access to virtual support."