Raymond Barton (Ray) Williamson celebrated 50 years in Freemasonry, having been initiated into Freemasonry in Lodge of Chivalry No 3974 on 3 February 1973.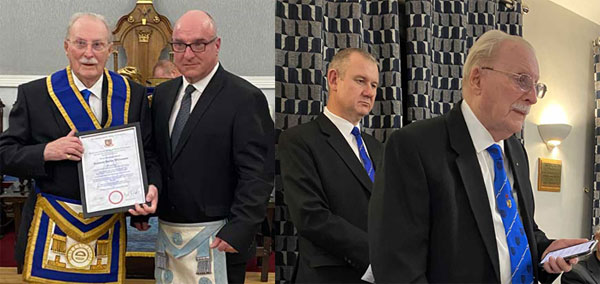 Due to his work commitments, Ray was not able to attend meetings on a regular basis, he did however, re-join the ladder in the late 80s. Ray's son Peter was initiated into Freemasonry on 5 November in Lodge of Chivalry 1988. Peter now lives in Bristol and in 1993 was installed as the WM of his lodge there.
Sadly, due to his poor eyesight at night Ray was not able to attend lodge and he resigned his membership. On his retirement Ray joined Lodge of Loyalty No 86 which meets in Prescot Masonic Hall, which is where he celebrated his golden jubilee.
The celebration meeting was presided over by Andrew Whittle who conducted the ceremony and gave a brief history of Ray's life and Masonic history. Following this, Andrew presented Ray with his certificate from the Provincial Grand Master Mark Matthews to mark this wonderful achievement. The meeting was attended by many visiting brethren, including his son Peter, Mark Holloway and Arnold Pye (all members of Lodge of Chivalry).
After the festive board, Ray gave thanks to a number of people who had become good friends during the course of his membership, foremost of these was Graham Hughes who was the junior deacon and conducted Ray during his initiation ceremony. Graham is now a member of Lodge of Loyalty and he recently celebrated 60 years in Freemasonry.