At a special celebration at Chorley Chapter No 6287, Second Provincial Grand Principal Chris Butterfield, Assistant to the Provincial Grand Principals Malcolm Alexander and Chairman of Chorley and Leyland Group Peter Allen joined the companions and their guests to celebrate 50 years of Royal Arch Masonry that had been attained by three companions; Ray Gore, John Eccles and Peter Dawson.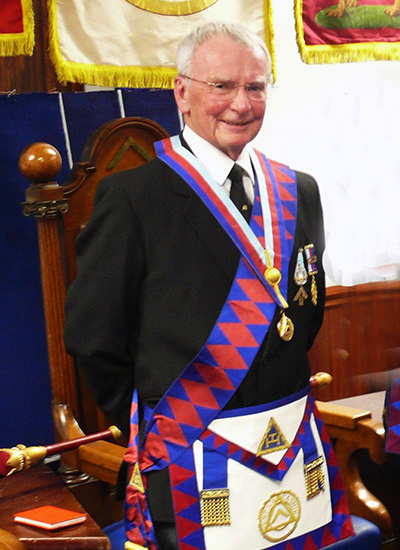 Chris led the celebration to honour and reflect on the 50 years of Royal Arch membership of each companion of Chorley Chapter. Having asked the celebrants to occupy the principal's chairs he recounted a potted history of the personal and Masonic life of each celebrant.
Addressing Ray Gore, he said that Ray was born in March 1946 at Chorley and District Hospital to parents Peter and Alice. His early working career started at 15 in 1962, working as a junior clerk at Wigan Gas Works.  It was a remarkable start to his working life as it was in the winter of 1962/63 when there were severe weather conditions and he worked a five-and-a-half-day week, but on occasions, due to the weather causing an impact to the supply, had to work a 24-hour shift.
He was promoted a number of times during his time at Wigan Gas Works, becoming an audit assistant for North West Gas in 1966, followed by becoming an auditor for the Cooperative Wholesale Society in 1970, a job he loved and one in which he gained a lot of experience as their product portfolio included car spares, shop fittings, tobacco products, alcohol bottling plant and farming. The downside to the job was that there was an expectation to be away for one week in every eight to 10 but in reality, for the first six months he was to be away seven weeks in every nine. This didn't go down too well at home as it was at this point in Ray's life that his first child was due!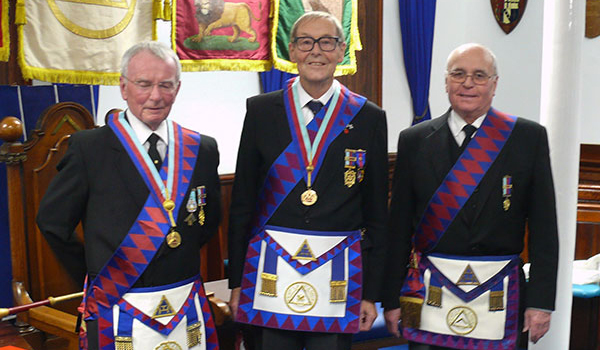 In 1997 he was appointed as Chief Internal Auditor for Blackburn Hospital Management Committee. What they didn't tell him was that the audit team consisted of one person – him! He subsequently held very senior roles in all aspects of the Health Service until his retirement in 2005, although he was tempted out of retirement until 2011, undertaking some consultancy work
Ray married his wife Susan in March 1967 and spent much of the time working away during the period that his first son was due. The baby boy was born in June 1970 and was named Simon. Ray and Susan went on to have two other sons, Jonathan in June 1973 and Nicholas in June 1977.
Things of interest for Ray include DIY, walking and sport, particularly football and cricket. He has visited many interesting countries and places around the world; too numerous to mention but a list that reads like a travel guide.
In Masonry, Ray's Masonic career commenced on 21 October 1968 when he was initiated into Duxbury Lodge No 5930 serving as its master in 1969.  His service to the Craft was recognised in 1992 when he received an appointment to the rank of Past Provincial Assistant Grand Director of Ceremonies, followed by promotion in 2001 to Past Provincial Senior Grand Deacon.
Ray was exalted into Chorley Chapter on 26 January 1971 and went on to serve the chapter as its first principal in 1986.  He was promoted to Provincial rank in 1993 to the rank of Past Provincial Assistant Grand Sojourner.
After the formal celebration, the companions retired to the bar and social board to swap memories of the last 50 years in Chorley Chapter.