The word 'jubilee' comes from the Hebrew word 'yobel', which means 'ram's horn trumpet'. Rabbi Norman Zalud, not one to blow his own trumpet, left that honour to Assistant Provincial Grand Master Derek Parkinson, who informed the members and guests attending King David Lodge No 7256 of the life and times of Norman, a remarkable man by any standard and who had just completed 60 years as a Freemason.
The meeting of King David Lodge, held at the Synagogue in Dunbavin Road, Childwall, was opened by the WM Paul Rattigen and assisted by his wardens Gerald Norden and Russel Start, at 6:00pm prompt. Following confirmation of the minutes of the previous meeting, Provincial Deputy Grand Director of Ceremonies Gary Smith was admitted to report that the APrGM was without and demanded admission. The brethren stood as Derek accompanied by the Chairman of the Gladstone Group John James and other grand and acting Provincial grand lodge officers were admitted. Gary introduced Derek to Paul, who then formally welcomed him and offered Derek the gavel. Derek responded that on this occasion he was happy to accept as the purpose of his visit required him to occupy the master's chair.
Derek then proceeded to inform the brethren that the reason for his visit was to celebrate Norman's 60 years as a Freemason, adding that jubilee celebrations were a duty he has performed more than 50 times since becoming an APrGM.
Norman was then placed in a comfortable chair in front of Derek, who also invited the tyler to enter the temple to enjoy the proceedings. Derek began by talking about specific events that took place in the year Norman was born in 1932, up to the time Norman became a Freemason, including his evacuation at the start of World War Two, the various schools and colleges attended and his various teaching posts prior to becoming a Rabbi.  Derek related Norman's marriage to Barbara in 1965 and spoke about his three sons, one of whom sadly died at the very tender age of just two. A very fit Norman still regularly attends the gym, a keen weightlifter who once broke the record for the 10 stone squat, lifting 260lbs, almost twice his own body weight. A Minister to the inmates of several prisons in the North West and surprisingly, Norman had also taken part in the Liverpool Comedy Festival in 2004, proving that religion had a comedic side. Norman's radio and television work has included a fly on the wall documentary following his work preparing for the Jewish New Year.
Norman was initiated into Lodge of Israel No 1502 at Hope Street in May 1959. Becoming a joining member of Carmel Lodge No 7835, Masada Lodge No 8638 and eventually King David Lodge No 7256 in May 2015. Whilst in the lodges of Israel, Masada and King David, he served as almoner for many years and in recognition of that work the Provincial Grand Master appointed him to the rank of Past Provincial Assistant Grand Standard Bearer. Norman climbed the ladder to become the lodge senior warden, but did not pass through the chair of King Solomon. Norman felt that because of work and family commitments, he would not be able to guarantee a full attendance and anything less was not good enough.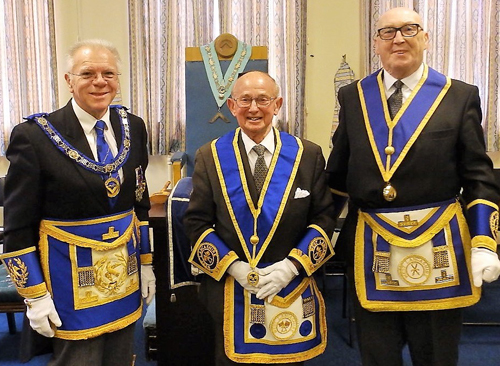 At this point, Derek requested John James to read the certificate confirming his 60 years as a Freemason. The certificate had been signed by the Provincial Grand Secretary Peter Taylor and Provincial Grand Master Tony Harrison. Handing Norman the certificate, Derek asked him if he wished to respond or save his response for the festive board. Norman opted to respond there and then thanking Derek, the lodge members and all the guests for their attendance and support. He also related lots of events which had taken place in both his private and Masonic life. The PrDGDC then escorted Norman back to his seat and Derek handed back the gavel to Paul, who again thanked Derek for all his efforts. This brought about loud applause from the brethren present.
Following communications from Grand Lodge, Gary called the brethren to attention whilst Derek and other grand and Provincial grand lodge officers retired. Once the lodge was closed, a well-rehearsed action took place, with members and some guests removing all the lodge furniture from the room and replacing it with tables and chairs already set for the festive board to take place. Whilst this took place, many others enjoyed a pre-dinner drink. Almost 50 members and guests took their places to enjoy a splendid three course meal prepared and served in the traditional Jewish manner.
The toast to the grand officers was proposed by John James with a response from Derek. Derek began by thanking the acting Provincial grand officers who had accompanied him; Gary Smith, Norman Lay and Stephen Lowe. He spoke of recent grants given to local charities; Zoe's Place £10,000, St Vincent's School for the Blind £35,000 and the 5th Blackpool Scout Group, who were given a replacement minibus. He also spoke about another worthy cause which received a grant, Lifelites, a London based charity which has been embraced by Masonry at large in England. They provide amazing equipment to children's hospices and hospitals. Derek encouraged anyone who knows of a worthy cause to contact the WLFC if they knew of any charity or organisation who upon receiving a grant could make a difference to someone's life. King David Lodge secretary Steve Kayne is the CEO of the charity and should be contacted for any information or advice regarding applications.
Celebrant, Norman, also took the opportunity to add to his previous response in the temple, after Barry Elman had toasted his health.
Finally, it was time for the tyler's toast, proposed by Dave Jones and the end of a very memorable evening for Norman, the members of the lodge and all the distinguished guests.

Article and photographs by Phil Marshall.