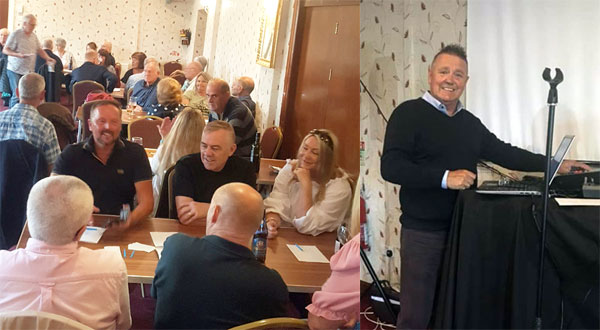 Mark Clifford, WM of Tithebarn Lodge No 8446, is nothing if not enthusiastic in everything he does. Known as 'Bomber' to his friends and audiences alike, Mark is a well-known local DJ on the Fylde coast. At his installation as master of the lodge he announced that he would be running some 'different' events during his year and this night at the races was certainly different.
Assisted by past master Warren Yates and several others, Bomber arranged and compered a night out at Cleveleys Masonic Hall which included bingo, a quiz and a horse racing game specially devised for this event. The proceeds of which were donated to the local food bank charity.
A magnificent sum of £750 was raised by the 70 plus brethren and guests who attended. The fun quiz was won by the members of Wyre Lodge No 7704, with a team of Blackpool and North Fylde Group Chairmen, grand officers and their wives coming in a close second. This was followed by a game of bingo which was won by Belinda Mitchell, wife of Tithebarn Lodge past master Alan Mitchell. Belinda walked away with a generous cash prize.
Then onto the main event of horse racing, which had taken six weeks to devise and was being refined even on the night but was great fun, nonetheless. The first race was called the Ladies' Race. Then the Men's Race followed, where the men's horses were given some pretty ribald names, causing the inevitable hilarity amongst the participants and audience alike. This was won by Chris Hardingham of Onward Lodge No 5540. His horse's name was 'Blow Me!'
The catering for the evening was laid on by Lee Williams and a finer spread of food has never been seen. Bomber was full of praise for the support and work put in by the Masonic Hall staff and gave particular thanks to them for providing the hall facilities free of charge because it was a 'for charity' event.
Grand officer Neil MacSymons, who was in the 'officers' quiz team, said of the evening: "It was a fun packed night. Mark (Bomber) was very entertaining as usual. There were a few surprises; who would have known that Dave Barr would guess Gina G's 'Ooh ahh just a little bit' in the quiz?"
North Fylde Group Chairman, John Cross said of the evening: "Mark (Bomber) Clifford did an excellent job hosting the event. Neil MacSymons and Dave Hollowell entertained us with a bit of Karaoke. All in all, a good night."
Bomber is planning his next big event for August, for which he is inviting brethren from all of the Fylde coast groups to offer ideas for which charity or charities they would like to see supported by the proceeds.