Brethren of Thornton and Cleveleys Lodge No 3854 welcomed Assistant Provincial Grand Master David Randerson to Cleveleys Masonic Hall. David was accompanied by the North Fylde Group Deputy Chairman Tony Hough and an array of grand officers from all over the Province, to celebrate David Elwell's 50th year in Masonry.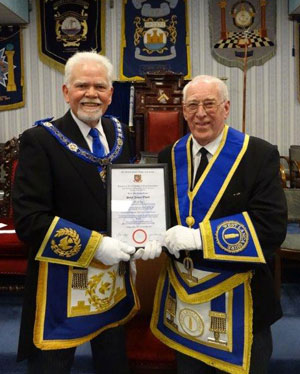 The master Howard Shaw opened the lodge in the first degree and at the appropriate time in proceedings welcomed the procession of grand and acting Provincial grand officers headed by David Randerson. After Howard had welcomed David and offered him the gavel of the lodge he retained it for the purpose of the celebration.
David Randerson started David Elwell's story by setting the background to the year he was born in 1937 when Stanley Baldwin was Prime Minister and the BBC used outside broadcast for the first time for the coronation of George VI following the abdication of Edward VIII. Disney released Snow White and the Seven Dwarfs and the 999 emergency services started for the first time. It was also the year of birth of Bobby Charlton, Anthony Hopkins and Dustin Hoffman together with a certain David James Elwell. David was born to James and Mildred Elwell with James being a master grocer.
David was born in Pendlebury, a small town situated midway between Manchester and Bolton. This was also the town of birth for L S Lowry, Ben Kingsley and Tony Simpson. Tony later became better known by his stage name of Tony Warren, screen writer, novelist and the creator of Coronation Street.
At the start of the Second World War in 1940, James joined the army in the Royal Corps of Signals as a Morse code operator and was in the Desert Rats. The long-range desert group was formed specifically to carry out deep penetration, covert reconnaissance patrols and intelligence missions from behind Italian lines, although they sometimes engaged in combat operations. Because the group were experts in desert navigation, they were sometimes assigned to guide other units, including the Special Air Services and secret agents across the desert.
David enjoyed his sport and played rugby league for his school and Lancashire School Boys. Athletics was another of his favourites, particularly at running the mile and he trained at Salford Harriers. At 15 David left school with GCSEs in English and Maths to follow in his dad's footsteps and take a grocer's course at Manchester Technical College for two years and then to Bolton College for a further year. It was an intensive course and he had to go down to London for three days to complete his final exams.
David met his wife to be Lois Batty, who was a regular visitor to his father's shop. She was the daughter of Charlie Batty a well-known local undertaker and a Freemason. After four years of courtship David and Lois were married at Pendleton Holy Angels Church in 1959 and have celebrated 60 years of marriage and received a wonderful card of congratulations from the Queen.
David and Lois have three children, Janet, Richard and Susan. Janet is a housewife whilst Richard is a plumber and fitter who designs and fits plant rooms. They have four grandchildren Clare, Olivia, Rosie, and Matt.
After his grocery course, David started his own shop in Manchester. It was a time when supermarkets were opening so business became challenging and it was partly due to this he decided in 1962 to move to Cleveleys with that most important person in his life, his wife Lois and to bring up their children near the seaside.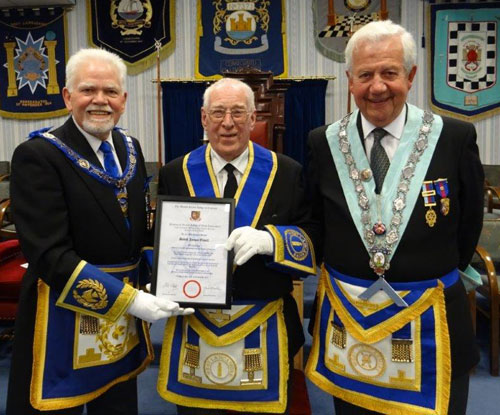 Continuing with David's working life David Randerson said that after a time in the grocer's shop in Cleveleys a change beckoned when David was asked to join the seafood restaurant Wally Simpsons in South Shore by Barry and Wally, who were members of Thornton and Cleveleys Lodge to take on all the buying and looking after the staff. David was there for six years and really enjoyed it before another change of direction came when Geoff Hallis, who was member of Baines Lodge No 7844 and a director of local taxi company persuaded him to take on running a taxi, a job David did for 13 or 14 years. Working days didn't appeal to David, so after trying it for a couple of weeks, much of David's taxi time thereafter was spent working in the evenings.
What this did was to give David the opportunity to take on another sporting challenge at the age of 45, to take up one of the martial arts, Taekwondo. The announcement to David's family of his intention was met with howls of laughter but training once or twice a week, just three years later at 48 David became a black belt, quite an achievement – and they weren't laughing then.
David Randerson moved seamlessly to David's Masonic career, David met Alan Brunt, a member of Thornton and Cleveleys Lodge who persuaded David to join Freemasonry. Unlike today David had to wait four years to get in and by that time Alan had moved to Cardiff so it was Hubert Ramsden who eventually proposed him and Bill Talbot was his seconder. At the age of 32 in May 1969 David was initiated into Thornton and Cleveleys Lodge. David Randerson then asked the lodge secretary to read out a précis of that meeting.
David Elwell was passed in the November of that year and raised in May 1970. Due to the numbers in the lodge it took a while for David to get onto the floor but he became inner guard in 1976. Progressing through all the offices David was eventually to be installed as WM in 1981, 12 years after his initiation. In David's year he made over 80 visits as WM and met up with many other Masters during his year. David also enjoyed his ritual and he was certainly busy, carrying out a first and second degree ceremony, two third degrees and just to finish off another second degree.
David's first position after the chair was as assistant secretary. Following this David became assistant director of ceremonies of the lodge for five years, then director of ceremonies for a further five years. David moved to one of his most enjoyable office's when he was appointed almoner in 1996, an office he served with distinction for 16 years. He carried out his duties with zeal and commitment acquiring grants for many of the widows of the lodge totalling over £25,000 which brought many of them great relief. In addition to David's lodge work he also served as a director of the Masonic Hall for 10 years, five of which were spent on the Executive Committee.
David's first Provincial rank of Past Provincial Assistant Grand Director of Ceremonies came in 1993, some 12 years after going in the chair. Eight years later David gained his first promotion to Past Provincial Deputy Grand Superintendent of Works. In 2008 David received the very high rank of Past Provincial Junior Grand Warden.
Outside of David's Craft Masonry he joined Anchorsholme Chapter No 5854 in 1983 without going through the chairs due to working evenings in his taxi but he stayed a member until 2008 when he eventually resigned. In 1997 David also joined another Masonic Order which he enjoys.
David Randerson then said that Tony Harrison, the Provincial Grand Master, was very much aware of the celebration and that he had phoned David to pass on his congratulations personally. Tony also sent his congratulations in the form of a certificate, which David Randerson asked the group's deputy chairman, Tony Hough to read out. Tony also presented David with a 50 years lapel badge.
The presentation over, David Randerson, together with David Elwell retired at the third rising and the lodge was closed. The brethren then retired to the dining room for a celebratory festive board.