Under normal circumstances at this time of year, 100s of West Lancashire Freemasons from the length and breadth of the Province, and indeed further afield, would descend on Blackpool to attend to the delights of the annual meeting of Provincial Grand Lodge. Of course, like many other events that are eagerly awaited, the current situation prevented such a gathering. Although it wasn't possible, as is the tradition, for those receiving preferment or promotion in Provincial Grand rank to be personally invested, Provincial Grand Master Tony Harrison, decided that he would find a virtual solution so that the prestigious event would not go uncelebrated. By Zoom and YouTube, without actually opening up Provincial Grand Lodge, most of the business that would have been conducted at Blackpool was replicated virtually. It is at this annual meeting that Tony would address the Province, and with around 300 on Zoom and many more on YouTube, he delivered his message as follows: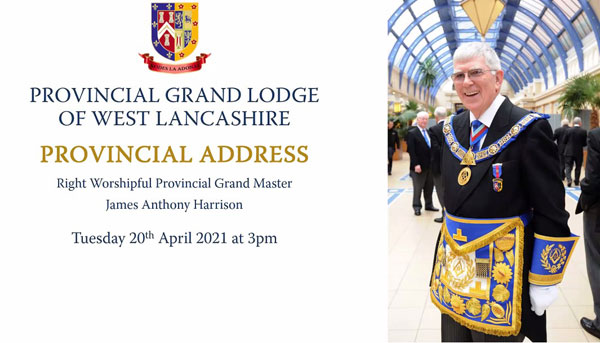 "Well brethren it really is good to see so many of you joining our Provincial Zoom meeting this afternoon, and it is my pleasure to address you on a number of matters. Hopeful the next few weeks will see us come out of lockdown and that in itself, for so many reasons, will come as a relief. There is no doubt that collectively, Masonry has been called upon in a way never seen before in peacetime and we have, through our united efforts and a common determined aim, we will to succeed to come through it.
Turning now to other matters, starting with the 2021 Festival, we are now moving into the final months and on my own behalf and that of the Provincial Grand Festival Steward, Phil Preston and his charity stewards around the Province, I thank you for your continued support in particular during the last year. It has been simply outstanding the way our brethren have continued to support the Festival and I can assure you it has not gone unnoticed. Lodges and chapters may still tender a pledge form which will be accredited to their individual total, all of which will be most gratefully received knowing full well that you are supporting a very worthy cause. As you will all be aware, the Final Festival Banquet will be held at the Blackpool Winter Gardens on Saturday 18 September.  It would be absolutely wonderful if every lodge and chapter could be represented by the WM or first. principal and their ladies. Brethren as you know there has not been a Provincial Ball this year so maybe your lodge or chapter would consider supporting the final event of the Festival by sending your master and his partner.
Turning now to our own WLFC, with your unstinting support our charities have donated £140,000 to worthy causes in West Lancashire during this year. This is in addition to some matched funding by the MCF and I should think that in the next week or so I will be receiving details of more funding being made available from the centre. One thing for sure is that with your help, Masonic charities are playing an increasingly important role both inside and outside Freemasonry.
Barry Dickinson, the Provincial Grand Communications Officer and his team have been working tirelessly to bring our new Provincial website up to date and I thank them most sincerely. Brethren have you visited it yet? Have you registered to use the new members section on the Provincial website?  The Province now has the new Charter Mark awarded by UGLE and we need to ensure that all lodges who have a website, are awarded the Provincial Charter Mark for their individual website. I am confident that we can achieve this with your support.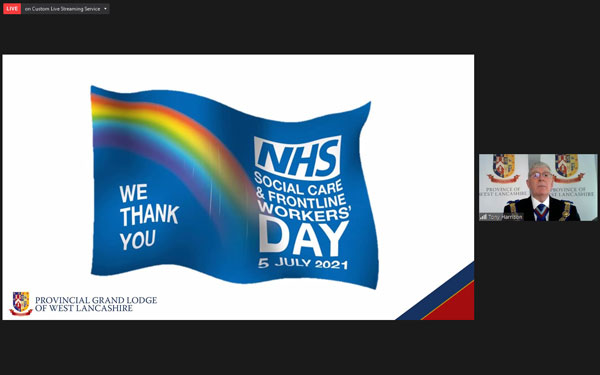 2021 will see a number of new and exciting developments emerging from UGLE – a new 5-year strategy; a new UGLE website and a national membership marketing campaign which includes information on; –
Why should I join? What are the benefits of becoming a member? What makes membership so unique?
The Members' Pathway will be launched and to assist lodge secretaries and chapter scribes we will see the launch of `Hermes` the new computerised on-line system of recording member details and progress through their individual Masonic journeys. Quite exciting times ahead.
The Membership Strategy and Pathway appears to be supported by the vast majority of lodges within the Province and I thank my deputy, my assistants, your group chairmen and membership officers for the support they have given to ensure that every lodge and its membership have been given the opportunity to take individual ownership of their own Pathway and their future. As we approach the easing of Lockdown, lodges will be in a position to move this initiative forward.  We have around 300 gentlemen awaiting to join us and we need to be ready to accept them into our Order.  We must also be mindful of those brethren who were Initiated prior to the lockdown last March, that are still awaiting their passing and raising ceremonies. We will all be very busy upon our return to normality.
Social media platforms have without doubt been most useful to many (particularly younger – digitally minded) brethren as they communicate with Twitter, Facebook and Instagram and the Zoom platform has most certainly been the 'go to' for many lodges, chapters, group meetings, social evenings and many other opportunities for brethren to keep in touch.
I would like to thank Andrew Ridal our Deputy Provincial. Grand Secretary for all the work that he does to provide such a diverse and most interesting format for the 55 Tuesday afternoon webinars that he has hosted during the lockdowns. Thank you so much Andrew. We have had interest in them from far and wide and they are certainly proving a focal point for providing and disseminating information and stimulating interest in a wide range of topics.
The Provincial Grand Mentor Stewart Cranage and his many assistants have undertaken a terrific amount of work behind the scenes and via Zoom meetings to ensure further information is available and has been communicated to us all.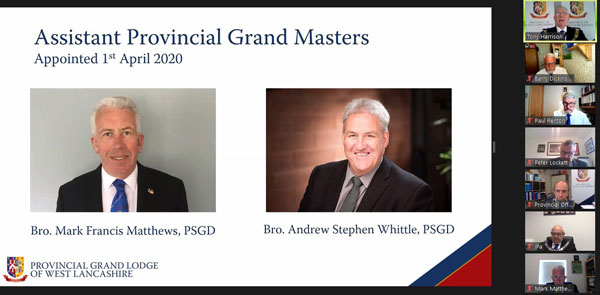 Whilst on communication, I hope that you all find the issue of the `Nuggets` interesting and informative and I thank my Deputy Grand Superintendent Paul Renton, for ensuring that this is compiled and edited for you. We have enjoyed many interesting editions and it has; I hope stimulated further interest in the Royal Arch.  Brethren if you are not yet a member of the Royal Arch, I would urge you to consider joining.  It is after all the completion of antient Freemasonry and has been likened to having a book of four chapters and only reading the first three. The Royal Arch is both intriguing and compelling – quite how much, you will have to join and find out.
We are extremely lucky in West Lancashire that we have many excellent centres of Freemasonry and I have no doubt some of you with us today, will be part of the team running your respective centres.  They are very important to the future of our Freemasonry and it is most gratifying to know that you have been attending to your halls during the lockdowns and are now preparing for re-opening your doors, for both our members to return to their lodges and to the public in order that they may use your facilities for their personal uses.
On 5 July this year we will be celebrating NHS day, along with Freemasons across the country, and it is hoped that flags or banners will be displayed at all our Masonic halls. The Province has purchased flags on request for all those halls and we will be circulating more details nearer the time. It is going to be a special day and certainly one for the diary.
Recently a number of brethren in the Province have received a personal commendation from the Most Worshipful Grand Master for their selfless acts of service during the COVID-19 lockdowns. Helping those within our communities in need of food on their tables, supplying PPE to hospitals that were in urgent need, providing laptops and tablets to children for home schooling, offering hot meals for the homeless and many other acts beyond the call of duty and offering the hand of friendship to so many. There is now a second round requesting applications for brethren or lodges who might be eligible for such a commendation, so if you are aware of any who have exceeded their service above and beyond their call of duty, please send your submissions to the Provincial Grand Secretary.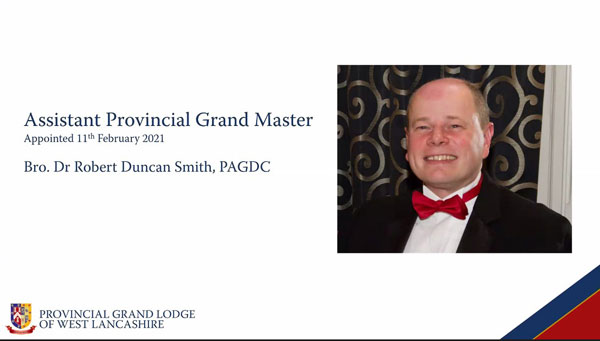 The Food Bank Appeal in November and December last year raised the awareness of Freemasonry in our communities, when brethren through their lodges and groups, supported the appeal to some £40,500 and 82,650 items of food. That brethren, is a staggering total and is a prime example of the importance of Freemasonry and its part in our wider communities.  Brethren on behalf of all those who you assisted I thank you all for that tremendous support. It would be wrong if I did not mention the efforts of Baines Lodge, in the South Fylde Group, for all they did and the information they provided that assisted so much to make the Food Bank Appeal the outstanding success it most certainly was.
The Provincial Grand Almoner Paul Broadley, his care team and all lodge and chapter almoners have been very busy during the last 12 months even though they have not been able to personally visit brethren or their dependants. I am assured however that all those requiring any assistance have been afforded all the help that they may have needed.
Had the investiture taken place today, I would normally have the great honour and privilege to have been able to individually congratulate those brethren who have today received an appointment to or a promotion in Provincial Grand Lodge, that regrettably is not possible, but I offer you all my heartiest congratulations.  I appoint you accordingly and I ask you to continue supporting your lodges, your groups and indeed your Province.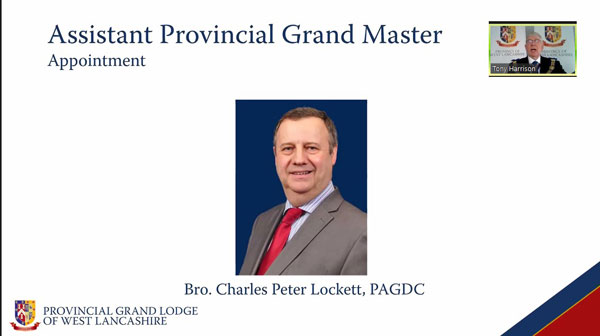 Now Brethren on your behalf my thanks must go to our Provincial Grand Secretary Peter Taylor, his deputy Andrew and our exceptionally busy ladies Diana and Violet who have all been working in the office and at home, during the lockdowns. Thank you all for keeping the business of the Province under control.
Finally, to the immediate future of our Freemasonry within the Province. Much of what we hope for is going to be determined by the actions of others. Understandably, we can do little to affect the actions of others, other than to set an example in our own lives and demonstrate that example by our own actions. The threat and emergence of a third wave, following the anticipated lifting of restrictions in June, could possibly impact the return to our meetings in September. Fingers crossed that it doesn't and that the projected level of 'herd immunity' comes into being. In all of this uncertainty, there is one thing for sure, that no matter what happens, we as a Province will be ready, willing and able to meet whatever challenges are thrown at us and, by the good we do, will become more and more recognisable as a force for good in society and in the communities in which we live and work. I for one, am optimistic of a return to our meetings by September and that there is much to look forward to in terms of ceremonies, personal anniversaries, installations, centenaries and all the other special ceremonies that have been postponed and that mean so much to us.
Let us then have one common goal, when the restrictions are finally lifted, let us get out, enjoy our lives to the full, with those we love and cherish and look forward to that special moment when we can all get back together and enjoy our Freemasonry. Until then, God bless you all and keep safe."
You can see Tony deliver the address, and see the entire virtual Provincial Grand Lodge by clicking here.