A new range of Provincial Gloves have been designed for use in lodges and chapters.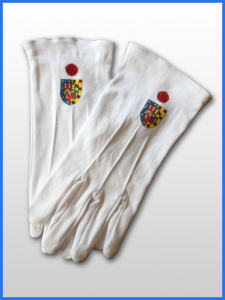 The gloves are £10 per pair and are available in two sizes: medium and large and they prominently feature the Provincial Crest and the Red Rose of Lancashire.
The gloves and all the other products are available to order from the Provincial shop www.westlancsfreemasons.org.uk/provincial-shop/
All proceeds from the products sold in the Provincial Shop will go to the West Lancashire Masonic Charitable Foundation 2021 Festival.
The new Provincial Gloves can be worn to Craft and Royal Arch meetings however, they cannot be worn when attending Craft and Royal Arch meetings in other Provinces or in Grand Lodge or Supreme Grand Chapter.