Well, the month of May started with the weather not too good, however we were able to enjoy our promenade walks. The vista across the bay is magnificent on many days, including a wonderful snow-covered view of the Lakeland hills.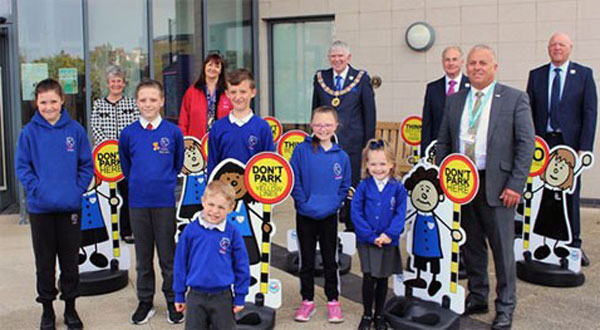 The Provincial webinars, every Tuesday afternoon, continue to be of great interest to many. A varied array of topics organised by our Deputy Provincial Grand Secretary Andrew Ridal were very well received and we appreciate the information made available. Once again, this month many brethren have missed out on their special celebrations of 50 or 60 years in Freemasonry. I am sorry that they are unable to enjoy the occasion with their many friends, but they have much to look forward to as our `road map` is moving forwards. Many meetings continue to be transacted through Zoom and are very well attended.
On Thursday May 13, I travelled to Blackpool for a visit to the Gateway Academy where I was joined by Steven Kayne and Howard Lloyd from the WLFC and John Topping as we gathered to present `School Buddies` to Sue Robinson the Head Teacher at the Academy. These were most thankfully received by the Academy as their school approaches were most hazardous to the young children attending. Freemasonry was once again able to assist within the community.
Sadly, during the rest of the month all planned meetings had been cancelled or postponed and I had the opportunity to join many Zoom meetings with lodges, chapters and various business meetings. As the weather improved Maureen and I were able to resume our exercise and enjoy our many walks along the promenade to both Heysham village and Bare.  Morecambe was once again starting to look like a holiday resort as many visitors both day and stay came to enjoy the delights of the town and the views across Morecambe Bay.
As we moved on to June, we were able to enjoy some family and friends at garden parties allowing for social distancing and open-air gatherings. It is good to return to meeting socially once again. Sadly, however I have missed my Red Cross, Grand Lodge meetings of the Mark and the Craft, the Ecclesholme Summer Fair, Allied meeting and a visit to Durham for their annual Provincial Grand Lodge meeting.   Many meetings were held using the Zoom platform for which we must all be most grateful.
It was a great pleasure for Maureen and I on 27 June, when we were accompanied by Keith Kemp and his wife Beryl together with a number of other brethren and their wives from Morecambe, all being invited to attend the local derby rugby match between Barrow and Workington in a really key game. We were welcomed by a number of brethren from the Furness and South Lakeland Group who were also attending the game. A very fast moving and most enjoyable game as both teams were very evenly matched with a final score of 24 all.  The weather was excellent, and we had a really great day out with caution and social distancing.
29 June marked the final Tuesday afternoon Provincial webinar for the summer. Our grateful and sincere thanks go to Andrew Ridal the Deputy Provincial Grand Secretary for all the efforts that he has put into these excellent productions over the last 68 weeks. Like me, I am sure you have made a weekly advancement in your knowledge.
The rearranged Mark and Craft Grand Lodge meetings were again postponed so my sojourn to London had to be cancelled.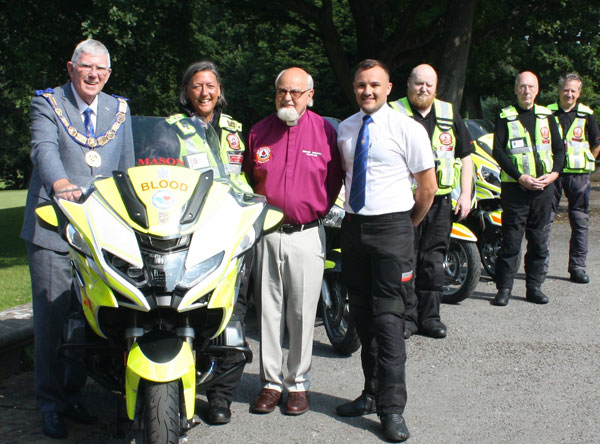 As we moved onto July, Maureen and I prepared for a visit to the Isle of Man to see our daughter Tracey and her husband Peter. We had to apply for consent to enter the island and received the necessary documentation from the Manx Government. On 6 July, we set sail from Heysham for what was a wonderful cruise across the Irish Sea to Douglas. During the next 14 days the weather was really fantastic. Summer had arrived and we enjoyed a great holiday on this beautiful little Island.  Our stay was in Laxey and we enjoyed visits to Douglas, Castletown, Port Erin and Port St. Mary, to the Sound to view the basking seals, to Peel on the West Coast, by electric railway to Ramsey in the North and up Snaefell, the Island`s only mountain, where we caught glimpses of the Cumbrian Coast. It was like being on a faraway Mediterranean island. Many visitors were now back and the whole Island was bustling with activity.
I travelled to Shaw Hill Golf Club in Chorley on 21 July, where I was joined by Peter Lockett and many members from the Chorley and Leyland Group, who had been raising funds to buy another `Blood Bike`, supported by the WLFC. I was pleased to present the bike to the local Blood Bike volunteers and it was really welcomed by their team.
On 22 July I attended a meeting of my Red Cross Conclave in Preston. The meeting was well attended, and an installation ceremony was conducted by Philip Gunning. It was good to be back.
Maureen and I travelled to the `Pillars Restaurant` in Bryn Masonic Hall on 23 July for Annual Craft Assistant`s Dinner. We had a delicious meal and it was a very relaxing occasion in the presence of many acting and Past Assistant Provincial Grand Masters and their ladies.
During the next week I had a number of short business meetings to attend. 30 July, well this evening was most welcomed as I attended my first Craft meeting.  Thornton and Cleveleys Lodge No 3854 held a double initiation ceremony at Freemasons Hall in Cleveleys. It was very well supported by 45 brethren.  The ceremony was in the hands of Mark Tomlinson and he was excellent as this being the very first meeting after lockdown. I was most pleased to have witnessed Ryan England and Tony Morrison joining our fraternity. This made me feel that I have now got my feet back under the table, on the first rung of the ladder, and really looking forward to recommencing my Masonic duties.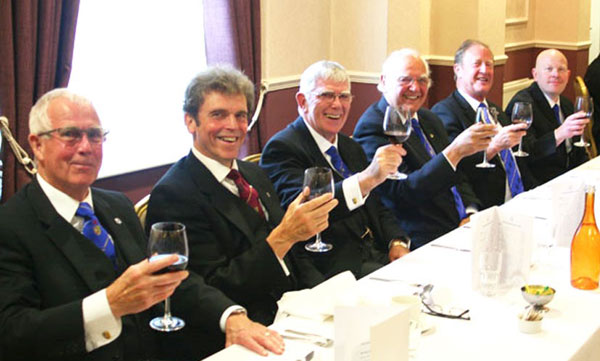 The evening of 2 August I travelled to the Pillars Restaurant at Bryn once again. I had been invited to attend a dinner for those recipients of Craft and Royal Arch Provincial appointments organised by the Wigan Group. A most enjoyable gathering of brethren who were unable to attend a PGL or PGC meeting over the last 2 years, but came together for a formal dinner to recognise their preferments. It was good to see brethren once again enjoying their Freemasonry.
On 4 August I travelled to Maggie`s Place, at Christie Hospital in Manchester meeting with Sir David Trippier ProvGM for East Lancashire and Simon Palfreman AProvGM for the Province of Cheshire. We were delighted to make a presentation on behalf of the MCF to assist in the running of Maggie`s Place a peaceful haven for those who have from time to time, a necessity to visit The Christie.
In the late afternoon of 11 August, I once again travelled to Bryn for a gathering at the Pillars Restaurant at the Freemasons Hall. I attended a dinner for the recipients of a grand rank in the Craft and in the Royal Arch. The dinner was attended by most of those brethren and companions who had received their grand rank appointments or promotions over the last 2 years. It really was good to meet up with many friends as we now appear to be moving towards more normal meeting arrangements. An excellent meal and a most enjoyable occasion.
17 August, this morning I joined a 2 hour Zoom meeting with many of my colleague ProvGM`s for one of our monthly meetings. On 19 August, I drove to the office in Leyland in the morning for a meeting with the group chairmen. We received an excellent presentation from Peter Lockett, the AProvGM with the membership portfolio, on the Membership Strategy which will be launched across UGLE during September.  I think that it was very well received by all attending the meeting.
After a day in the garden, I travelled to Chorley Masonic Hall in the evening of 20 August. I was attending the Allied Warden`s Mess dinner. I was so pleased to see that during the lockdown, the hall had received many upgrades during a considerable refurbishing programme. Well done to all who assisted. The dinner was well attended and we have a most delicious meal in the company of many friends.
25 August was one of our very hot summer days, but this afternoon I travelled to Southport, Duke Street, for the installation meeting of Freshfield Lodge No. 8165.  I was accompanied by Frank Umbers and Mark Matthews, the group chairman Neil Lathom and many grand officers who joined me in witnessing Alan James being installed, in an excellent ceremony by Paul Carr. The meeting was very well attended by 60 brethren and guests, and we had a most enjoyable meal in excellent company.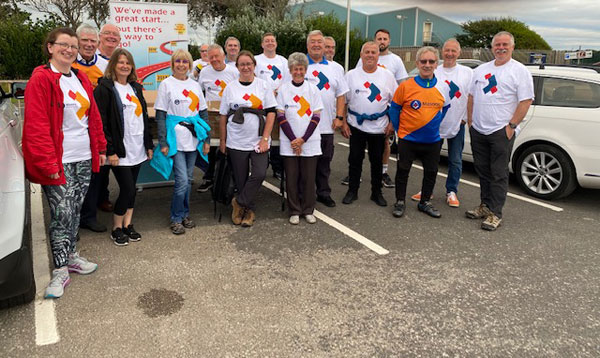 After a late night, I was off early on 26 August in the morning to the office in Leyland for a meeting of the group vice chairmen. Following the success of last week`s presentation of the Membership Strategy, Peter Lockett gave the presentation to our vice chairmen. The province is now moving forward ready for the launch of the National Membership Campaign by UGLE next month.
Maureen and I have had a very enjoyable Bank Holiday weekend and now this evening of 31 August we drove to Blackpool to meet with those of our brethren and family members from the Province, who were `Riding the Lights` for fun, but also for charity as many were being sponsored on behalf of the 2021 MCF Festival.
As the Festival is now drawing to a close, with our Finale Banquet Dinner being held on Saturday 18 September at the Blackpool Winter Gardens there are still a few events that had been postponed due to the lockdowns. But now things are catching up and I thank you all for your support during the dark days of our lockdown. I am sure we will all be delighted with the final support given to the 2021 MCF Festival from the brethren of West Lancashire. I thank you all and look forward to meeting with you as our meetings open once again. Stay safe and well, continue to be cautious and enjoy your Freemasonry.