With meetings now resuming, I was off to a very busy start at the beginning of November.
November 1: I drove to Liverpool this afternoon with Maureen and a number of brethren and their wives for a Mark meeting at the Adelphi Hotel. It was the installation meeting and attended by a good number of brethren including several from London. Paul Broadley installed Charles Grace in an admirable ceremony and then we enjoyed an excellent banquet. I stayed over-night at the Liner Hotel with a number of guests who took advantage of a stay over.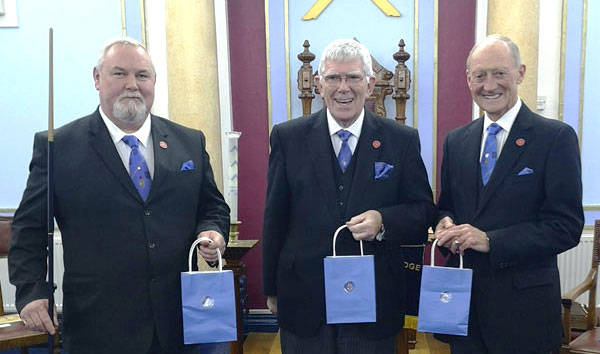 November 2: Following a hearty breakfast, I spent the day sightseeing in the city before making my way to Hope Street for my KT meeting where a Malta ceremony was conducted by James Alty. An excellent meeting which was followed by a superb dinner, before having to drive home to Morecambe.
November 3: The morning was spent catching up on some paperwork and then early afternoon I drove to Elm Bank Masonic Hall in Eccles to celebrate 100 years of Freemasonry at this Masonic centre. The meeting was attended by over 80 brethren and following a ceremony with a difference we enjoyed a delicious banquet to celebrate the occasion.
November 4: After lunch I travelled to Cleveleys Masonic Hall for the installation meeting at Wyre Lodge No 7704. A well attended meeting witnessed David Platt installing Martin Clements into the chair. I was accompanied by Duncan Smith together with other Grand officers and many acting Provincial grand officers and brethren and their guests. A delicious meal and good company followed before having to leave for my homeward journey.
November 5: I travelled by train to Manchester for a meeting at Bridge Street as parking is somewhat difficult in the city centre. Everywhere appears to be getting back to some sort of normal as the trains and the city where extremely busy.
November 6 and 7: I was now able to enjoy a quiet and relaxing weekend taking in some delightful walks with Maureen along the promenade. During the early part of the week, I was catching up with my office duties and dealing with many emails and letters.
November 13: I had been looking forward to this day for quite some time. I travelled to Bryn Lodge No 6553 where I was to preside at the 50th anniversary of John David Ogden AProvGM as a Freemason.  The lodge was full as many friends and colleagues joined us to help celebrate this jubilee. Sincere congratulations to David. Following the ceremony, we enjoyed a drinks reception and a delicious meal prepared by Christine and supervised by Phil. A fantastic meeting enjoyed by all who were able to attend.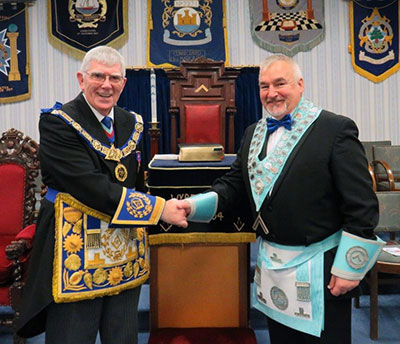 November 16: This morning I attended a two hour Zoom meeting with the Communications and Marketing Committee in London. There was much to discuss as the Digital Marketing campaign was now well underway. In the late afternoon I drove to Hyde Masonic Hall in Cheshire accompanied by Thomas F Jackson and Paul Snape. We were attending Stayley Mark Lodge for the 60th anniversary celebration of Benjamin Addy in the Mark. Also attending was the Pro Grand Master Ray Smith for this very special meeting. There were some 80 brethren present and we had a most enjoyable meeting and banquet to follow. The only downside was the terrible torrential rains that we had to contend with on our return journey.
November 17: This afternoon I drove to Blackpool, Adelaide Street for the centenary celebrations of Rectitude Lodge of Blackpool No 4122. I was accompanied by Duncan Smith, many grand officers and very many acting Provincial grand officers for this special celebratory meeting. The lodge was full with brethren and their guests and I was delighted to have conducted the ceremony and presented the Centenary Warrant to the master James Wilkes. We then retired to the dining room for dinner and toasts to the lodge. A most enjoyable occasion in the company of friends.
November 18: After lunch I drove to Blackburn for the annual East Lancashire Provincial Craft Meeting. This was very well attended as it was the last meeting for Sir David Trippier as the Provincial Grand Master. He retired from office at the end of the meeting. It was a very good meeting tinged with sadness as Sir David gave his final address. He has been a good friend and colleague to many of us and he will be missed. It was good to meet with many of our East Lancashire friends once again.
November 20 and 21: I took advantage of an opportunity to enjoy yet another quiet weekend despite the awful weather and resumed the following week.
November 23: This afternoon I drove to Liverpool accompanied by Phil Gunning my deputy for the centenary meeting of Liverpool Mercantile Lodge No 4319. This really was a splendid occasion with a great number of grand officers in attendance together with the full Provincial Team. First the rehearsal followed by the full ceremony, which I was honoured to preside over and then pre dinner drinks followed by a delicious banquet. An evening to remember in the company of many good friends.
November 24: This evening I attended my own lodge, Poulton Le Sands Lodge No 1051 for the 60th anniversary of James Akeroyd, who now lives in South Wales but travelled back to Morecambe for this special celebration. It was a good meeting at which Peter Schofield AProvGM presided over and gave us all an insight into James`s life and times.

November 25: Early this morning I was off to Gosforth Park in Northumberland accompanied by Phil Gunning, Barry Jameson, Peter Taylor, Neil Lathom and Malcolm Bell. We were attending the annual Provincial Craft meeting of the Province of Northumberland. The meeting was very well attended but it was extremely cold weather. A very interesting and well conducted meeting by Ian Craigs the ProvGM was followed by a delightful dinner. It was rather late when the proceeding finished so we stayed the night just outside Gosforth Park and then drove home the next morning.
November 26: After a good journey home I was out once again. To my Rose Croix meeting at Morecambe. A short, quiet meeting which gave us all the opportunity to enjoy a little buffet, a couple of drinks and a chat to catch up on the past 18 months.
November 29: This evening I was off to Preston Masonic Hall, for the installation meeting of Quingenti Lodge No 8516. This was very well attended and had 18 joining members prior to the installation ceremony, which was excellently performed by David Marlor who installed Peter Lindfield. It was good to see so many brethren attending this meeting supported by many grand officers and Past Provincial Grand Stewards.
November 30: After a quiet day I attended the AGM of Morecambe Masonic Hall Ltd in the evening. An interesting meeting but regrettably was not well attended by the members.
December 1: Off to Leyland this morning for a Craft Cabinet meeting. Attended by all my cabinet, we had a very good meeting which concluded at lunchtime so I was able to be back home early afternoon.
December 4: After lunch, Maureen and I travelled with others from Morecambe to Liverpool. We checked into the Travel Lodge for the evening as we were attending the 2021 Festival final fund-raising event at Liverpool Football Club. The event was well supported by some 250 brethren and their ladies. We enjoyed a delicious three course meal and entertainment in excellent company and a lot of money was raised in support of the 2021 MCF Festival. A great evening was had by all who attended. The next morning, after enjoying a hearty breakfast we returned home for a restful afternoon and evening.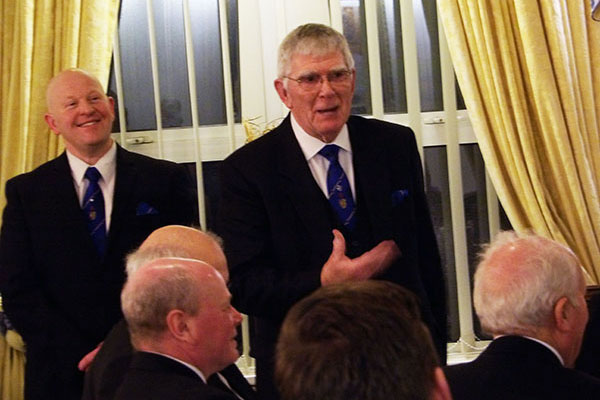 December 6: An early start for the train this morning. Off to London for the next 3 days. After arriving in the big city, I checked into my hotel and then travelled across London by taxi to 86 St James`s for the installation meeting of the Mark Grand Stewards Lodge, following which we enjoyed a most delicious dinner in Mark Masons Hall, returning to the hotel late evening.
December 7: After a full English breakfast and a walk round the park in Russell Square, it was off the Great Queen Street for the annual assembly of the Royal Ark Mariners. The temple was almost full on the ground floor and we had the Grand Master attending and investing all those who were appointed to Grand Rank. Following quite a short investiture we retired to the Connaught Rooms for pre-dinner drinks and then enjoyed the festival banquet before returning to the hotel early evening. Time for a chat to set the world right, reflect upon the day and a few quiet drinks.
December 8: Yet another full English breakfast was enjoyed by us all before making our way back to Great Queen Street for the Craft Quarterly Communication. The temple was really quite full with many brethren in the gallery. It was an interesting meeting chaired by the Pro Grand Master. The Grand Secretary, the Deputy of the Board of General Purposes and the Deputy Grand Master gave us a very interesting exchange of views on the future of Freemasonry and the coming of `Hermes` in the near future. A good meeting was followed by our return train journey. Good to see the trains running on time and not too full for a very comfortable journey home.
December 9: A morning of some relaxation then this evening I attended Sandylands Chapter No 5702 at Derby Street in Morecambe. A good meeting and an enjoyable buffet in the company of many friends.
December 11 and 12: The weather this weekend was quite good for this time of year and it gave Maureen and I time to again experience the delights of Morecambe`s panoramic vistas across the bay as we enjoyed some leisurely walks.
December 13: This evening I attended my Mark lodge for the advancement ceremony of John Heyes. The meeting was quite well attended and I enjoyed acting as one of the deacons in this delightful degree.
December 14: Here in Morecambe again this afternoon. I was presiding over the centenary meeting of Morecambe Chapter No 1561 at Derby Street. I was accompanied by my Deputy Paul Renton, Chris Butterfield and Godfrey Hirst together with Barry Crossley, Peter Taylor, Dave Thomas and Barry Fitzgerald with a number of acting Provincial grand officers in the Royal Arch. There were many companions of the chapter with their guests and we had a really good ceremony followed by an excellent supper.
December 15: Three nights in succession here in Morecambe, for I attended my Craft lodge, Poulton Le Sands this evening. It was the third degree ceremony for Nathan Mellors who has been waiting 2 years due to the abandonment of many meetings. The ceremony was conducted by a number of past masters and all did extremely well. It was good to see so many of my fellow brethren at this meeting just prior to Christmas.

December 16: Off to a meeting in the office at Leyland this morning and then after lunch I travelled to Southport for the installation convocation of Southport Chapter No 1070 at Duke Street. I was accompanied by Malcolm Alexander, Neil Lathom, Brian Henshaw and Mark Barton who was my DC for the evening. There were a number of acting Provincial grand officers and companions of the chapter. An excellent ceremony was performed by Geoff Wilcock who installed David Vickers who in turn installed Charles Rosales, following which we all enjoyed a delicious meal before it was time for me to take my leave and drive home. A great evening had by us all.
December 17: This evening Maureen and I joined members of Lancaster Castle Lodge No 5952 for their Christmas Social. It was a very short meeting but a great social event. A lovely Christmas dinner and great entertainment was enjoyed by us all. This was my last Masonic duty this year and it brought my year to a wonderful conclusion.
It was still a few days to go before Christmas but on behalf of Maureen and I, may I extend to you and all your loved ones all our very best wishes, hoping you have had a very enjoyable Christmas and will enjoy a happy and healthy New Year.  Stay safe and well and I look forward to being with you in 2022.