Well Spring appears to have arrived and the gardens are bursting forth with colour, the grass and the hedges are growing briskly together with a good variety of weeds, so Maureen and I are spending more time in the garden. As we have a little more time, we have had the opportunity to enjoy the delights of Morecambe Bay from out walks along the promenade.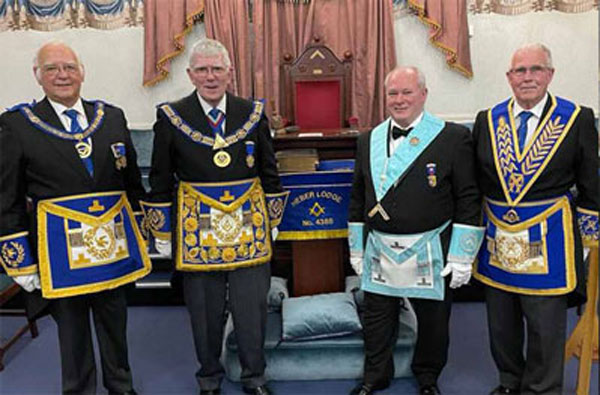 May 3: This afternoon I travelled by train to Warrington as I was attending Winmarleigh Hall for the Annual Dinner for the recipients of grand rank. It was attended by all the recipient's and their personal guests accompanied by my Deputy ProvGM and my AProvGM`s. Following a drinks reception, we enjoyed a wonderful banquet and I had the opportunity to congratulate all our new Craft and Royal Arch grand officers. A great evening was had by all, which sadly was marred by the fact that the train back to the north was cancelled.
May 5: This afternoon I travelled to Bryn Masonic Hall for the centenary celebrations of Heber Lodge No 4388.  I was welcomed by the croup chairman Geoffrey Porter and the chairman designate John Selley, together with many of my AProvGM`s and members of the Provincial team. The lodge was full to capacity for this very special ceremony marking the lodge's 100 years of service to Freemasonry.  After the Centenary Warrant was presented to the master, the Provincial Grand Chaplain John Hall delivered an oration and prayer of re-dedication to the lodge. We then retired to enjoy pre-dinner drinks prior to relishing a delicious banquet. After a number of speeches, it was time to head home after experiencing a most wonderful Masonic feast.
May 6: Back on a train this morning to Manchester where I was attending a luncheon at Manchester Hall, the home of Freemasonry in Manchester. It was a small gathering of brethren from several Provinces and was indeed a culinary experience. Fortunately, the trains were running for my return journey.
May 8: After a relaxing weekend, I travelled to Blackpool this afternoon in preparation for Provincial Grand Lodge tomorrow. I first called at the Winter Gardens to view the situation at the new Conference Centre and the Ballroom where we are to hold the Annual Provincial Grand Lodge meeting tomorrow.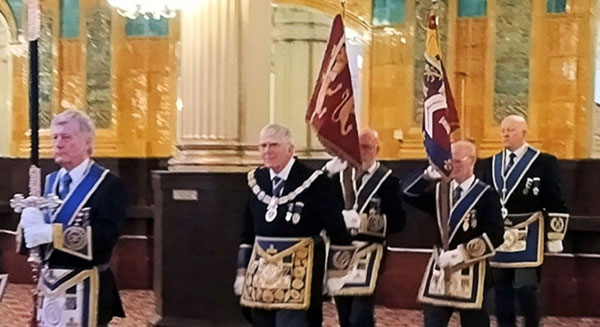 May 9: After a hearty breakfast at the hotel, I travelled with Philip my deputy to the Winter Gardens where we were met by the stewards from the Lancaster Group who were attending upon us for the day. Things were starting to bustle as many brethren were arriving for their respective rehearsals. All was going well and at 12 noon a full rehearsal was called. I was looking forward to a fantastic day although tinged with some personal sadness. Following a sandwich lunch, I was able to meet with the distinguished guests from other Provinces and the many brethren arriving for the meeting. What a tremendous support of over 800 brethren attending this meeting. The Empress Ballroom looked spectacular as all the seats were filling up. Even the balcony seats were taken. Then it was time for me to process into the meeting at the rear of all my officers. I was filled with great delight and a little apprehension, but all went well and I was delighted to appoint and invest all the acting officers of the year together with those brethren who received first appointments and their promotions. What a great day.
However, before I closed Provincial Grand Lodge, I informed all attending the meeting that this was to be the last time that I would preside over ProvGL as I will be retiring from office 30 June 2022. A very sad moment in my Masonic journey, but all good things must come to an end and what a good time I have had as ProvGM of West Lancashire. It was a very emotional moment as every brother at this meeting stood and afforded me a standing ovation. I was indeed most moved by that most generous gesture. I then closed my ProvGL for the last time and processed out of the Empress Ballroom, a very pleased and proud Freemason.
Following a couple of drinks, we then moved into the new Conference Centre where we were to enjoy a very well served and very tasty banquet with a copious amount of liquid refreshment. A huge and most sincere thank you to all who attended and gave me such an unexpected and most wonderful send off. It was now time to travel home after a most fantastic day and an opportunity to reflect upon my last 8 years.
May 11: Rather an early start this morning as I travelled back to Blackpool to the Savoy Hotel for the annual meeting of the Knight Templars. The meeting had unfortunately been cancelled on two previous occasions due to venue problems. Under the circumstances the meeting which was presided over by David Gallear the Provincial Prior, was well attended by Knights from other Provinces and from Lancashire. Following the meeting we enjoyed a very tasty luncheon.
May 19: This morning I travelled to Carlisle in the company of Paul Renton, Chris Butterfield, Barry Jameson, Peter Taylor and Malcolm Bell for the Annual Provincial Grand Chapter meeting of Cumberland and Westmorland. A new venue in a marquee at a Golf Club just outside Carlisle. Very well appointed and well supported by companions of the Province and many visiting from other Provinces. The Grand Superintendent Bill Bewley presided over the meeting which was followed by pre-dinner drinks and a very enjoyable banquet to round off a great day.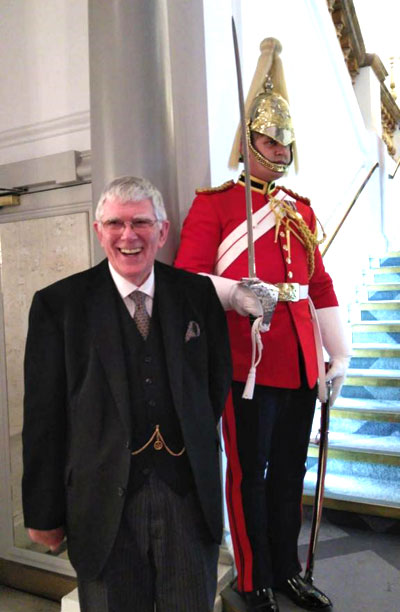 May 20: I had an early train journey this morning from Lancaster to Manchester as I was attending one of my Mark meetings. It was the installation and as DC it was requisite that I attended for the rehearsal. Tony Bent was proclaimed as master once again due to the COVID problems that we had all encountered. The meeting was well attended by members of the lodge which was followed by drinks and a delicious luncheon. By late afternoon it was time to catch my next train from Manchester to Chorley where I was attending Lawrence Lodge of Mark Master Masons No 313 for the 50th celebration of Thomas Firth Jackson. The lodge was full to capacity with many very distinguished brethren and Grand Masters of various Orders arriving from London. The ProvGM of West Lancashire was attending as was the Pro Grand Master Raymond Smith. We all enjoyed a somewhat hilarious evening which was followed by far too much to eat and drink. A rather late return to Morecambe.
May 21: Yet another early start as I was travelling to Bryn Masonic Hall this morning for breakfast at 9am. Today was the installation convocation of the Bikers` Chapter No 1380. The chapter room was totally full, to witness Gregory Casson install Andrew Baxendale, followed by Iain Wilson and Ian Hunter.  It was an excellent ceremony and it was quite unique to witness the companions in their regalia with their white shirts, chapter ties, `leather cuts` and striped trousers. Following this truly excellent work in the chapter I was presented firstly with a magnificent cheque for WLFC and then a personal `leather cut` for me, as I was made an honorary member of the `Widows Sons ` What a wonderful meeting this turned out to be. I was so taken aback by the actions of the companions of the Bikers` Chapter and I extend my most sincere thanks to them all.
May 23: This morning Maureen and I travelled to Hawkshead on the side of Lake Windermere for this evening we are celebrating the centenary of Hawkshead Lodge No 4354. Their Lodge room and dining room is the village Market Hall. All the local pubs in the village are their watering holes. Well, every one of the 85 seats in the lodge was taken. No room for a large procession of grand and acting Provincial grand officers, but just enough room to celebrate their centenary and I was most pleased and proud to present the Centenary Warrant, after which Rev Canon Godfrey Hirst delivered his oration and prayer of re-dedication. I was presented with a substantial cheque for the WLFC to mark their 100 years of service to Freemasonry, before the lodge was closed and we retired to the local hostelries for some refreshment before dinner and entertainment following dinner. A fantastic evening which went on for quite some time into the night.
May 24: We enjoyed a full Westmorland breakfast before returning home at lunchtime and appreciated a very relaxing afternoon.
May 25: After a rather leisurely day I attend Carnforth Lodge No 4951 for the 50th anniversary of James Howarth Wilson, PJGD and Past Chairman of the Lancaster and District Group. The Lodge was very well attended and `Jim` was most surprised to see me at the meeting. Having known Jim for most of my Masonic journey I did not want to miss this meeting. It was presided over by Peter Schofield AProvGM and he gave us a wonderful presentation of Jim`s journey through life. Following the meeting we enjoyed a delicious roast pork dinner. Philip Gardner proposed the toast to Jim who responded to his experiences in boundless detail.  A great evening was had by all.
May 27: This morning I finally caught a train to Manchester after a number of trains had been cancelled. I was attending a luncheon at Manchester Masonic Hall with brethren from several Provinces. A most delicious luncheon in the pleasant company of good Masonic friends.  Later in the evening I joined friends and colleagues from Morecambe and Lancaster in a fund-raising race night which raised the magnificent sum of £1,500 for a local charity.
Maureen and I were now looking forward to the Platinum Jubilee celebrations for our Queen Elisabeth celebrating 70 years as our monarch. It was a very relaxing few days for us and we did take the opportunity to watch the pomp and ceremony which was so well covered on our televisions.  We all hope and pray that she stays well to enjoy it with her family.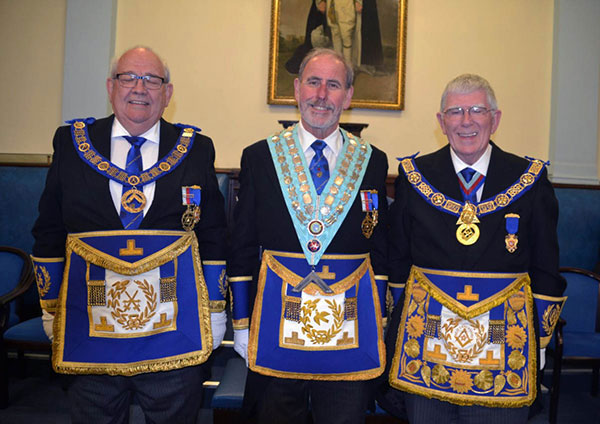 June 7: I caught an early train to London accompanied by my deputy Phil Gunning and AProvGM Andy Whittle. The train was rather busy but we got to London, checked in to our hotel and then attended the annual investiture for the Mark Degree. A very full temple as the new Assistant Grand Master, Frank Spencer was invested. It was also good to see many Mark brethren from West Lancashire also being invested with their new grand ranks.  Following a most enjoyable dinner we returned to our hotel for a late drink and off to bed.
June 8: After enjoying a full English breakfast we strolled back to Great Queen Street for the Craft Quarterly Communication. Once again, the grand temple was very full as this was the last time at which the Pro Grand Master presided at the meeting. A very enjoyable and touching meeting.  We did not stay for the luncheon as our return train left London at 3:30pm. A wonderful couple of days of Masonic enjoyment. I can certainly recommend it brethren.
June 9: This morning I drove to Saul Street in Preston for a meeting of Signum Caeleste Red X. We experience an excellent ceremony as Michael Threlfall and Jonathon Heaton, were installed as Knights of the Red Cross of Constantine. We then enjoyed a most delightful `brunch`
June 10: Off to Manchester Masonic Hall by train this morning. I was joined by my colleagues from East Lancashire, North Wales, Isle of Man and Cheshire where we enjoyed a briefing on the new UGLE Future Strategy, from Jonathan Spence, Sir David Wootton and Michael Ward. Not too many meetings this month, so time to unwind and ensure all is well for my impending retirement.
June 16: This evening I attended the Mount of Olives Rose Croix Chapter at Bryn for the enthronement of Andy Whittle. An excellent ceremony followed by a most excellent meal.
June 17: Maureen and I caught the lunchtime boat at Heysham for the sailing to the Isle of Man. We were having a few days holiday with our daughter Tracey and her husband Peter and taking the opportunity to visit the Annual Convocation of the Royal Arch Province of the Isle of Man. We then had few days relaxing.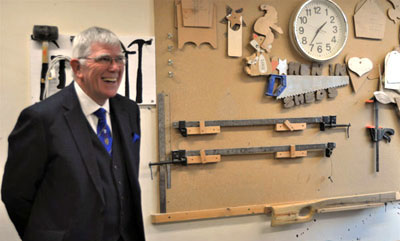 June 24: I attended the meeting at the Masonic Hall in Douglas. I was accompanied by Chris Butterfield, Second Provincial Grand Principal and Godfrey Hirst Third Provincial Grand Principal and our Provincial Grand Scribe Ezra Peter Taylor. There were several guests from East Lancashire and Cheshire. After an excellent meeting we enjoyed the usual Manx hospitality of `Queenies `in the company of many old friends.
June 25: An early start from the island this morning as we caught the Steam Packet sailing from Douglas to Heysham which docked at 12:30, just in time to get home and check all was well before heading south to Ormskirk Masonic Hall for the Annual Craft Assistants, Present and Past Dinner. There were 20 assistants together with their ladies attending this annual dinner. Sadly, my last as ProvGM. However, the food and the company were excellent and Maureen and I had a most wonderful evening. Our grateful thanks to everyone who attended.
June 27: This was to be my last Masonic meeting. I attended Southport Masonic Hall and at 2:30pm, my first duty was to present a mini bus to the 12th Crosby Scouts Group on behalf of the WLFC and Freemasonry in West Lancashire. Four of the scouts and the scout master Tim, attended the presentation together with Phil Gunning, Frank Umbers, Graham Chambers and Alan Riley. It was a great delight to hand over this mini bus to them and to see the joy on their faces knowing that they will be able to use this vehicle for many years to come.  We hope that they will enjoy many happy hours and enjoyable motoring in the years ahead.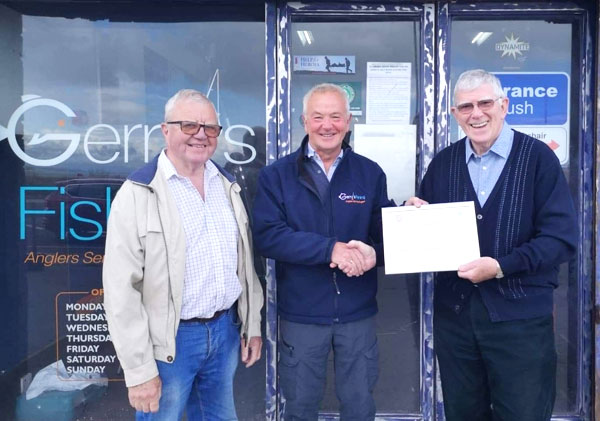 Following this I attended the installation meeting of the Lodge of Unity No 613 and I had the great honour of installing Frank Umbers into the chair and I became the IPM of the lodge. Phil Gunning, my deputy, was the principal guest of the evening and we were accompanied by 110 brethren. This was my last lodge meeting as ProvGM and I was so proud to have performed this important duty for the lodge. We all had a delicious festive board before retiring for our homeward journeys.
June 28: This morning I drove to Barrow-in-Furness to meet Peter Schofield and brethren of the Furness and South Lakeland Group.  We attended the Drop Zone, a charity that received a MCF grant, to assist young people in need of help and care. We were given a guided tour of their premises and a talk on their work here on the Furness peninsular.
June 29: I was accompanied by Keith Kemp and Gareth Harrison this morning when we visited Gerry`s Fishing Emporium in Morecambe. I presented a Certificate of Merit to Gerry for all he has done to assist the Provincial Fishing Charity with various items of vitally essential equipment needed for those young people attending the fishing sessions.
June 30: Well, the day of my retirement has arrived. A sad day but all good things must come to an end. May I thank so many of you who have sent letters, cards, emails and phone calls of good wishes to both Maureen and I for my retirement. We enjoyed the company of our Provincial Secretariat and our volunteers for a farewell luncheon at the Midland Hotel in Morecambe today. It was a delightful finale to a wonderful time in office and I now leave the Province of West Lancashire in the hands of Philip Harry Gunning as Deputy Provincial Grand Master in Charge and extend to him and all of you best wishes from both Maureen and I.
Finally, brethren and companions, I could not let my retirement as your Provincial Grand Master pass without expressing my heartfelt thanks to you all for the friendship and most generous hospitality afforded to both Maureen and I during the eight years that I have been in office.
It has, without any doubt whatsoever, been a great honour and a huge privilege to have served this Province and we both have many happy and long-lasting memories of the wonderful times spent in your company.
For Maureen and I, Freemasonry has taken on a new aspect in our lives, one in which you all have become part of and, can I say, you will be sadly missed. But I do look forward to the good times ahead when I can once again visit your lodges and chapters.
Now we must all look to the future and it is my sincere hope that you will continue to enjoy your freemasonry and offer the same unqualified support to my successor, in just the same way as you supported me.
May God Bless you all.