Well, here we are seeing March spring in like a lamb with some better weather including rays of sunshine.   We can see spring busting out in colour as the golden daffodils sway their heads in the sunshine and slight breeze. Morecambe is starting to see life again as we take our regular walks along the seafront there are many more people out for their daily exercise. Maureen and I remain very cautious but certainly enjoy our wonderful panoramic views of Morecambe Bay and the Lakeland hills.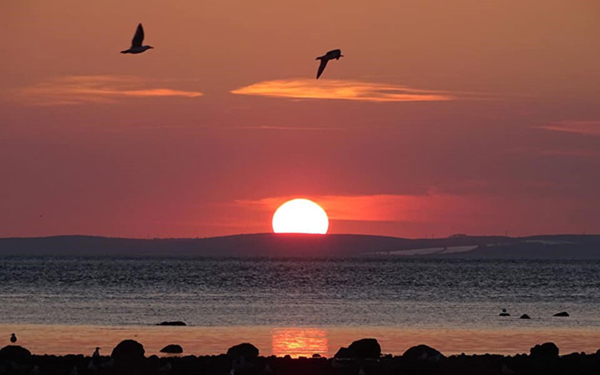 My diary for March is quite fully booked, but alas I have not had the opportunity to enjoy any of the meetings that I have scheduled. A number of chapter meetings, Allied Masonic Degrees, Mark, group dinners which should have been held in the Garston and Woolton Group and the Southport Group, the Provincial Grand Chapter for the Provinces of East Lancashire, Cheshire and Derbyshire, Rose Croix and many more. However, I was able to turn to the Zoom platform for our group chairmen's meeting on 3 March which was attended by all our group chairmen and we had a very good meeting.
I intended attending Makerfield Chapter No 2155 for their installation meeting which sadly was postponed, I had also intended to travel to London for the Mark and Craft quarterly communications which were also cancelled.  And Maureen and I had been invited to join brethren and their ladies of the Wigan Group on their weekend away in Carnarvon. We have really missed our social commitments. All in all, a great disappointment that our intended visits have again been cancelled or postponed, but we look forward to revisiting many of those meetings in the weeks and months ahead.
The old saying goes that if March comes in like a lamb, then it goes out like a lion. The weather men have got it wrong this time, for as we left the month of March the weather was yet again very kind to us all with an abundance of spring sunshine.
With no foolish pranks it was time to move on to April. I should have been attending Royal Preston Chapter No 333 installation but, alas I missed yet another Installation meeting. Approaching the Easter weekend and the weather looked extremely good. Regrettably it brings with it many visitors into Morecambe and our seafront area has been crowded with both local and day visitors to walk the promenade and take in the magnificent views of the Lakeland hills.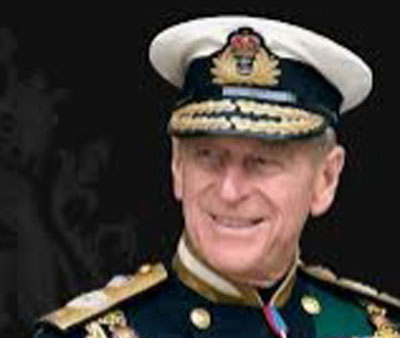 Sadly, there have been many 50th and 60th anniversaries that brethren in the Province have missed due to lodges abandoning their meetings but I hope they will enjoy a celebration in the coming months.
 April 9 was a very sad day for us all as we were informed of the very sad death of HRH The Prince Phillip, Duke of Edinburgh. Maureen and I joined the Queen and Royal Family together with the 1,000,000s of people all around the world in mourning his passing.
On April 10 I was to have attended the Centenary Celebrations of The Prince of Architects Lodge No 4188 at Litherland Masonic Hall, but it had to be postponed until a future date.
The next day Maureen and I joined David Winder and his companions on the `Winder Walk` along Morecambe Promenade to raise money for the MCF 2021 Festival.  It was a beautiful day and the promenade was very busy, but we had a most enjoyable walk in the company of a small number of supporters all socially distanced. A great afternoon and thanks to all who sponsored David on his charity walk.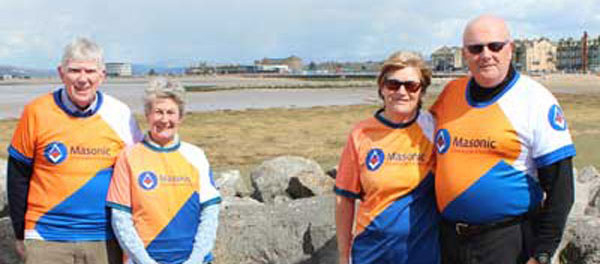 April 13 was the day I was to accompany a number of our Companions to the annual Northumberland Provincial Grand Chapter meeting at Gosforth Park, yet another meeting that had to be cancelled. During the week there were many Zoom meetings held and on Saturday 17 the North Fylde Group Ball, to which Maureen and I had been invited, had to be cancelled.
April 20 should have been a very special day for at least 388 brethren who received appointment to or promotion in Provincial Grand Lodge, which was to be held at the Winter Gardens in Blackpool. Again, it had to be cancelled but we held a great virtual Zoom meeting which I hope you had the opportunity to join. If you missed it you may wish to view it on the Provincial YouTube channel. Click here. Congratulations to all who received an honour.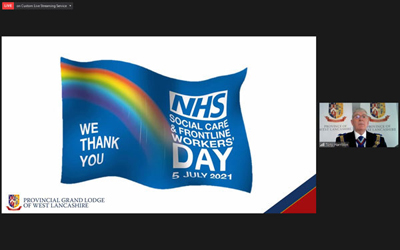 April 24 saw me joining the Zoom Allied Masonic Degrees, annual business meeting under the direction of Paul Snape the District Grand Prefect for West Lancashire.  This Zoom meeting was very well attended by brethren from this province and a large number of visitors from many parts of the country.
On April 27 I should have travelled to London in the company of a number of Grand Officers for the Annual Investiture at Grand Lodge. Instead, this afternoon I joined a Zoom meeting with the Pro Grand Master Peter Lowndes and all my ProvGM colleagues for our annual business meeting. Much easier than travelling to London but not as interesting or as exciting as the real thing.
Following a brisk walk along the promenade with Maureen in the morning of 28 April, I joined an evening Zoom meeting with brethren of my own lodge, Poulton le Sands Lodge No 1051, for a virtual celebration of. James Akeroyd who has served Freemasonry for 60 years. He was accompanied by the ProvGM for West Wales, James Ross and a number of brethren from his lodge in Wales.
Well, this brings April to and end and very unusually we have had some excellent spring weather with very little rain. I hope I'm not tempting fate as May is upon us. Perhaps our weather cycles are changing. However, the sunset over Morecambe Bay is a joy to behold and symbolises the end of a perfect day. So let us hope that our life cycles will now change and we can return to enjoying our Freemasonry in person.