As we start the month of March the weather is definitely improving with signs of spring approaching on the horizon. Our walks along the promenade give us the enjoyment of fantastic vistas across the bay. The views of the Lakeland hills are magnificent and are a joy to behold.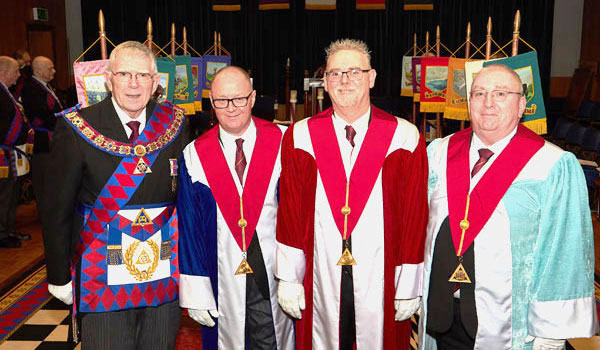 March 1: I was off to Chorley this morning for a meeting the Grand Priory of KBHC. This was the first meeting following the COVID-19 lockdowns and was very well attended under the circumstances. I was unable to stay for the luncheon as I had to travel to Liverpool in the afternoon for a meeting of my KT. Jacques de Molay, at the Masonic Hall in Hope Street. We enjoyed a visit from the Provincial Prior David Gallear and his team at our installation meeting. The Sub Prior Frank Umbers was installed as our Prior for the coming year. A very well attended meeting which concluded with a most delicious supper. Then it was back to Morecambe.
March 2: I drove to my office in Leyland this morning. A Group Chairman's meeting attended by all my chairmen, and we had an opportunity to discuss many items from our agenda.
March 3: This afternoon I drove to Leigh to attend Makerfield Chapter No 2155. It was the installation convocation and was very well attended by members and their guests. Wayne Barnes, John Thompson and David Eccles were installed into their respective chairs, and we all witnessed some excellent ritual from the companions who took part. The ceremony was followed by a most enjoyable supper with the usual toasts and speeches. At the conclusion of a wonderful evening, I returned home only to find the M6 was once again being repaired causing a major road closure.
March 4: Friday, the day of the Provincial Ball at The Whites Hotel in Bolton. Maureen and I arrived about two in the afternoon and checked into our room. We then attended a reception before making our way to the main banqueting suite for the main reception of the evening when we had the opportunity to meet with all the masters and their ladies and first principals and their ladies. Then it was down to the dining room where some 600 guests welcomed us to the event. Following a very enjoyable dinner we had the grand march, which was followed by dancing through to midnight. What a wonderful occasion. I do hope that everyone attending enjoyed it as much as Maureen and I did.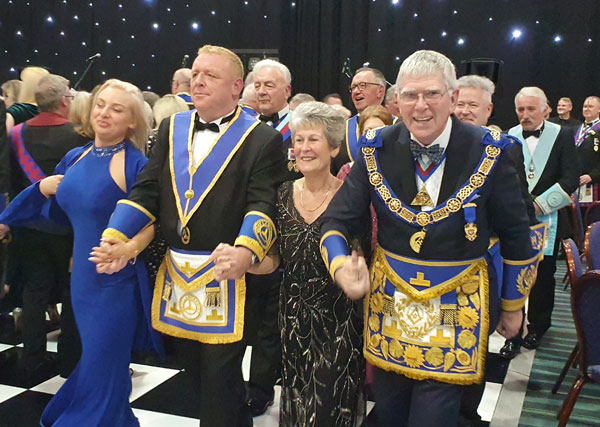 March 7: This morning I had a Zoom meeting with Peter Taylor at the office and then prepared for my journey to London.
March 8: Early this morning I caught a train for London accompanied by my deputy Phil Gunning and a number of other brethren who were joining us for our visit to Quarterly Communications. Arriving at our hotel at lunchtime we checked in and then walked down to Great Queen Street for the meeting of Mark Grand Lodge. The numbers present were somewhat disappointing to normal meetings held there. However, we enjoyed the meeting before returning to our hotel.
March 9: After breakfast we again walked down to Great Queen Street for the Quarterly Communication of Grand Lodge. Many more brethren in attendance and a very good meeting at which the Pro Grand Master, Peter Lowndes, announced that he was to retire from office in June and that Jonathan Spence was to be the next Pro Grand Master and would be invested at the September meeting. So, it will be back to London for that meeting.
March 10: I spent the morning sorting out my emails and then I was off to Singleton Lodge near Blackpool in the afternoon. I was attending the joint DC mess for East and West Lancashire Deputy DCs. It was good to meet with many brethren from both provinces who had been and indeed were directors of ceremonies of both the Craft and the Royal Arch. A very pleasant and entertaining evening. I was then able to enjoy a quiet and relaxing weekend with Maureen.
March 13: It was off to Liverpool this afternoon. To the Athenaeum Club, never been here before, for the centenary meeting of the University Lodge of Liverpool No 4274. A full house so to speak. Attended by my deputy Phil Gunning and the Provincial team together with many young Freemasons from Liverpool and beyond supporting this wonderful milestone in the history of the lodge. A very good ceremony followed by an excellent festival banquet, the usual toasts and speeches before having to close the proceedings and make my return journey home after a most pleasurable occasion. The next few days I was able to spend dealing with my necessary paperwork and enjoying some time with Maureen.
March 18: This evening I attended the Heysham Lodge No 4108 centenary meeting here in my home town of Morecambe. A most pleasant meeting here amongst so many friends and colleagues who I have known for some 45 years and even longer. A marvellous occasion recalling many of the events that have occurred within the area over the last 100 years, and the past old Freemasons who put us onto the right path for the future.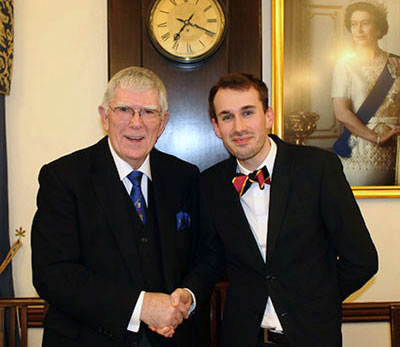 March 21: Early this morning I set off for Harrogate. It was the investiture of James Newman, who was today installed as Grand Superintendent and Provincial Grand Master of Yorkshire West Riding. The ceremony was conducted by Sir David Wootton in the presence of many ProvGMs from around the north of England together with a goodly number of brethren from Yorkshire. The Royal Arch meeting took place in the morning followed by luncheon and then the Craft meeting in the afternoon. A most enjoyable day was had by all who attended.
March 22: Later this afternoon I travelled to Cleveleys Masonic Hall for a joint convocation of the Chapters in the North Fylde Group held at Saturnian Chapter No 7563 of Royal Arch Masons. Companions from all the chapters took part in what was an excellent presentation of `The building of a chapter` Full marks and very well done to all the companions assisting in this superb performance. Followed by a delicious supper and good speeches it was then time for me to leave and return home with memories of yet another great evening.
March 24: A large number of emails had to be dealt with this morning and then in the afternoon I drove to Barrow-in-Furness, Fairfield Lane Masonic Hall for the installation convocation of Henry Cook Chapter No 1021. We witnessed Chris Gray install Barrie Bray who installed Ian Thompson who in turn installed John Donnelly in what was a brilliant ceremony. I was pleased to be able to attend this chapter as it was the mother chapter of Harry Chatfield, this year`s Provincial Grand Scribe Nehemiah, and it has been a great pleasure to work with him on many occasions. The chapter was full, attended by companions from all the chapters in the group and we enjoyed a delightful supper before having to return home around Morecambe Bay.
March 25: This evening I was off to Saul Street, Preston for the exaltation ceremony of Keith Slater who became a member of Chapter of Concord No 343. This was a rather special occasion as Keith has served Freemasonry for over 50 years and now felt that he should become a Royal Arch Mason. An outstanding enhanced ceremony conducted by the members of the chapter was enjoyed by all who attended. A perfect evening.
March 26: Due to a COVID-19 outbreak my meeting at Garstang Masonic Hall this evening had to be cancelled at the very last moment.

March 28: This morning I travelled to Leyland to meet with Peter Taylor and then we drove to Stretton in Cheshire, Spark Hall Hotel, for their annual Provincial Grand Chapter meeting. It was well attended and presided over by the Grand Superintendent Stephen Blank who addressed the meeting and invested his acting officers of the year together with those who received a first appointment and promotion. Following the meeting we enjoyed luncheon before returning home.
March 29: I drove to Blackburn this morning, to St George's Hall for the investiture of Robert Frankl as Provincial Grand Master for the Province of East Lancashire. Sir David Wootton presided over the meeting and I was invited to act as the Grand Senior Warden accompanied by Stephen Blank as Grand Junior Warden. Robert was invested and then he appointed his deputy John Farrington and then his AProvGM`s. Following the meeting we had a delicious luncheon following which, Sir David Wootton invested Robert as Grand Superintendent over East Lancashire and at this meeting I was appointed Second Grand Principal and Stephen Blank Third Grand Principal for the investiture. The officers of Provincial Grand Chapter were all appointed together with all the companions who received appointment to and promotion in the chapter.  A long but very enjoyable day for the many brethren and companions who supported both these meetings.
March 30: I enjoyed a restful morning before driving off to Barrow-in-Furness in the afternoon. I was attending the Fairfield Masonic Centre for the Masters and First Principals Group Dinner. It was indeed very well supported and we had a very convivial meeting with the opportunity to talk with all masters and first principals prior to pre-dinner drinks and then a delicious two course dinner. Daniel Greaves, a young master Mason, proposed the toast to my health in an admirable manner, to which I was able to respond with grateful thanks. Good to see so many brethren of the group attending this meeting which for various reasons has been re-scheduled on a number of previous occasions.
March 31: Alas, my meeting at Warrington, Winmarleigh Hall, for their group dinner had to be cancelled this evening due to the hall being closed because of COVID-19, so I was able to take Maureen out for the day and we enjoyed a most delicious dinner together in the evening. Sadly, the weather has now taken a turn for the worst as we leave March behind us. But hopefully we can all continue to enjoy our Freemasonry and look forward to the future.