A very happy and healthy New Year to you and all your family and friends. I really hope that 2022 will be a much better year for all of us. The year has got off to a quiet start, the weather has been quite good and Maureen and I have had the opportunity to get out and about. We have had time to recoup and get back to normality after a wonderful time over Christmas and the New Year.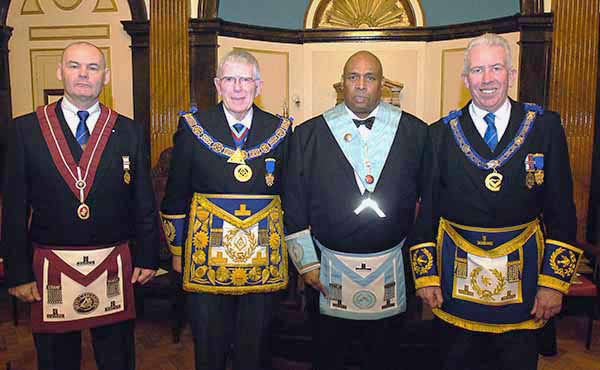 January 5: This morning I travelled to the office in Leyland for a meeting with my deputy Phil Gunning and the Provincial Grand Secretary Peter Taylor. It was good to catch up on all matters relating to 2021 and to make a new start for 2022.
January 7: This morning I travelled by train, which was delayed by one hour, to Manchester, for a meeting at Bridge Street, then following lunch I caught a train to Southport, where I was attending an Allied Masonic Degree meeting. I witnessed Malcolm Bell joining the degree and the installation meeting of the New Century Council. A very well attended meeting, excellent ritual and a delicious supper.
A quiet weekend followed, but the weather was too cold to venture out so I caught up on some ritual that I had to refresh.
 January 10: Following a relaxing weekend I attended Garnet Allied Council this evening. It was the installation meeting, only a proclamation but I thoroughly enjoyed the relaxed atmosphere, many friends and a most enjoyable supper.
 January 11: This evening I joined the Zoom meeting, `Solomon Live`, the UGLE Webinar, to see Michelle Worvell speaking on her duties as the UGLE Communications Director. If you get an opportunity to join these webinars you should do so. Very interesting and enlightening, this one was all about the communications from UGLE.
 January 12: This morning I drove to the office in Leyland for a Royal Arch Cabinet meeting with the RA Executive. A very good meeting with all my cabinet in attendance.
 January 17: After a few days of catching up on my paperwork and other duties, I drove to Warrington Masonic Hall for a Joint Convocation meeting of all the Warrington chapters under the auspices of Elias Ashmole Chapter No 148. Companions from all the chapters in the group enjoyed the presentation entitled `Traditional History, The Biblical Background`. I believe that all who attended the convocation learned more about the Royal Arch and made their daily advancement.  A very enjoyable evening with a very foggy return journey home.
 January 18: This afternoon I was engaged in a two hour Zoom meeting with members of the Communications and Marketing Group. The meeting used to be in Great Queen Street, London but is now a fortunately meeting by Zoom. Much easier than having to travel to London.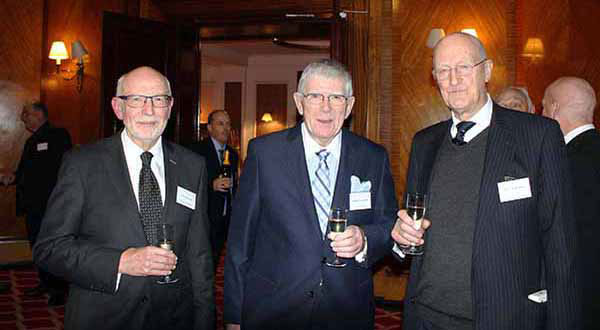 January 19: This afternoon I drove to Hope Street in Liverpool for the installation meeting of Everton Lodge No 823. Ian Haynes was installed by Alan Chatterton in an excellent ceremony. It was witnessed by 50 brethren, including a number of guests from other lodges in Liverpool. Following this excellent ceremony, we enjoyed a delightful festive board followed by the speeches and then it was time to head back home. A section of the M6 was once again closed for overnight roadworks so it rather delayed my journey. The meeting made it all worthwhile.
 January 26: This evening I attended my own lodge, Poulton le Sands Lodge No 1051, for a second-degree ceremony conducted by Michael Ashton. It was excellent and I thoroughly enjoyed the relaxed atmosphere amongst many brethren. We then had a delicious buffet followed by speeches and then I had a very short journey home.
 January 28: This afternoon I drove to Liverpool, this time to the Adelphi Hotel for the Gladstone Group dinner. 90 brethren attended this meeting which had been arranged by the group secretary Matt Casson. I was accompanied by Mark Matthews AProvGM and the group chairman John James, together with his vice chairman Paul Storrar.  A great evening and an opportunity to chat with many members of the group in a very informal reception setting, prior to us all enjoying dinner. Some excellent speeches brought the occasion to a close and then it was back up the M6 to Morecambe.
I was ready for a quiet weekend and enjoyed a couple of exhilarating walks along the promenade with Maureen. The scenery across the bay was fantastic it was so clear but rather cold. It brought a most enjoyable month to a splendid closure.