Well brethren, April came in like a lion with some rather cold weather. However, Freemasonry is not generally affected by poor weather, so I looked forward to my many engagements this month.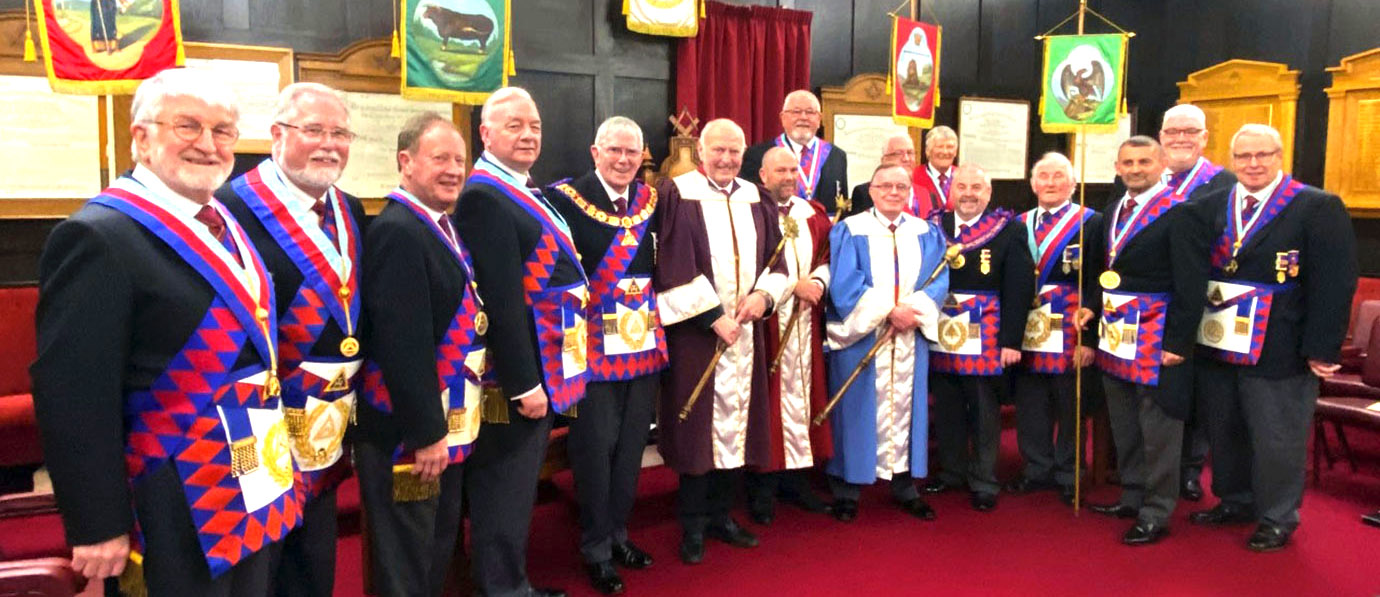 April 1: I caught a train to Manchester this morning as I was attending a lunch meeting at Manchester Hall, the home of Freemasonry in East Lancashire. There were not many attending this luncheon, but it was thoroughly enjoyable, both the meal and the company, and then I caught a late afternoon train home.
April 4: This afternoon I drove down to Liverpool, the Adelphi Hotel, for the meeting of Lebanon Mark Lodge installation. This meeting was very well supported, and the master, Charles Grace, installed his successor Geoffrey Bury. An excellent ceremony followed by an excellent supper. We all enjoyed a most congenial evening.
April 5: This morning I attended my Cabinet Meeting at the office in Leyland. All of my Assistant Provincial Grand Masters were present, and we had a very full meeting.
I now had a few days with no meetings, so I was able to relax a little with Maureen and we enjoyed the fresh air a fun on Morecambe`s promenade and the spectacular views of the Lakeland hills. As the weather was improving, we had many more visitors to the town.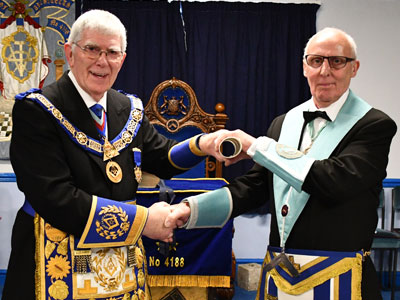 April 12: This afternoon I travelled to Westhoughton for the amalgamation meeting of St Bartholomew Lodge No 6071 with Brookfield Lodge No 5077. I was met with a warm welcome by the master David Bridge and then, together with the Provincial team we had a rehearsal for the coming ceremony. It has been some five years since the last amalgamation ceremony in the Province, but all went well and some 90 brethren attended to witness this delightful ceremony which was followed by an excellent festive board.
April 14: This evening I attended Sandylands Chapter No 5702 in Morecambe, for the installation convocation, where I witnessed Allan Finney install Carl Horrax followed by Michael Craddock and Paul Thompson into their respective chairs. An excellent ceremony followed by a good wholesome supper was enjoyed by 45 companions.
April 16: Maureen and I drove to Blackpool this evening for a show on the North Pier that had been organised by Eric Young in aid of charity. It was a great show, `The sounds of the 60s & 70s`. O what a night! It was wonderful. I wish I knew my ritual as well as I knew all the songs.
April 19: This evening I drove down to Ormskirk for the installation convocation of St Michael's Chapter No 5756.    64 companions witnessed the excellent ceremony of Derek Midgley installing his son. What a great meeting this was and so well done. Congratulations to all who took part. Then followed a most delicious banquet before having to return home.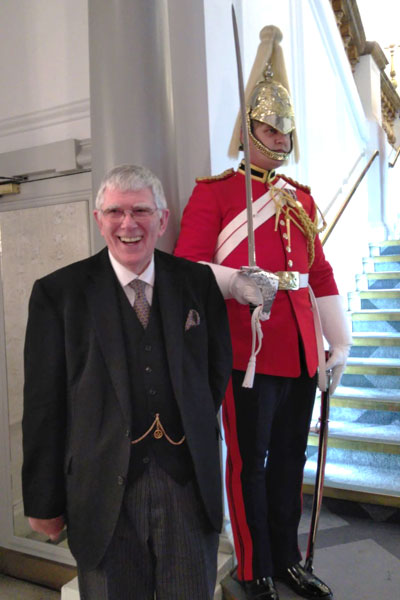 April 22: Off to Brookfield Masonic Hall at Westhoughton this evening for the Masters and First Principals` Dinner. A very good attendance which gave the brethren and companions the opportunity to ask questions of our Provincial Grand Secretary, Peter Taylor, our AProvGM Peter Lockett, myself together with others who were attending with us on this occasion. Many interesting and searching questions were asked prior to us retiring to the dining room for a first-class meal hosted by the group chairman Peter Allen.
April 23: Early this morning I was off to Preston, Saul Street, for the annual district meeting of the Allied Masonic Degrees. Mark Barton was being invested as Deputy District Grand Prefect and I was pleased to join over 100 brethren attending this meeting presided over by the District Grand Prefect Paul Snape and in attendance was the MW Grand Master Thomas Firth Jackson.  A most enjoyable meeting.
I was then off to Litherland Masonic Hall for the centenary meeting of Prince of Architects Lodge No 4188. A full team visit attended this special meeting and Litherland Masonic Hall was full. Firstly, a rehearsal, which was followed by canapes and drinks, then onto the meeting. All went very well, and the lodge was presented with its Centenary Warrant. The lodge was then closed and we enjoyed pre-dinner drinks before being presented with a most delicious banquet. I was delighted to propose a toast to the lodge which was responded to by the WM James Jones. A really wonderful occasion. It was a long but a wonderful day of Masonic delight.
April 26:  I caught a morning train to London accompanied by my deputy Phil and our Provincial Grand Secretary Peter. We were to stay at the President Hotel for the next two nights. This afternoon I was attending a meeting with the Pro Grand Master at UGLE in Great Queen Street and all my colleague ProvGM`s for a briefing from the High Rulers and followed by a dinner at Lincoln`s Inn. Returning to the hotel late evening for a chat and a drink with all my assistants and those brethren who travelled to London for the annual investiture meeting tomorrow.
April 27: After a good full English breakfast I walked down to Great Queen Street in time for my 10am meeting at the ProvGM`s Forum. This finished about 12 noon so I then returned to enjoy a light lunch with all the West Lancashire brethren. Following lunch, we returned to Great Queen Street for the Annual Craft Investiture. The temple was indeed full and the Grand Master, The Duke of Kent, presided over the meeting. There were several 100 brethren to be invested so you can imagine how long the Grand Master was on his feet. What a great job he did. Following a rather lengthy meeting, Grand Lodge was closed in ample form and we adjourned to the Connaught Rooms for pre-dinner drinks and then the banquet. Sadly, not the best meal I have enjoyed over the last eight years. However, we all had a good time and then retired to the President Hotel for drinks and a gathering with brethren from many Provinces.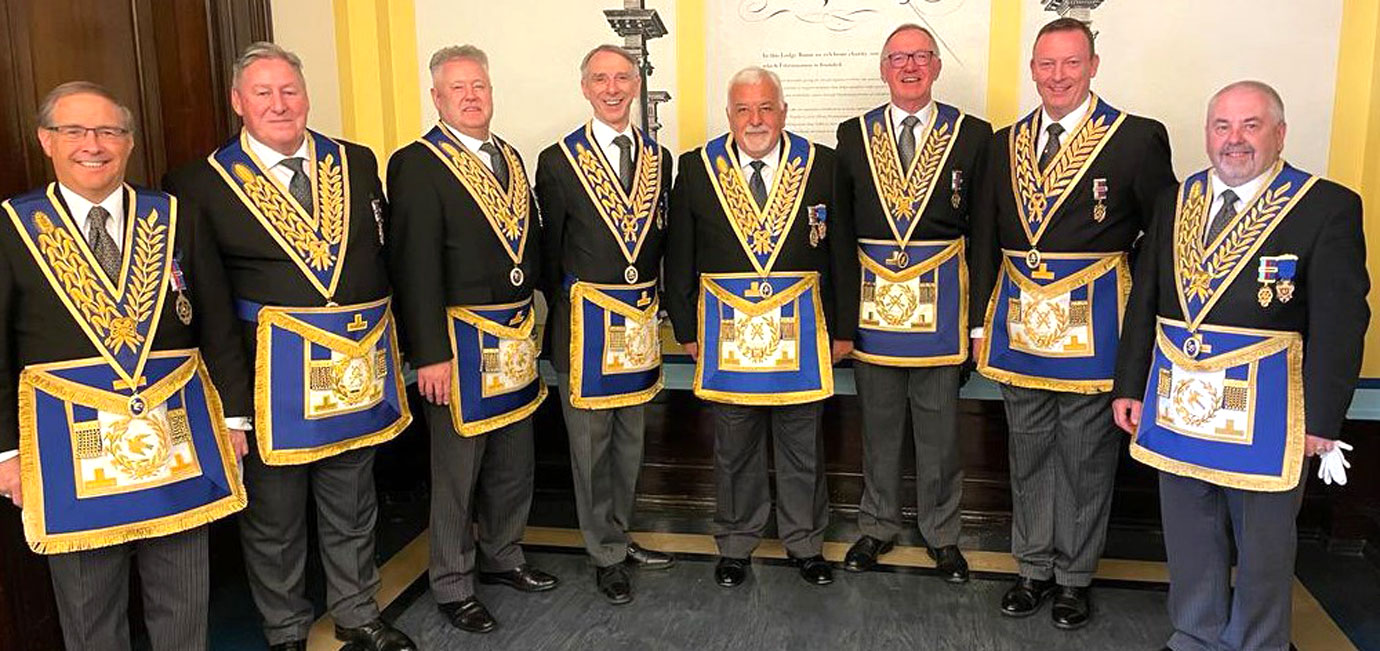 April 28: Early breakfast this morning as we had to be back at Great Queen Street for 10:45 for the Annual Investiture at Supreme Grand Chapter. Again, the temple was full, and the Pro First Grand Principle presided over the meeting this morning. Not so many companions to invest so the meeting was not too long, after which we adjourned to the vestibule and other rooms within UGLE for the luncheon. Sadly, I must once again report that this luncheon left much to be desired, but we enjoyed the occasion. We left Great Queen Street in time to catch our 18:30 train home from Euston. What a catastrophe, all trains north were cancelled due to a serious incident. The brethren travelling earlier had no problems, but due to further serve delays, several of us decided that we should stay one more night and then return next day. That we did and enjoyed a light supper before retiring for the night.
April 29: After yet again, enjoying an early breakfast at the hotel we went to Euston for the 09-30 train northwards. Pleased to say all went well and we got our seats and arrived home at lunchtime. Our sojourn to London was quite an experience on this occasion, but it was extremely enjoyable for us all.
Well after the trials of this week I was ready for relaxing a little and that I did with Maureen, and it brought April to a most pleasurable conclusion.